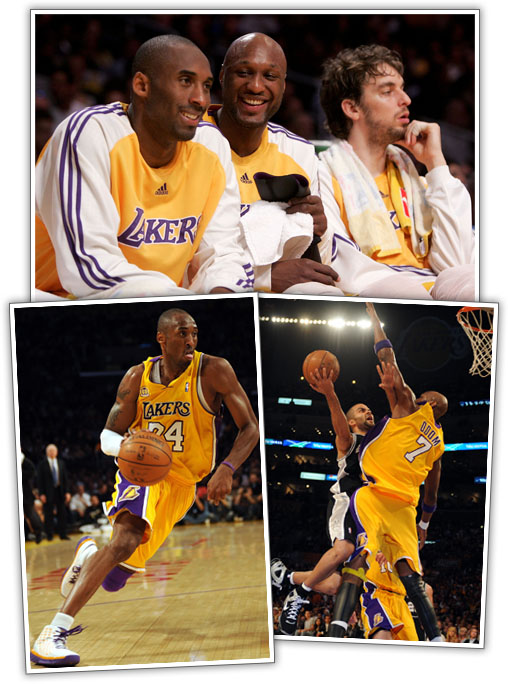 Was there any doubt the Lakers wouldn't win?! The Los Angeles Lakers continues to show and prove they deserve to win the championship this year. The San Antonio Spurs got blew out by 30 (101-71)! The Lakers are currently and steadily leading the series (2-0). My boy, Kobe Byrant, scored 22 points, 5 rebounds and 5 assists. Lamar Odom came out and scored 20 points and 12 rebounds. Pau Gasol put up 10 points, 7 rebounds and 3 assists. Although, Kobe is basically unstoppable he still knows that he cannot underestimate his opponents:
"You have to take care of business," Kobe said. "Get to practice [Saturday] and work on things that we want to adjust or get better at and get ready to rock 'n roll on Sunday."
Tony Parker scored 13 points and 4 assists. Tim Duncan scored 12 points and 16 rebounds. Manu Ginobili scored only 7 points, 2 assists and 2 rebounds. Ginobili didn't make any excuses at the results of the ending of the game and the way he played last night. He responded:
"I blame myself for these two losses," Ginobili said. "It should be 1-1. My mind is not fatigued. I need to step up. It will be different in Game 3."
Check out reactions from Game 2:
Game 3 airs Sunday (May 25) @ 8:30PM on TNT.
Be the first to receive breaking news alerts and more stories like this by subscribing to our mailing list.