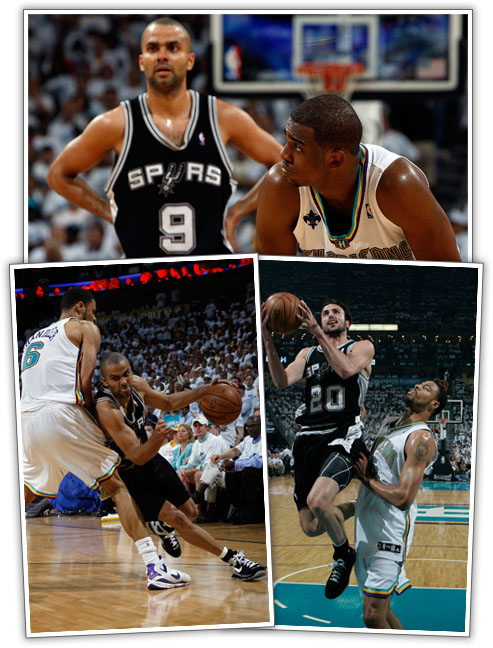 The San Antonio Spurs took the last game in the series between the New Orleans Hornets last night (4-3). The final scored was in the Spurs favor by 9 (91-82). The New Orleans Hornets' depressed me last night. They played as if this was GAME 1 instead of  GAME 7. They acted as though they didn't want it bad enough. Tony Parker dropped shots last night. He totaled 17 points and 5 assists. Tim Duncan put up 16 points and 14 rebounds. Manu Ginobili scored 26 points, 5 rebounds and 5 assists. Robert Horry, who rarely touches the court, said at the end of game 7:
"People always talk about you being old because you don't dunk anymore or slash as fast as you used to slash, but we're one of the smartest teams in the league and we have a very good coaching staff," said Horry, "We didn't make stupid mistakes tonight."
Chris Paul scored 18 points, 14 assists and 8 rebounds. David West had 20 points and 9 rebounds. Tyson Chandler scored 13 points and 15 rebounds. I guess it wasn't enough Hornets' I was rooting for you CP3! Maybe next year…
The Spurs will face the Lakers and best believe it won't be easy as it was in Game 7 for you Spurs.
Game 1 (vs. Lakers) airs Wednesday (May 21) @ 9 on TNT.
Check out video reactions below.
Be the first to receive breaking news alerts and more stories like this by subscribing to our mailing list.