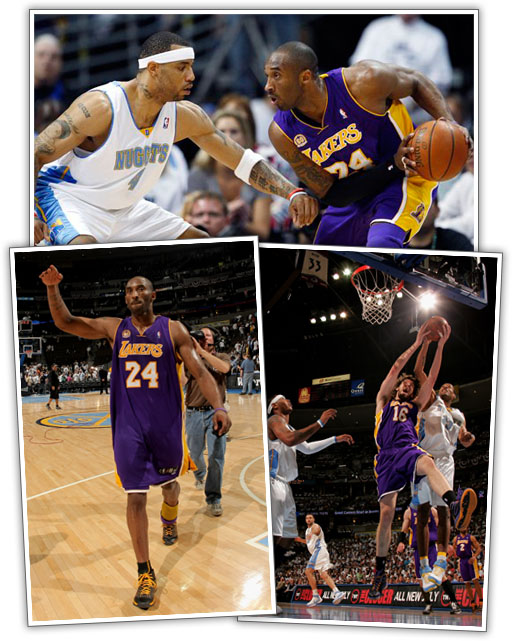 The L.A. Lakers climbed up the playoff ladder like it was as easy as taking candy from a baby. Kobe Bryant dominated last night's game against the Denver Nuggets with a total of 31 points, 7 rebounds, and 6 assists, ultimately winning straight games against Denver (4-0). Last night's final score resulted at (107-101). Pau Gasol had 21 points, 7 rebounds, and 4 assists last night. Lakers' teammate Luke Walton tells how happy he is to have K.B. on his team:
"He is unbelievable," Luke Walton said of Bryant, his teammates and one of the MVP favorites. "It's always so comforting knowing you have the best closer in basketball. They were making huge plays down the stretch, but Kobe came right back to do whatever it took: huge plays, steals or an incredible shots like that fadeaway over Kenyon Martin from the top of the key. He wanted it badly tonight and we followed his lead."
Continue reading for a video recap.
L.A. will play whomever wins the Utah Jazz Vs. Houston Rockets series. Utah is currently leading (3-1). The Rockets will have to win tonight's game to proceed within the series.
Be the first to receive breaking news alerts and more stories like this by subscribing to our mailing list.