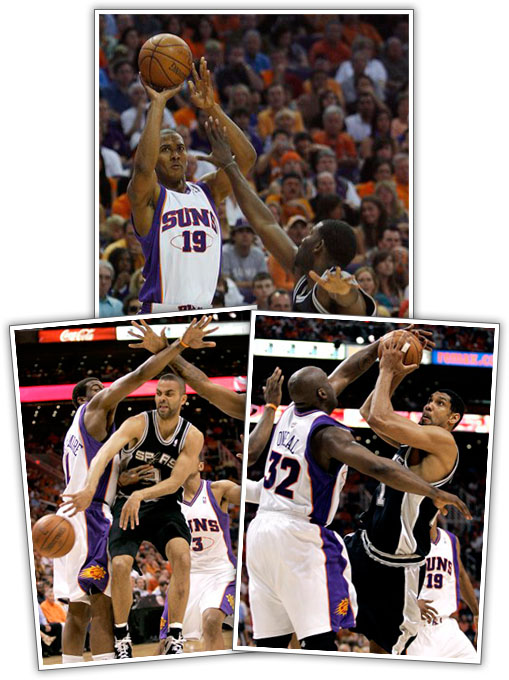 The Phoenix Suns become optimistic in Game 4 by winning their first game last night. The won by 19 points (105-86), but the San Antonio Spurs is still leading (3-1). Top performer of the Suns, Raja Bell, had 27 points, 5 assists and 6 rebounds. Shaquille O' Neal had 14 points, 12 rebounds, and 1 assists. Steve Nash, who had 15 points, 5 rebounds and 4 assists, said at the end of the game:
"A lot of woulda coulda shouldas," Steve Nash continued. "But we're still alive, and we played well in San Antonio and haven't got a win yet. So we want to go down there with a very optimistic attitude."
Tony Parker had 18 points, 3 assists and 4 rebounds. Tim Duncan had a total of 14 points, 10 rebounds, and 2 assists. Duncan knew once the score was leading by double digits there was no hope:
"You lose by two and you play all those minutes, or you lose by 20 and you get some time to rest," Duncan said. "I guess you can find a positive there. You don't want to lose any games like this, but it happens and we'll be ready to go the next one."
Game 5 airs Tuesday (Apr. 29th) @ 9:30 on TNT
Be the first to receive breaking news alerts and more stories like this by subscribing to our mailing list.