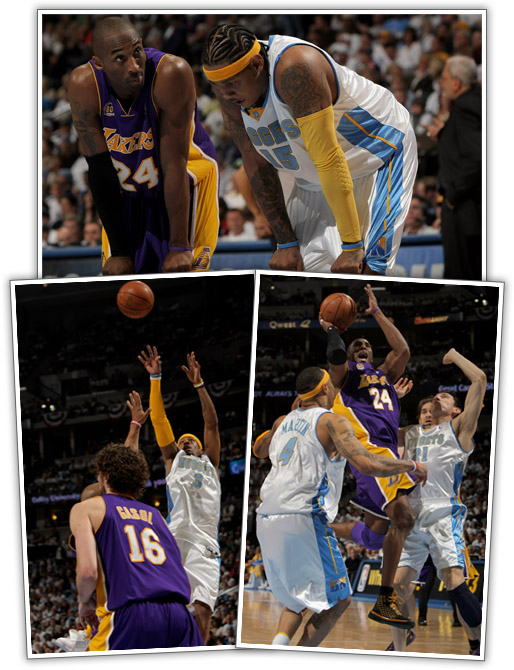 The Denver Nuggets can seem to get it right. I don't know if it's intimidation of Kobe Bryant or what. The L.A. Lakers win a another victorious game last night by 18 (102-84). The stats are now in the Lakers favor with their own winning rampage (3-0). Top player of last night's game has to be Kobe Bryant. Kobe scored 22 points, 7 rebounds, and 8 assists. Pau Gasol had 14 points, 5 assists, and 3 rebounds. Lamar Odom had 12 points, 7 rebounds, and 2 assists. Allen Iverson was disappointed about the loss and knows he wasn't on his best skills last night. Iverson had a total of 15 points, 3 assists, and 4 rebounds. A.I. said after the game:
"I was getting to the basket, I just wasn't finishing." Ivo added, "And the same thing happened to 'Melo'."
Carmelo Anthony had 16 points, 10 rebounds, and 1 assist. Melo was infuriated about the losing at home. At the end of the game he states:
"In a game like tonight, on our home court, us giving up as a whole is uncalled for," Anthony fumed. "Yeah. We quit. Everybody. From the coaches to the players, we quit. And I said it.

"I'm not blaming anyone. I'm not pointing the fingers at nobody. I didn't play worth a [expletive] tonight, and I can accept that. But as a competitor, there's no way that I should lay down and quit and lay down on my team like we did tonight."
Game 4 is Monday (Apr. 28) @ 10 on TNT.
Be the first to receive breaking news alerts and more stories like this by subscribing to our mailing list.