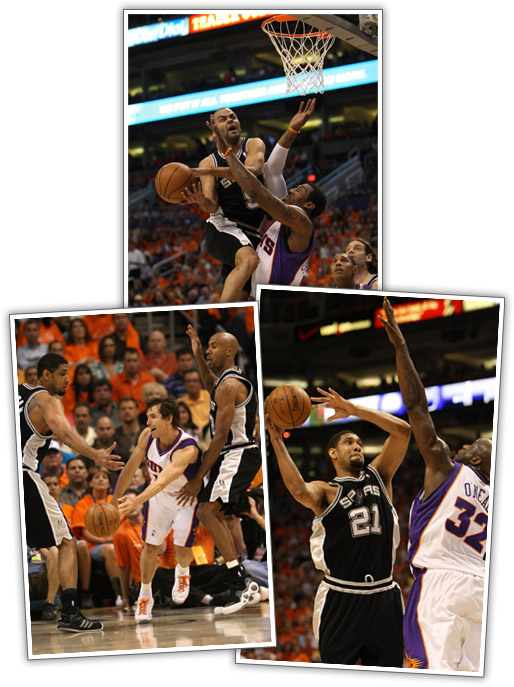 (Photos: Getty Images) It's looking really dark for the Phoenix Suns' right now. The San Antonio Spurs show no signs of slowing down the winning spree (3-0). MVP of Game 3 went to Tony Parker, who scored a career-high 41 points and 12 assists leading the Spurs to a 16-point victory (115-99). Tim Duncan added 23 points and 10 rebounds. Manu Ginobili scored a total of 20 points.
The losing streak Suns' aren't looking too good on this scoreboard. Amare Stoudemire totaled 28 points and 11 rebounds. Shaquille O' Neal totaled 19 points out of free throws. Steve Nash finished with only 7 points with 9 assists. Star of Game 3, Tony Parker, responds he seen many opportunities last night:
"They were backing off on the pick-and-rolls," he said, "So I took the shot and it felt good tonight."
Spurs coach, Gregg Popovich, was very proud of his players in last night. So proud that after the game he states:
"We possibly played our best game of the year." Coach Popovich said.
Game 4 is the Suns last chance to gain some type of lead way.
Game 4 airs Sunday @ 3 on ABC
Be the first to receive breaking news alerts and more stories like this by subscribing to our mailing list.