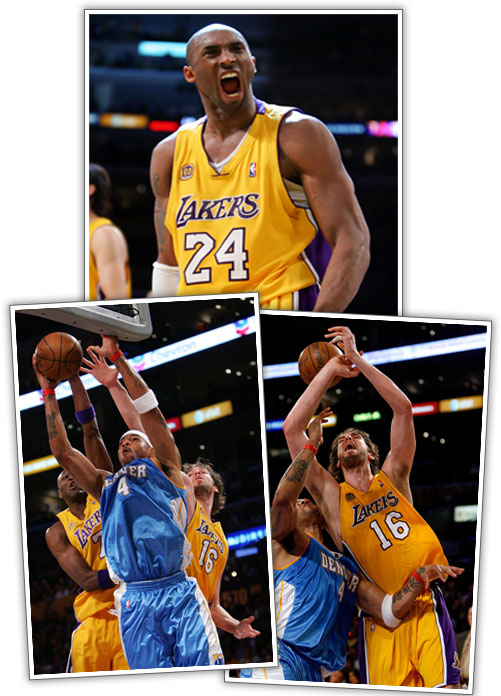 (Photos: Getty Images) The L.A. Lakers redefined themselves last night with a huge win and leading them with a score of 2-0 in the playoffs. The final score went to the L.A. Lakers (122-107). No one could stop Kobe Bryant last night, scoring 19 points within a time span of 4:19 of the 4th quarter. K.B. had a total of 49 points and 10 assists. Pau Gasol had 18 points and 10 rebounds. Luke Walton had 18 points. Opponent Allen Iverson responded after the game:
"Tonight, the way he was going, we probably could've put 10 people on the court and probably wouldn't have been able to stop him [Kobe]."
Allen Iverson didn't do bad at all in this loss at all. A.I. totaled 31 points and 6 assists. Carmelo Anthony added 23 points. Marcus Camby racked 17 rebounds and 4 blocked shots for Denvers' defense.
Kobe Byrant ecstatic about the win and the future of the playoffs. Kobe talked about his scoring spree at the end of game 2 last night:
"I didn't realize it," he continued. You just get into one of those rhythms. My teammates were looking for me, it just feels like the ball finds you."
Game 3 airs Monday Apr. 28th on TNT
Be the first to receive breaking news alerts and more stories like this by subscribing to our mailing list.