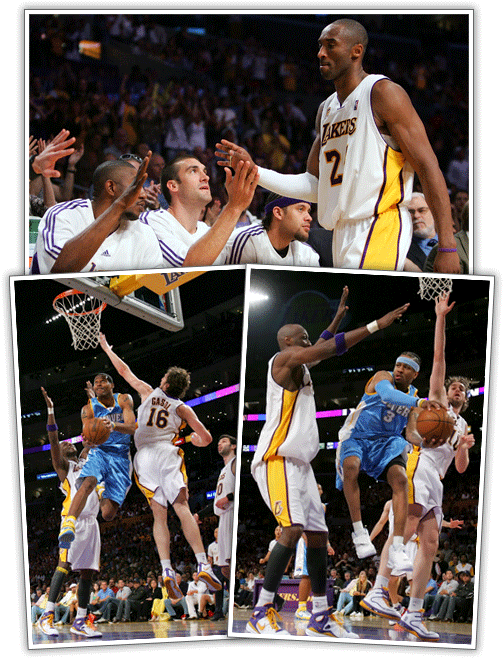 (Photos: Getty Images) The most valuable player of yesterday afternoon's game is Pau Gasol. He was definetly on point with his offense and did more than exceptionally well on defense. Gasol had 36 points, 8 assists, 16 rebounds, and 3 blocked shots. L.A. took the victory with a 14-point win (128-114). Kobe Bryant scored 18 points of his total 32 points in the last 8 minutes of the game to make sure they'll lead the victory. Lamar Odom had 17 points, 14 rebounds, 6 assists. On the opposing team, Carmelo Anthony was MVP out of his teammates scoring 30 points, 12 rebounds, 3 assists, 2 steals. Allen Iverson had 30 points as well before he was immediately removed for 2 technical fouls. L.A. Lakers' MVP of the game, Pau Gasol, said at the end of the game:
"It feels amazing, it feels great. I had a blast out there." Gausol said, "We did a pretty good job, we can do better. We're happy with the win, I'm happy with the win. Hopefully there will be many more."
Game 2 for the L.A. Lakers is Wednesday night.
Be the first to receive breaking news alerts and more stories like this by subscribing to our mailing list.