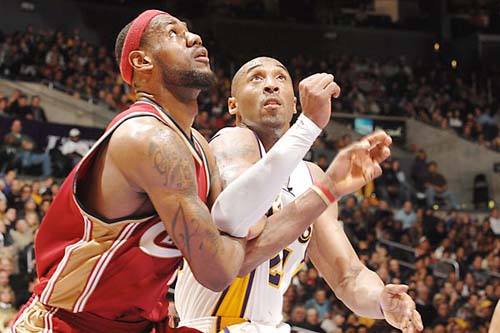 Ballots for MVP are already in and Kobe Bryant is the winner, but LeBron James agrees that Kobe deserves the award. Lebron recently said:
"I'd give it to Kobe," Lebron says "What he's done this whole year, to carry that team to the No. 1 team in the West right now. He's playing his best basketball all around. I've watched him the whole year. I saw it last summer when I played with him with USA Basketball and the sacrifices he's made for the team and he's done that with the Lakers."
Here are the results to the "Race To MVP"
10. Steve Nash (Phoenix Suns)
9. Tracy McGrady (Houston Rockets)
8. Amare Stoudemire (Phoenix Suns)
7. Tim Duncan (San Antonio Spurs)
6. Deron Williams (Utah Jazz)
5. Dwight Howard (Orlando Magic)
4. LeBron James (Cleveland Cavaliers)
3. Kevin Garnett (Boston Celtics)
2. Chris Paul (New Orleans Hornets)
1. Kobe Bryant (L.A. Lakers)
Be sure to tune in to tonight playoff games. Washington Wizards Vs. Cleveland Cavaliers[Home], Dallas Mavericks Vs. New Orleans Hornets[Home], Utah Jazz Vs. Houston Rockets[Home], all come on ESPN. Phoenix Suns Vs. San Antonio[Home] comes on local network ABC @ 3PM.
Be the first to receive breaking news alerts and more stories like this by subscribing to our mailing list.