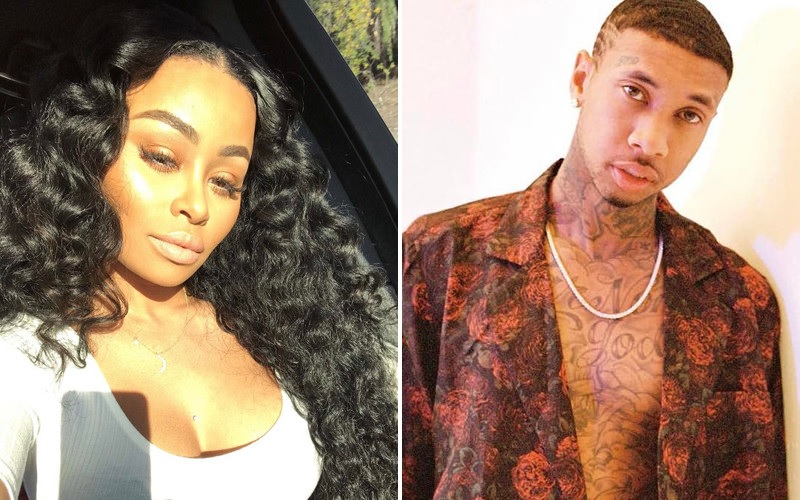 Blac Chyna had time today. The reality star straight up blasted Tyga on Snapchat early Wednesday morning (Mar. 29), claiming the rapper doesn't pay child support.
In a series of written Snapchat posts, Chyna went on her ex-fiancé and baby daddy. She questioned his sexuality, claimed he doesn't pay child support, and accused him of badmouthing her to Kylie Jenner and her other baby daddy, Rob Kardashian. She even sent out the address to her Lashed salon so the two can talk face-to-face.
BLAC CHYNA IS DRAGGING TYGA ON HER SNAPCHAT I'M LIVING #BLACCHYNA pic.twitter.com/tiUsbLkOfW

— andreita (@senseiandrea) March 29, 2017
"It's funny now to me!!! But when Tyga and side n***a kicked me out!!! And they wanted to see me fail! lol And 2 grind from the dirt!!!!!! No child support! N***a is like hoes! So imma treat u like that! Not paying Jenny! Wow.

Stop running to ur money! Telling my business about King! I bet any money! I got more money then ur account Tyga, Michael!!!

So go tell Kylie [Jenner] and Rob [Kardashian]! About our son Account! Cause that's the only reason I'm contacting your f*g ass! But u wanna make it like I want u lol! Tyga ur a b*tch!

And u can go get ur mom, or ur b*tch Lol!!! Or ur n***a u f***in or Terrell or heather!

On wait 16101 ventura blvd 215."
Right now, it's unknown what caused Chyna's early morning rant. However, it seems she's upset with something Tyga has done/said regarding their 4-year-old son King and Chyna's parenting skills.
Chyna's wrath isn't the only thing Tyga's dealing with right now. He's also taking an L on social media as Twitter is living for Chyna's random Tyga Snapchat diss party.
Me watching blac chyna dragging tyga on Snapchat pic.twitter.com/tFkycZj6Rh

— Naomi (@naomi_letitia) March 29, 2017
https://twitter.com/ShamoniFans/status/847059292045938688
Tyga waking up to Blac Chyna Snapchat like pic.twitter.com/RgJoA5r58X

— Mr.Gemini? (@RonnieThaGreat) March 29, 2017
Blac Chyna's snapchat story has me like pic.twitter.com/H7ZkLYORC7

— linda (@linflow_) March 29, 2017
https://twitter.com/sashakrew/status/847046556704497664
Me watching Blac Chyna & Tyga beef knowing full well they're both trash & it's a win-win for all of us. pic.twitter.com/8Kxn4C0NaD

— Crash Bandicoot (@ffs1230) March 29, 2017
https://twitter.com/BahjaActivity/status/847060629139718144
https://twitter.com/AyoJames__/status/847071372232851456
OHHH SNAP!! Blac Chyna going off on Tyga early in the morning. pic.twitter.com/L54tXv2ByG

— fbj (@foolsbonhedzazz) March 29, 2017
Me watching Blac Chyna Snap ? pic.twitter.com/CaxV3l1f6M

— Adi ? (@Mogulyfe) March 29, 2017
Woke up & saw Blac Chyna trending , KNEW it had to be something Messy… & I'm here for it! -Tyga, Michael ?? pic.twitter.com/vkIad2ZI1j

— Ms. Adrian (@AlwaysAdrianM) March 29, 2017
https://twitter.com/SupaastarJones/status/847068894829404160