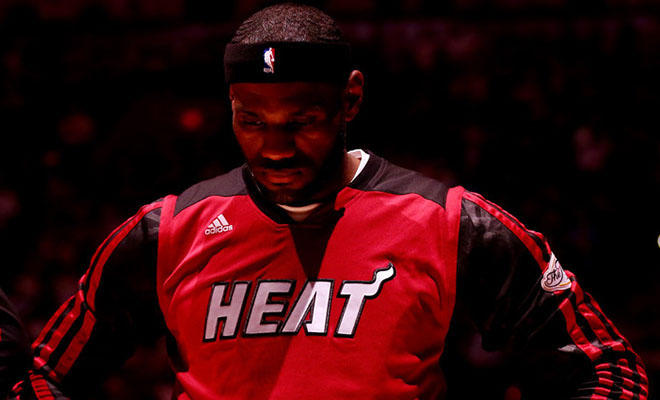 ESPN broke the news this morning that LeBron James' agent Rich Paul had informed the Miami Heat that their star player would exercise his early termination option to become an unrestricted free agent on July 1st.
ESPN's NBA Sportswriter Chris Broussard tweeted:
LeBron James' agent Rich Paul has told Heat LeBron will exercise early termination option

— Chris Broussard (@Chris_Broussard) June 24, 2014
As ESPN points out, James opting out of his contract doesn't necessarily mean he's going to leave the Heat for another team. He's just excercising his right to threaten to do so if the team doesn't get their sh*t together, like building a better team around him, etc.
James had until June 30 to decide whether to opt out of the final two years of his contract with Miami. He was scheduled to make $20 million next season and had two years and about $42.7 million remaining on his deal.

"I was informed this morning of his intentions. We fully expected LeBron to opt out and exercise his free-agent rights, so this does not come as a surprise," Heat president Pat Riley said in a statement. "As I said at the press conference last week, players have a right to free agency and, when they have these opportunities, the right to explore their options.

"The last four seasons have been historic, and LeBron James, Dwyane Wade, Chris Bosh and Erik Spoelstra have led the Miami Heat to one of the most unprecedented runs in the history of the NBA. We look forward to sitting down with LeBron and his representatives and talking about our future together. At the moment, we are preparing for the opportunities in the draft and free agency as we continue with our goal of winning NBA championships."
Of course this isn't the first time this has happened, as James opted out of his contract with the Cleveland Cavaliers in 2010 and actually left them for the Heat.
So naturally, Twitter is having one hell of a field day with their jokes/memes, suggesting that he might repeat the same thing all over again this year.
They're calling it "#TheDecision2."
Gotta love Twitter. #TheDecision2 is trending in the US.

— Jimmy Traina (@JimmyTraina) June 24, 2014
Mad Libs: LeBron taking his talents to (insert city name). pic.twitter.com/jRUJnAKS0A

— Jeff D Lowe (@JeffDLowe) June 24, 2014
Hey @KingJames! Heard you're opting out?? We've got a new team for you: The #USMNT! #LetsDoThis #OneNationOneTeam pic.twitter.com/I4Uj7O4b1x

— U.S. Soccer (@ussoccer) June 24, 2014
Hey @KingJames! Need to pass time while making a decision? Training camp starts in about a month! No dunking though. pic.twitter.com/WGoXcsOrGc

— NFL (@nfl) June 24, 2014
Heat fans, y'all got until Friday to opt out as fans for next season.

— Nigel Int'l D. (@Nigel_D) June 24, 2014
Kanye West is already bored by #TheDecision2 pic.twitter.com/Y3FtSjfa4i

— BuzzFeed Sports (@BuzzFeedSports) June 24, 2014
Coming to a theater near you #TheDecision2 pic.twitter.com/idi7O5kvgX

— Matthew Tolly (@TheBigMT_06) June 24, 2014
What jersey will Miami fans buy next year? #TheDecision2 #LebronJames

— Trevor Rush (@Trush21) June 24, 2014
ha ha ha oh boy espn *unhooks cable box* *immolates it* *gathers ashes* *throws ashes into volcano* *blows up volcano*

— Uncle Spam (@IAmSpilly) June 24, 2014
The Summer of LeBron. Yay. pic.twitter.com/mzAmXtQp5w

— Derrick Docket (@ddocket) June 24, 2014
BREAKING: LeBron James has opted out of his contract with the Miami Heat. NBA teams are going nuts. pic.twitter.com/U6ETxar4yn

— SportsNation (@SportsNation) June 24, 2014