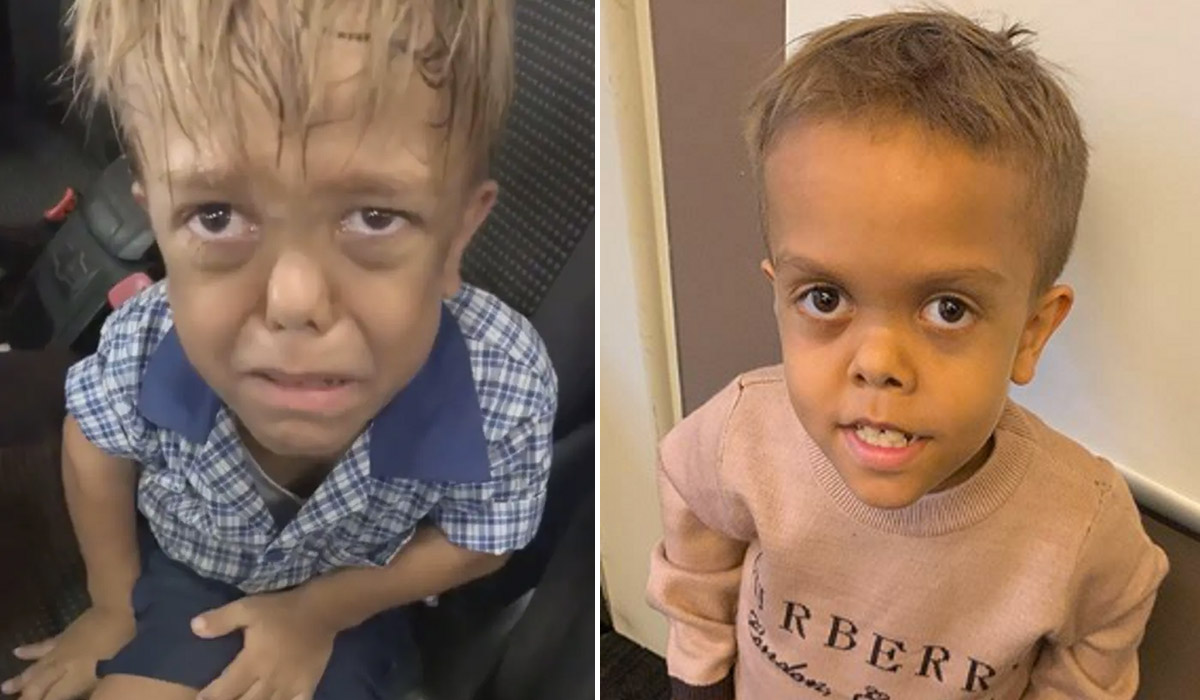 Last week, a heartbreaking video that showed a young Australian boy who lives with dwarfism crying after being bullied went viral across the globe.
In the original video, which has since been taken down, Quaden Bayles is seen crying and telling his mother to "give me a knife, I want to kill myself."
His mother, Yarraka, can be heard delivering a message to parents, teachers, and educators:
"This is what bullying does. So can you please educate your children, your family, your friends, because all it takes is for one more instance, and you wonder why kids are killing themselves."
As the video made its way around social media, Quaden quickly started receiving outpourings of support.
Actor Hugh Jackman sent him a personal video, he led an Australian rugby team onto the field at CBUS Stadium, and American Comedian Brad Williams, who also has dwarfism, set up a GoFundMe campaign with the goal of sending Quaden and his family to Disneyland.
The world is behind you
The @celtics are behind you Champ

Love the jersey, Why don't we get you to one of our games. ??

Front row seat ?#QuadenBayles#WestandwithQuaden pic.twitter.com/Yipd52uT29

— Enes Kanter (@EnesKanter) February 20, 2020
Way to go Quaden you a HERO!#WestandwithQuaden #stopbullying pic.twitter.com/00mtMSidIb

— YvesRoyce (@Yvesroyce) February 22, 2020
A 9-year-old child cries and says to his mother "I wanna die" and all because he is bullied by others, because he has dwarfism. Far too many people commit suicide due to bullying. Bullying is Wrong. Young man, you are beautiful the way you are ?? #WestandwithQuaden pic.twitter.com/GFRAY6mOKi

— ?????? ?? (@JezziiX) February 20, 2020
What a gorgeous child !!!!!!! ?? #WestandwithQuaden pic.twitter.com/1TFPz7uCct

— Russell #TeamPlayoffs RN (@iwillbehave514) February 21, 2020
It's great to see the support rendered by the people!

It would have made him and all the others bullied in the communities stronger and hopeful!#Awesome pic.twitter.com/R69L38rGTG

— Ammar Ahamed (@Ammar_ahd) February 21, 2020
With so much global support, that campaign did much more than raise enough money for the trip.
With donors from numerous countries, Williams was able to raise almost $500,000 for the Bayles family. However, they have decided not to use the money to take their son on a trip.
Instead, they'll use that money to support a number of local organizations and charities.
Quaden's aunt, Mundanara Bayles, told NITV: "This little fellow has been bullied. How many suicides, black or white, in our society have happened due to bullying?"
She went on to say: "We want the money to go to community organizations that really need it. As much as we want to go to Disneyland, I think our community would far off benefit from that."
The family would like to give the money to two charities in particular: Dwarfism Awareness Australia and the Balunu Healing Foundation.
However, since GoFundMe's terms state that all donated funds must be used "solely for the purpose you have stated on and in connection with your campaign," the Bayles family is currently working with Williams to find a way to get this money to these charities.
Be the first to receive breaking news alerts and more stories like this by subscribing to our mailing list.