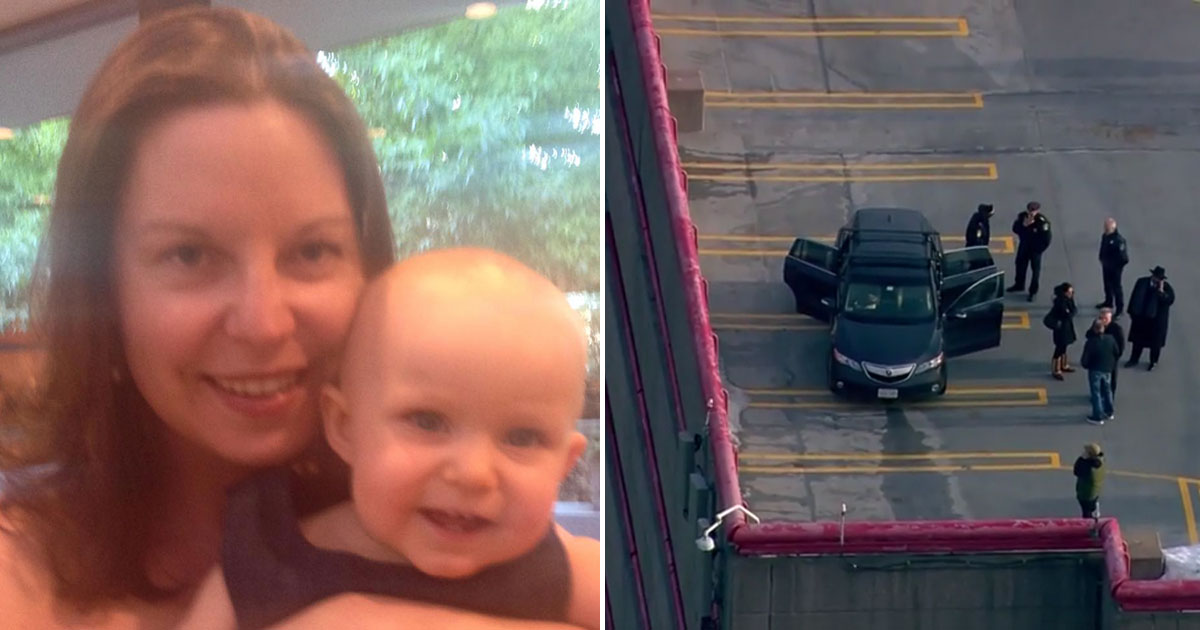 The woman who police say pushed her two young children from the roof of a parking garage in Boston before jumping to her own death on Christmas Day has been identified as 40-year-old Erin Pascal.
The bodies of Pascal and her two children, 4-year-old Allison and 16-month-old Andrew, were found near each other on the sidewalk Wednesday afternoon (Dec. 25) at the Renaissance Park Garage near the corner of Columbus Ave. and Melnea Cass Blvd, police said.
Authorities believe the double murder-suicide was the result of an explosive argument Pascal had with her husband, who is also the children's father.
"Yesterday, the unspeakable happened and now we are all struggling to make sense of the circumstances surrounding these deaths," District Attorney Rachael Rollins said in a news conference Thursday.
"Though we remain in the very early stages of our investigation, the evidence collected thus far suggests that these deaths—which occurred between approximately 1:25 and 1:35 p.m. yesterday—were very likely a double murder-suicide."
WCVB reports that Pascal's husband called police to say that they had recently gotten into an argument and she was suicidal.
"For a parent to come to a place in which they harm their children in this way, indicates that their mental health struggles were severe and in need of immediate supports," Rollins added.
"Mental health issues are not specific to one type of individual. It has many faces. This Christmas Day tragedy demonstrates the urgency of addressing mental health."
Police found baby's shoes and a pair of sunglasses near Pascal's at the top of the parking garage. Investigators also located two car car seats—one forward-facing and one rear-facing—inside the abandoned SUV.
Officials said they were providing counseling to the first responders who witnessed the aftermath of the tragedy.
"We know all too well that this kind of trauma leaves scars on first responders as well," Boston EMS union President Michael MacNeil wrote in a statement. "We are committed to caring for our members and our brothers and sisters in the police and fire services so that we can all continue to protect the safety and health of the residents and visitors of Boston."
DA Rachael Rollins said there was no suicide note found and she didn't know of any complaints about the mother. She described the scene as "awful" and especially heart-wrenching because it happened on Christmas.
"There were children's shoes and an adult shoe. Just belongings from the children and the mother strewn upon the street," Rollins said. "The impact of the fall was visible from the street."
Rollins said the deaths mark the third, fourth and fifth suicide-related deaths at that particular parking garage within the last seven months.
Back in May, 22-year-old Alexander Urtula, a former Boston College student, jumped to his death in a suicide that his girlfriend, 21-year-old Inyoung You, of South Korea, is now being charged for after she urged him to kill himself (similar to the very high-profile Michelle Carter case).
Another person committed suicide by jumping off the parking garage's roof earlier this month on December 9th, however, details about that incident haven't been revealed.
The Renaissance Park garage is owned by Northeastern University, which said that they were adding additional security patrols to three multi-level parking facilities on campus, including the Renaissance Park garage.
The university also said it has indefinitely blocked pedestrian and vehicular access to the top two floors of the Renaissance Park garage following Wednesday's tragic incident.
Be the first to receive breaking news alerts and more stories like this by subscribing to our mailing list.