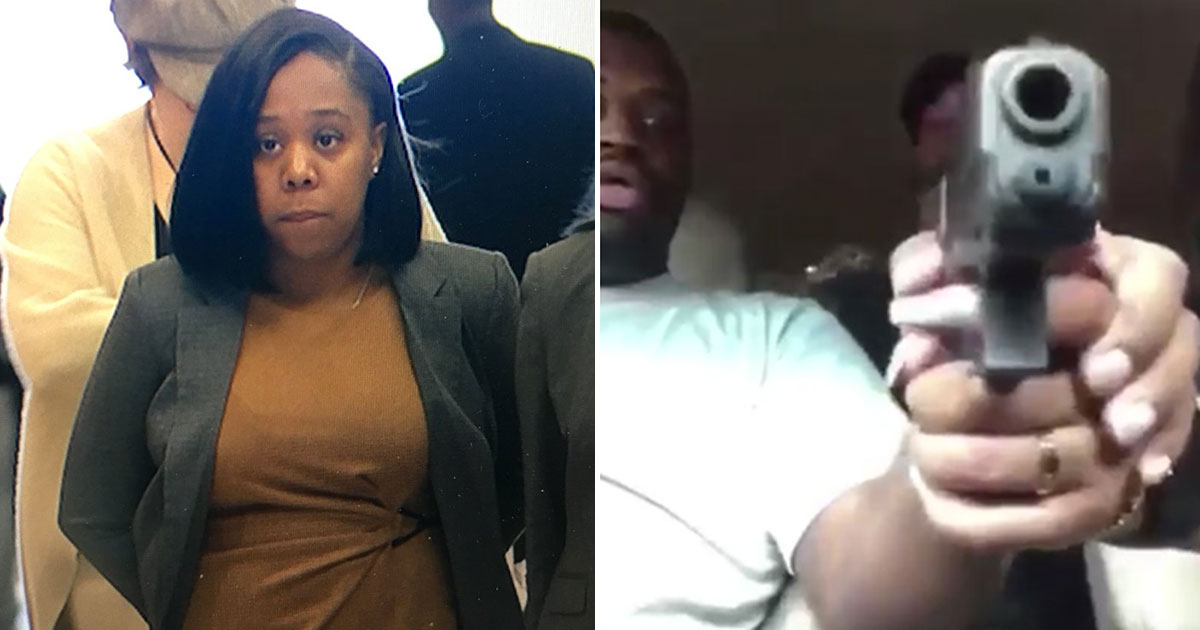 The Houston woman who was seen on video shooting a man in the head during a live stream on Facebook has been sentenced to prison.
Cassandra Damper appeared in court Tuesday (Dec. 17) where she was sentenced to 10 years for an aggravated assault charge and five years for tampering with evidence.
Back in August, Damper pleaded guilty to the charges following the April 2018 shooting of Devyn Holmes. She will serve the sentences concurrently.
"So happy. I am so happy," Holmes told Houston's ABC 13 after the sentencing. "It's perfect because it shows a human's life is valuable. Because if [the judge] didn't come with a verdict that good, it was like saying a human's life is not valuable, but he showed me it is. So I'm glad about it."
Holmes was shot in the head while he, Damper and another man were inside a vehicle recording a video on Facebook Live. The video showed Damper playing with a gun as the three of them laughed and joked around.
At one point, Damper pointed the gun at the camera, which apparently frightened Holmes enough for him to tell her "You're making me nervous."
Not long after, Damper—apparently unaware that despite the gun not having a clip, there was a bullet in the chamber—pointed the weapon and Holmes and fired a single shot, which hit him in the head.
Miraculously, Holmes survived the shooting, but he had to undergo intense physical and mental rehabilitation since then.
He spent his 27th birthday in the ICU, however, he was able to celebrate his 28th birthday with a big party with friends and family in June 2019.
During the trial, Damper took the stand and tearfully admitted to shooting Holmes, saying "I shot Devyn," while also recounting what happened on April 1st, 2018.
Damper also read a letter in court addressed to Holmes, in which she expressed remorse, sorrow and sympathy for all that he's gone through over the past year-and-a-half.
"Please know how sorry I am during this tough time. I cannot imagine what you are going through or what you are feeling since this tragic accident," Damper read.
"There is no amount of anything I can give you. It has hurt me even more to be unable to assist or be by your side during this recovery process."
Damper said the grief consumed her so much that she even considered "killing [herself] to make it fair."
She added: "I am here to take responsibility for a reckless accident I caused. I was in disbelief because I really thought the gun was not loaded. I was just really scared."
Damper also recounted in her letter the thoughts that went through her mind in the moments after the gun went off.
"When the gun first went off, I was in shock, in total disbelief that this can't be real. I felt the best thing to do would be to keep quiet," she said.
"Please accept my heartfelt sympathy and apology. I pray that God gives you the strength you need to finish your journey at 100 percent."
During Monday's proceedings, it was revealed that Damper called 911 and reported that Holmes had shot himself. However, the next day, police were able to review the footage showing Damper pulling the trigger herself.
The day before Damper's sentencing, Holmes confronted her for the first time since the near-fatal shooting, telling the court that he believes she should receive jail time because he's been living in his own prison since being shot. He said he's now unable to walk, dress himself or use the restroom alone.
Holmes also rejected Damper's attorney's statement that the shooting was an accident between friends, describing Damper as simply an acquaintance.
Sheree Holmes, Devyn's mother, said of Damper: "You got what you deserve. You got what you deserve. You wanted to be 'gangsta.' Now you can go be 'gangsta' for 10 years. She can be 'gangsta' all she wants."
Be the first to receive breaking news alerts and more stories like this by subscribing to our mailing list.