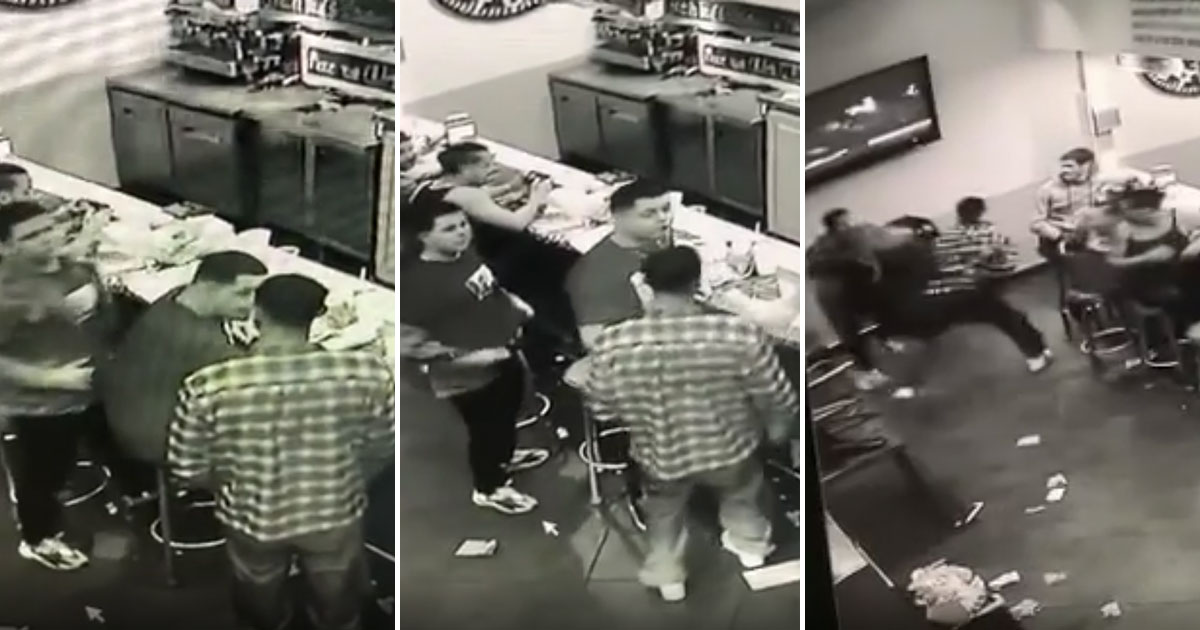 Welp. It looks like Brother Nature started the altercation that resulted in him being on the receiving end of a brutal beatdown.
Video footage surfaced online Saturday showing the internet star getting beat up and not fighting back as bystanders watch.
Internet personality Brother Nature took to Twitter to address the videos that surfaced of him being attacked at a pizza shop in Miami:

"I know there's a video out of me getting jumped, everyone in the pizza shop literally just watched, with their phones out, and did nothing." pic.twitter.com/GjI7FKCNHR

— Pop Crave (@PopCrave) December 7, 2019
Brother Nature (whose real name is Kelvin Peña) took to Twitter after the videos went viral, complaining about how no one helped him and just pulled out their phones to record as he was pummeled.
I know there's a video out of me getting jumped, everyone in the pizza shop literally just watched, with their phones out, and did nothing. Oh well ?????

— Brother Nature (@BrotherNature) December 7, 2019
Now the owner of La Sandwicherie in Miami, where the whole thing went down, has addressed the situation, saying that Brother Nature was actually the aggressor in the incident and is far from the victim he portrayed himself to be.
"The story has gone too far," the sandwich shop owner told The Shade Room. "He posted that as if he was the victim. He tried to crush my restaurant … I'm giving all the footage over to the police and I've called my lawyer."
La Sandwicherie's owner said Brother Nature walked into the restaurant with two women as they were closing.
The owner said the chairs had already put up on the tables (as restaurants tend to do when they close so they can easily mop the floors) but Brother Nature took a few down for his party and demanded to be served where he was seated.
After employees explained that they were about to close, but he would still be allowed to order food at the counter, Brother Nature allegedly cursed them out and is said to have pulled the "don't you know who I am card?" expecting instant celebrity treatment.
"I don't know who he is," the shop's owner said. "He's a customer, so we're going to treat him like any other customer. That's what we do. We make good food and treat our customers well and we've done that for 30 years."
When Brother Nature noticed that he was being recorded by other customers in the restaurant, he confronted the guy would later be seen on video kicking and stomping him as he cowers on the ground.
After the guy refused to delete the footage from his phone as requested, Brother Nature asked him to step outside to fight, and everything went downhill from there.
Following the parking lot beatdown, Brother Nature apparently wasn't done and went back inside and allegedly hit one of the attacker's acquaintances, which sparked the beatdown that was filmed inside the restaurant.
"Our employees asked them to not fight here," the owner said. "We had to separate them. I have all the footage. He pushed the wrong guy."
The restaurant's owner said police were called, however, everyone involved in the altercation had already split before cops arrived.
The owner added that he plans on taking legal action in regards to the damage caused to his restaurant.
The guy seen in the footage beating the sh*t out of Brother Nature explained his version of events as well in an interview with Drama Alert, offering a more first-person account of what really happened.
"First of all, nobody jumped Brother Nature. The only person hitting him was me," the man said.

He said that when they got to the sandwich place the employees were calling last call, and that's when Brother Nature showed up.

The man — "D" — said Brother Nature was still allowed to order and that Brother Nature "pulled the chairs down that [employees] cleaned" and insisted that he sit at a table, NOT the bar.

Brother Nature kept arguing with the manager, who eventually told him to leave because he was causing a disruption, D said.

"I pull out my phone and record because he was sounding like an arrogant dickhead. At this point, you could tell he's drunk, belligerent."

D said one of the girls Brother Nature was with told D to stop recording BN and told him hand over his phone.

"I told her to take two steps back before I spit her. She don't have to get up in my face for nothing."

The girl told Brother Nature, who starts yelling, "Who's recording?" D said, "He comes right up to me, he gets right in my face, and goes 'Yo, give me your phone right now.' I laughed at him, put my phone on the table, and ask if he knows who's he's speaking to."

D said, "[Brother Nature] goes, 'I don't give a f**k who you are. Give me your phone right now.'" D then told him to back up or he'd "smack the nature" out of him.

BN looked D and his cousin up and down, took their picture, and then said, "You two are dead men."
On #DramaAlert that man that beat up @BrotherNature said that "BN threaten him" now we have proof that's true as a video Leaked proving Brother Nature said this before the fight! pic.twitter.com/LrLbHyr2lm

— KEEM ? (@KEEMSTAR) December 8, 2019
BN went to the car and told D to come outside because he wanted to fight. "We fight…He ripped off my shirt. He grabbed me. He can't fight, I guess."

"We go our separate ways. I go inside to continue eating my sandwich…[Brother Nature] comes inside and hits my cousin. He just kept on looking for problems. He sucker punches my cousin."

"When he does that, I grab him. He tries to hit me. He goes to the floor, and I kick him two times. He still wouldn't stop. He tried to fight me again."
Surveillance footage posted on the restaurant's official Instagram page seems to corroborate both stories.
Watch below:
https://www.instagram.com/p/B50a9TngYpE/
https://www.instagram.com/p/B50cF0AAISn/
Be the first to receive breaking news alerts and more stories like this by subscribing to our mailing list.