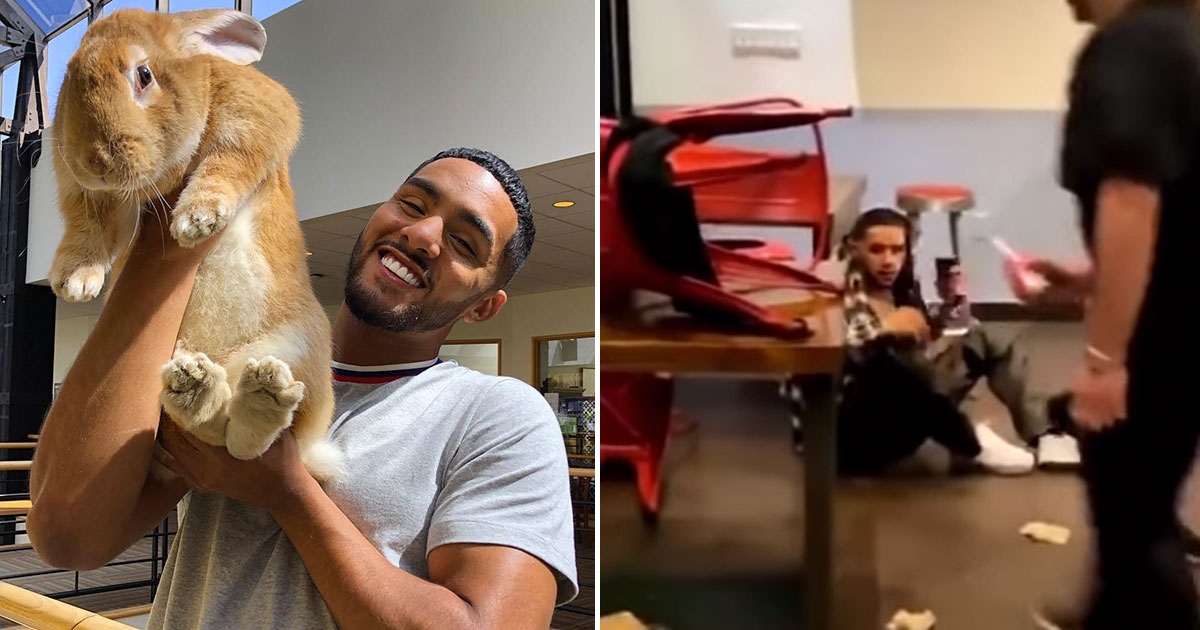 Video footage has surfaced online showing social media star Brother Nature getting into a physical altercation a man at a restaurant, which results in him getting stomped out and kicked.
Brother Nature doesn't fight back, instead choosing to cower as his assailant pummels him.
Moments later, once it appears everything has calmed down, the attacker comes back with a drink in his hand and throws it in Brother Nature's face before finally walking away.
Watch here:
Another video shows Brother Nature appearing to argue with someone before the fight as the guy who would later attack him films, saying behind the camera: "Don't nobody know you bro."
And footage from outside the restaurant appears to show the man in the black shirt (read more about him HERE) who threw the drink in Brother Nature's face continuing to attack him, despite Brother Nature not fighting back:
Footage of brother nature apparently being the aggressor before fight ? thoughts ? pic.twitter.com/QagbP8qhU5

— TrapLife (@TrapLifeWW) December 7, 2019
The man seen in the video assaulting Brother Nature bragged about the attack in a series of since-deleted tweets (via Daily Mail).
"I just beat the dog sh*t outta brother nature in la Sandwicherie," @phatdabb_gmn tweeted.

Brother Nature has since responded to the videos and he doesn't seem too pressed about them going viral, however, he does seem to have an issue with the people who watched and filmed without stepping in to help him.
"I know there's a video out of me getting jumped, everyone in the pizza shop literally just watched, with their phones out, and did nothing," he tweeted. "Oh well."
I know there's a video out of me getting jumped, everyone in the pizza shop literally just watched, with their phones out, and did nothing. Oh well ?????

— Brother Nature (@BrotherNature) December 7, 2019
Just days ago, he tweeted that he was in Miami doing a beach clean up with friends.
Miami! Doing a beach clean up with friends today, meet us at the parking lot of the W hotel at 3 pm ?

— Brother Nature (@BrotherNature) December 5, 2019
Brother Nature, whose real name is Kelvin Peña, is an internet personality known for his viral videos of him making friends with wild animals. Think: A modern-day, Hispanic Crocodile Dundee.
https://www.instagram.com/p/B4LKaLLlkAQ/
He rose to fame in 2016 after a video showed him interacting with a small herd of deer that were in his backyard, whom he later named "The Deer Squad."
The 21-year-old currently has 2.4 million followers on Twitter and another 2.7 million on Instagram, where he posts the majority of his videos showing him playing with animals like chimpanzees, penguins, goats and more.
Brother Nature also created the nonprofit organization Everybody Eats Foundation to "help single-parent families during the holidays and after-school kids year-round."
For Thanksgiving 2016, Everybody Eats delivered 150 turkeys to churches and families in need. And after Hurricane Maria the following year, through Everybody Eats, Brother Nature helped raise money and supplies for the victims.
Earlier this year, Brother Nature partnered with clothing brand Lacoste for their #LacosteSaveOurSpecies initiative to help the International Union for Conservation of Nature's efforts to conserve wildlife.
Just partnered with Lacoste on their #LacosteSaveOurSpecies initiative! The number of polos made of each species represents the number remaining in the wild. All profits today from https://t.co/7Wmiulsrt7 will help IUCN's efforts to conserve wildlife. pic.twitter.com/gZnV4Zrmjq

— Brother Nature (@BrotherNature) May 23, 2019
Just last month, Brother Nature revealed on social media that he contracted Malaria Falciparum, one of the deadliest species of Plasmodium that causes malaria in humans.
In a post on Instagram shared on November 12th, he wrote:
"Just wanted keep you guys posted on why I haven't really been active lately. So about 10 days ago I got a fever and didn't think much of it. Then as days went on it started to raise, I started getting chills and couldn't control my sleep, I slept for days on end then began to vomit a lot + diarrhea.

"I thought I only had the Flu, but things ended up getting so bad I ended up getting checked into the hospital and found out I had Malaria Falciparum, the deadliest Malaria (parasite) there is.

"You get the parasite from mosquitoes and they inject parasites into your blood. I've been treated and am getting better, but the process has been hell and has opened my eyes to how important health is. So, that being said, I'm gonna slow down a bit on life til I'm all the way healthy."
Be the first to receive breaking news alerts and more stories like this by subscribing to our mailing list.