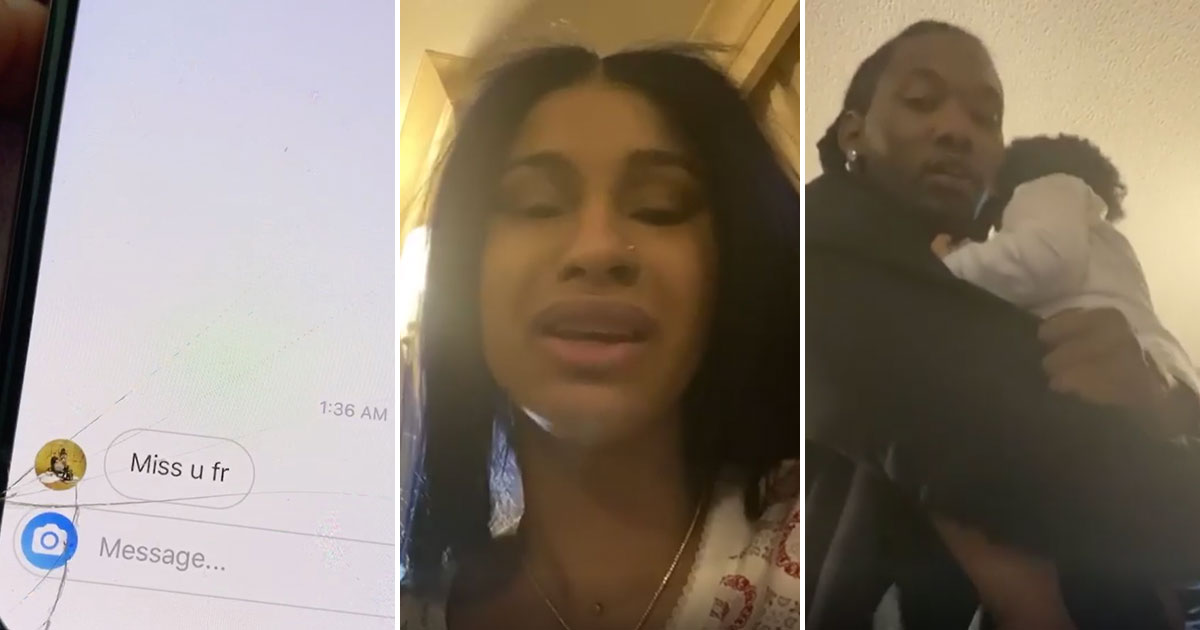 Cardi B is defending her husband Offset against accusations that he's still out here cheating on her.
Earlier today, Tekashi 6ix9ine's girlfriend Jade—one of two women accusing Cardi B of sending people to beat them up at a strip club last year—took to Instagram and shared a video screenshot of what appeared to be Offset sliding in her DM's, writing in a private message: "Miss u fr."
"Your wife @iamcardib has a OPEN CRIMINAL CASE," Jade wrote in the caption. "Why are you writing me you don't respect her ??????? [There's] a lot of sh*t I haven't exposed yet , but there's a time for that."
She added: "I'm the QUEEN of talking sh*t now I'm backing it up," apparently shading Cardi, who raps a similar line in her song with Pardison Fontaine "Backin' It Up."
https://www.instagram.com/p/B5nxMTKHdRH/
Cardi B has since taken to social media herself to respond to the drama, saying that his account was hacked and he's not the one who sent Jade that DM.
"Everybody know he's done some dumb sh*t, but come on … n***as ain't crazy," she said, likely referring to the cheating allegations that almost ended their marriage around this time last year.
She added: "We've been so good. We had a sweet weekend, life has been good … He would never play himself like that. That's why I'm not entertaining it and getting all rowdy."
After her explanation, Cardi quickly panned the camera to Offset, who was holding their daughter Kulture. "I got hacked y'all," he said.
Cardi wrote in the caption of her video: "We look crazy …don't mind us y'all we both sick and just woke up …anyways we not going to entertain bullsh*t."
https://www.instagram.com/p/B5n3hi9ACly/
https://www.instagram.com/p/B5n5SQYgfiF/
https://www.instagram.com/p/B5n9-VKAR6L/
Be the first to receive breaking news alerts and more stories like this by subscribing to our mailing list.