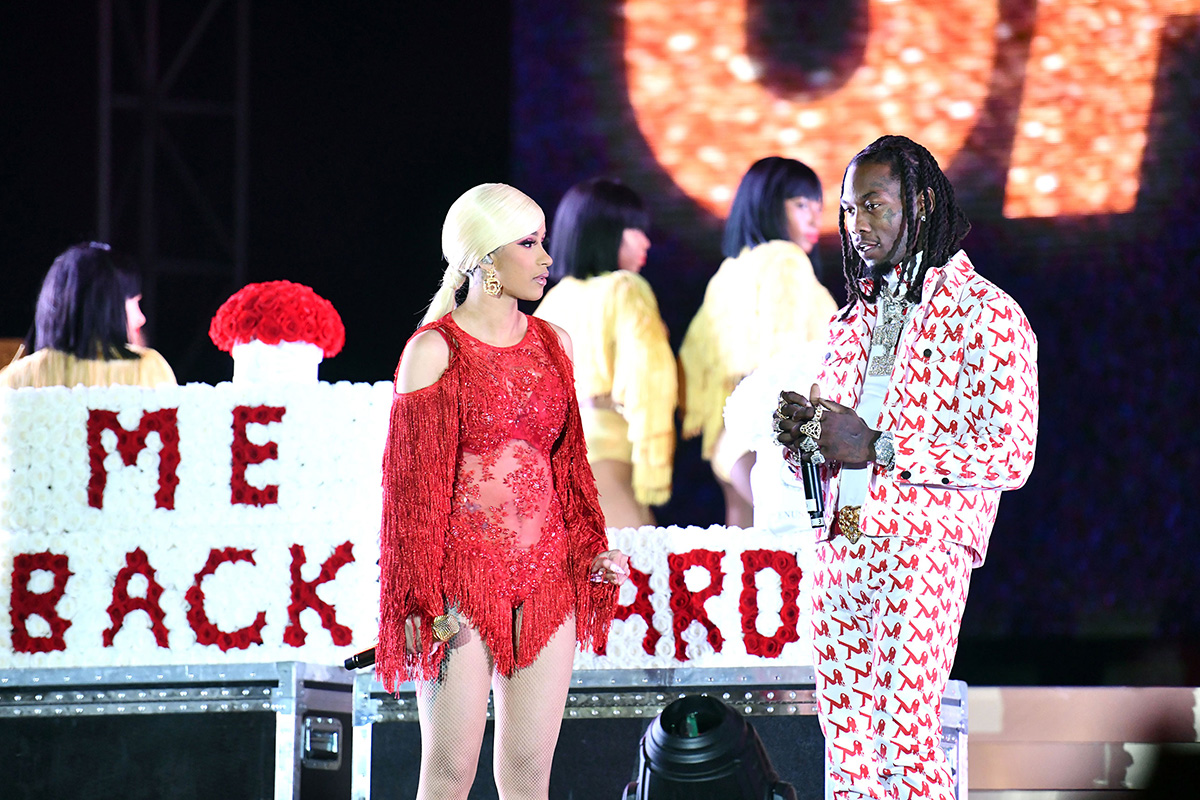 As Cardi B and Offset's breakup continues to dominate gossip headlines, Cardi B wants the world to know that her split with her husband is the real deal, Holyfield.
Over the weekend, Offset pulled off an elaborate stunt that saw him crashing Cardi B's Rolling Loud performance and begging her to take him back in front of a screaming audience of thousands of fans. The rapper appeared on stage with a cart of roses spelling out the words "Take Me Back Cardi."
"I just wanted to tell you I'm sorry, bruh, in person, in front of the world," Offset said. "I love you. Whatever I got to do to show that, I'll do it."
Cardi looked mortified, and the entire moment was captured on video and quickly went viral on social media, where some folks suggested that the whole thing was a publicity stunt.
Making matters even worse, a video clip surfaced showing Offset being led to Cardi's stage by the "Money" rapper's publicist Patience Foster.
Here is backstage footage of Cardi B's publicist Patience Foster leading Offset to the stage. Like I said, this whole "break up" is an orchestrated publicity stunt. So these media outlets can stop using this fake scenario to push their anti-Black "toxic masculinity" narrative pic.twitter.com/z8KLPs3eZl

— Tariq Nasheed (@tariqnasheed) December 16, 2018
Which begs the question, if this moment was so sincere, why was Patientce a part of it? Well, according to Cardi herself, Patientce is more than just her public relations manager—she's family to both Cardi and Offset.
"That's my bitch. That's my homie. That's like my big sister," Cardi said on Instagram Live. "She's not like any other publicist. She's my friend."
Cardi continued: "She has taken my husband and my sister as a client and she has helped us a lot. Yeah, sometimes she does a little bit more, you wanna know why? Because we are a family and she cares about my family. I'm not gonna let y'all drag her. I don't give a f**k … I will never let y'all disrespect people this close to me."
Cardi said she had no idea that Patientce and Offset were working in tandem for the viral stunt, and she's in no way mad at Patientce because she knows she was just trying to do what she thought was best. "She was just trying to help a man that was telling her, 'Yo, I love my wife. Please help me get my wife,'" Cardi said.
"I'm not gonna let y'all drag my bitch for that," she added, threatening to delete her Instagram account and not drop her new music video for "Money" if her fans didn't back off.
Cardi reiterated her sentiments in an Instagram Story post, writing: "Fan or not you talk about my publicist/friend you can eat a d**k period."
Responding to a fan's comment on Instagram, Cardi added: "She was there when I gave birth to my daughter and the only person I have kept [with] me since the beginning of my career cause everybody saw [me] as nothing but a piece of opportunity.
She continued: "You wanna know what's sooo funny? The last publicist I had when I first got on TV told me if I don't change the way I talk or act I won't blow up because I wouldn't appeal to big brands. [They] even [tried] to make me get a damn etiquette class. I found somebody who fit my personality and look how far we have [come]. You can't be mad at somebody for trying to help somebody else."
Foster responded to the note with her own caption: "For those of you who question where I stand with the people who MATTER!"
Cardi went on to say that she didn't want people to criticize Offset for "f**king trying," adding that she was also tired of people saying the rapper's actions were a sign that he was trying to manipulate her.
"I've been married and y'all haven't noticed that I be talking some sexual sh** and I be saying whatever I want and wanna know why? Because nobody can manipulate me to change who I am. Period. So stop with the sh**," she said.
This comes after Cardi pleaded with fans to leave Offset alone.
"I don't want people to keep doing f**k sh**, saying f**k sh**," she said. "I just want things to die down. I just need time so we can see eye-to-eye. I can't predict the future. I don't know. But, the whole coming at my baby father bullsh**, that doesn't make me feel any better, because at the end of the day, that's family.
She added: "I'm not saying that I'm gonna get back together with him. I just don't like that bashing online thing. I know how painful it is when you have millions of people bashing you every single day. I don't like that, and it doesn't make me feel any better. Period."
Cardi also directly responded to claims that her breakup with Offset is a publicity stunt, saying that she doesn't need the publicity.
She said in a profanity-laced rant on IG Live: "This year I was one of the most tweeted b**ches. This year I was one of the most searched b**ches even on f**king PornHub. Do you think I need f**king publicity hoe? F**k outta here. B**ch, I sell! F**k is you talking about? I don't need no motherf**king publicity b**ch! Right now on my live there's 101,000 viewers. You think I need f**king publicity, b**ch?"
She added: "Do you think I want n***as to be f**king talking sh** about my baby father? The n***a I conceived a kid with? No, so shut the f**k up. You think I wanna give these bum a** bitches clout. So what makes you think I wanna do this sh** for publicity?"
https://www.instagram.com/p/BreSWXGA2Tq/
Be the first to receive breaking news alerts and more stories like this by subscribing to our mailing list.