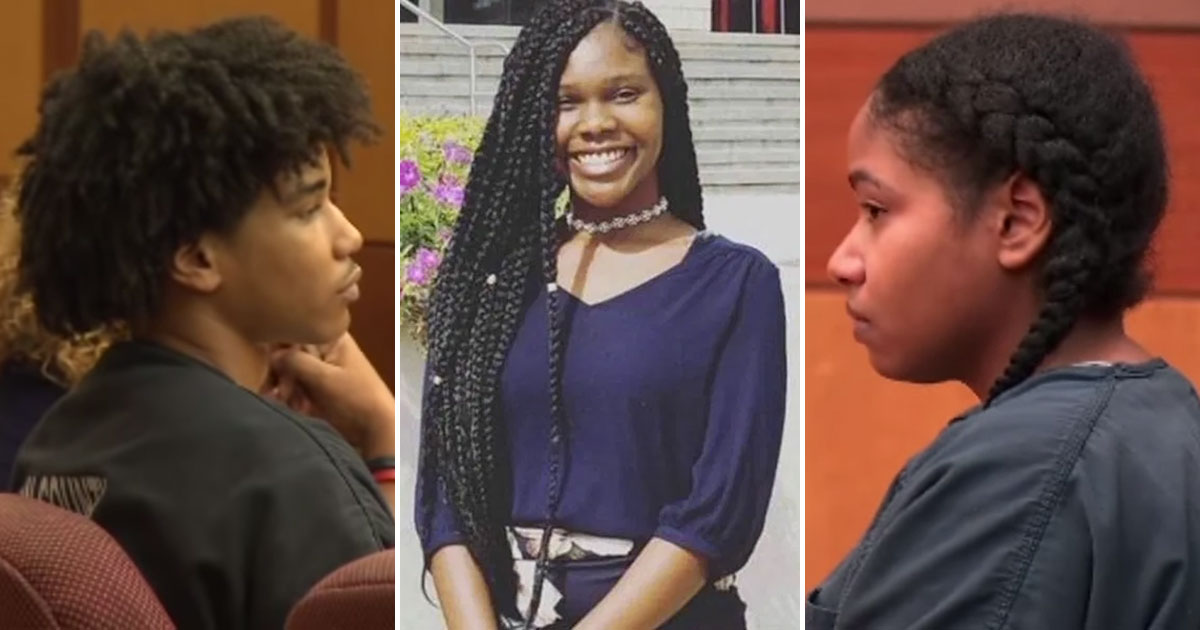 Prosecutors have revealed a new development in the tragic case of Alexis Crawford—the 21-year-old college student who went missing and was later found dead after allegedly being killed by her roommate and her roommate's boyfriend.
Jordyn Jones, one of two suspects accused of murdering Crawford, was denied bond at a hearing Thursday morning (Nov. 21).
Jones—who'd known Crawford since their freshman year at Clark Atlanta University, and was her good friend and roommate—is accused, along with her boyfriend Barron Brantley, of strangling Crawford and tossing her body at a local park on October 31st.
Days before she was killed, Crawford filed a police report accusing Brantley of sexually assaulting her, including "kissing and touching" her without consent.
Crawford told police she had been drinking with Brantley and Jones at the off-campus apartment she shared with Jones when the reported assault happened.
She said at some point during the night, she blacked out and woke up in her bathroom located inside her bedroom partially naked with ripped panties.
During Jones' bond hearing Thursday, prosecutors said Brantley's DNA was found inside Crawford, and they also had evidence that proved the couple tried to cover up the alleged rape even after Crawford was murdered.
However, Deputy District Attorney Adam Abbate said the DNA evidence doesn't necessarily prove Crawford was raped.
Remember when Investigators said #alexiscrawford was raped by her friend's BF #barronbrantley – just now officials confirmed Brantley's DNA was found inside Alexis & They have evidence to prove #JordynJones tried to cover it up even after the couple allegedly murdered her pic.twitter.com/IYLP2VMRzw

— Tyisha Fernandes (@TyishaWSB) November 21, 2019
Crawford, a senior at Clark Atlanta, was reported missing by her family on November 1st after they said they hadn't heard from her in several days. Her body was found in a DeKalb County park a week later.
Brantley was arrested the night Crawford's body was found, while Jones was taken into custody the next day. Jones and Brantley are both charged in Crawford's murder.
Prosecutors said Jones and Crawford got into a physical altercation in the early morning hours of October 31st.
Brantley—who had been hiding out in Jones' room, unbeknownst to Crawford—allegedly joined the fight and strangled Crawford, and then Jones put a plastic bag over her head.
Jones and Brantley then cleaned up the crime scene before putting Crawford's body in a bin. The couple then drove to Exchange Park in Decatur and dumped the bin containing Crawford's body over a hill.
During a preliminary hearing for Brantley on Friday (Nov. 22), Detective Michael Young described the 21-year-old's confession.
"He admitted to choking Alexis, Ms. Crawford, and while he was choking Ms. Crawford, Jordyn Jones put a plastic bag over her head," Young said in his testimony, according to 11 Alive.
The detective, who is the lead investigator over the case, said Brantley told him he knew Crawford was dead because she stopped breathing after she had been "struggling to breathe and she had sounds of agony."
Detective Young also added that both suspects initially lied about committing any crime, however, surveillance footage that contradicted Jones' version of events coaxed her into finally telling the truth.
Young said Brantley first denied knowing where Crawford's body was, but admitted to the truth after being confronted with "inconsistencies" in his story.
He said Jones, with her father present, helped lead authorities to Crawford's body in the park, also after first trying to deny her role in the murder.
The judge denied Jones' bond, arguing that the 21-year-old was a flight risk because in the hours after she allegedly killed Crawford, she is said to have made plans to withdraw from Clark Atlanta and move back to her home state of Michigan, Atlanta's WSB-TV reported.
Documents obtained by the news station confirmed Jones did follow through with withdrawing from the university, which caused the judge to believe she wouldn't return for trial.
During Jones' bond hearing, prosecutors accused her of trying to cover her tracks in the days after the murder.
"On her own volition the defendant Ms. Jones called family members of Ms. Crawford and told them that there was no DNA found in the rape kit," the prosecutor said.
"Well that is incredibly incorrect, the results of the rape kit indicate" that Brantley's DNA was found, the prosecutor added.
Prosecutors said that right there already represents a level of witness intimidation, especially considering the fact that "there are many of the witnesses in this case will be family members of Ms. Crawford as they were the last people that she spoke to."
While Jones' defense lawyer didn't directly address that specific accusation, the attorney said Jones was "supportive following the allegation of rape" and "accompanied her roommate at the time and spent however much time was necessary for her to be at Grady as she went through the rape kit scenario."
Jordyn Jones and Barron Brantley remain in custody without bond at the Fulton County Jail.
Be the first to receive breaking news alerts and more stories like this by subscribing to our mailing list.