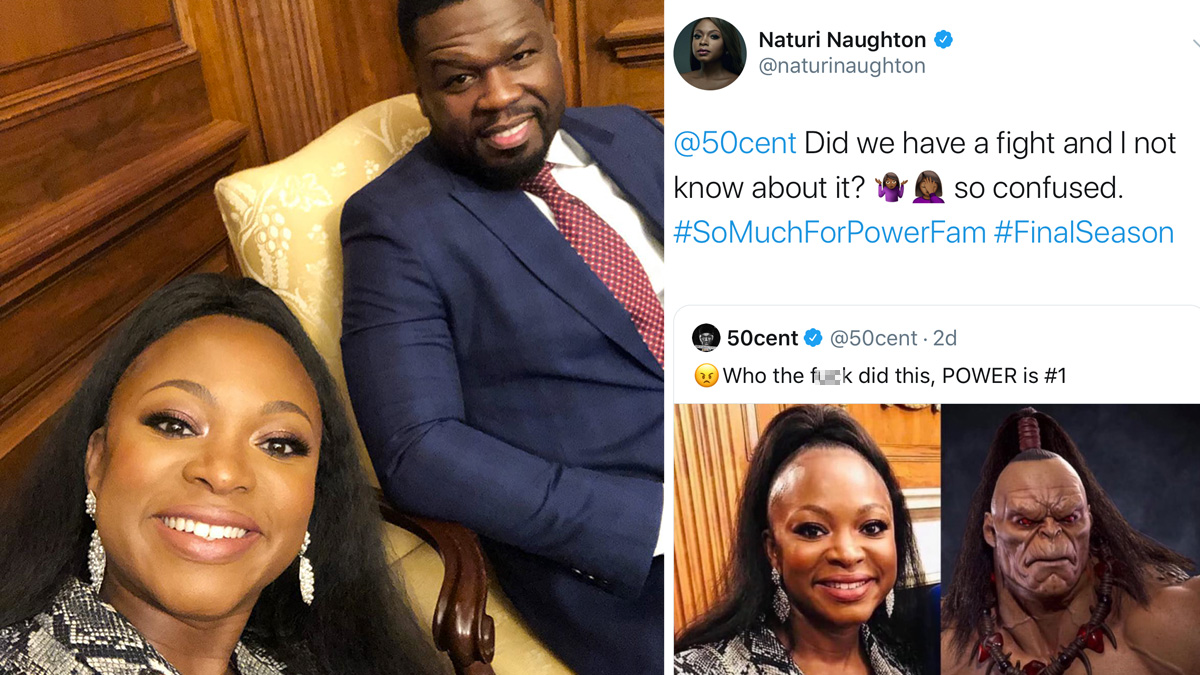 Naturi Naughton is clapping back at 50 Cent for making fun of her hairline AGAIN after he "apologized" last week for doing the exact same thing.
The Power actress took to social media for the second time in the past week to respond to yet another meme shared by the part-time rapper and full-time troller that mocks her forehead.
The first time it happened, Naturi—who plays Tasha on the hit Starz series executive produced by 50 Cent—made it clear that she was hurt by the meme, which she referred to as "mean," and 50 (kinda sorta) apologized.
But for some odd reason, Fifty seemingly went back on his apology and posted a second meme, this time comparing Naughton's slicked-back ponytail to that of Mortal Kombat character Goro. "Who the f**k did this," the rapper fake-asked.
?Who the fuck did this, POWER is #1 pic.twitter.com/XcGFts5yZn

— 50cent (@50cent) November 13, 2019
Naturi caught wind of 50's second post making a joke out of her appearance, and responded on Twitter, saying that she was "so confused" about the whole thing.
"@50cent Did we have a fight and I not know about it? … so confused," the actress/singer tweeted along with the hashtags #SoMuchForPowerFam and #FinalSeason.
@50cent Did we have a fight and I not know about it? ?????????? so confused. #SoMuchForPowerFam #FinalSeason https://t.co/746mcx1YqL

— Naturi Naughton (@naturinaughton) November 15, 2019
She followed up with a second post calling 50 out on Instagram.
"There's so much I wanna say but… You don't even have an Instagram account so… why waste my characters or come out of my CHARACTER!

"But do pick up a copy of my upcoming book: #whatNOTtoDoWhenYoureABoss #ImNotACharacter #IAmARealPerson #IAmAWoman #IAmABlackWoman."
Many of Naturi's followers commented with words of support, with one writing: "Love you babe!!!! You're so dope!!!!"
Another supporter wrote: "And you are a BEAUTIFUL black woman! Don't forget to input that!"
"Powerful sentiment! Stay strong sister. People show you their character through actions," commented another.
But not everyone was so supportive. Some of Naturi's followers said she was being too sensitive and should learn how to take a joke.
"That n***a jus be playing the power cast sensitive as hell," one commenter said. "Man can y'all take a mf joke y'all act like it's that serious," said another.
Be the first to receive breaking news alerts and more stories like this by subscribing to our mailing list.