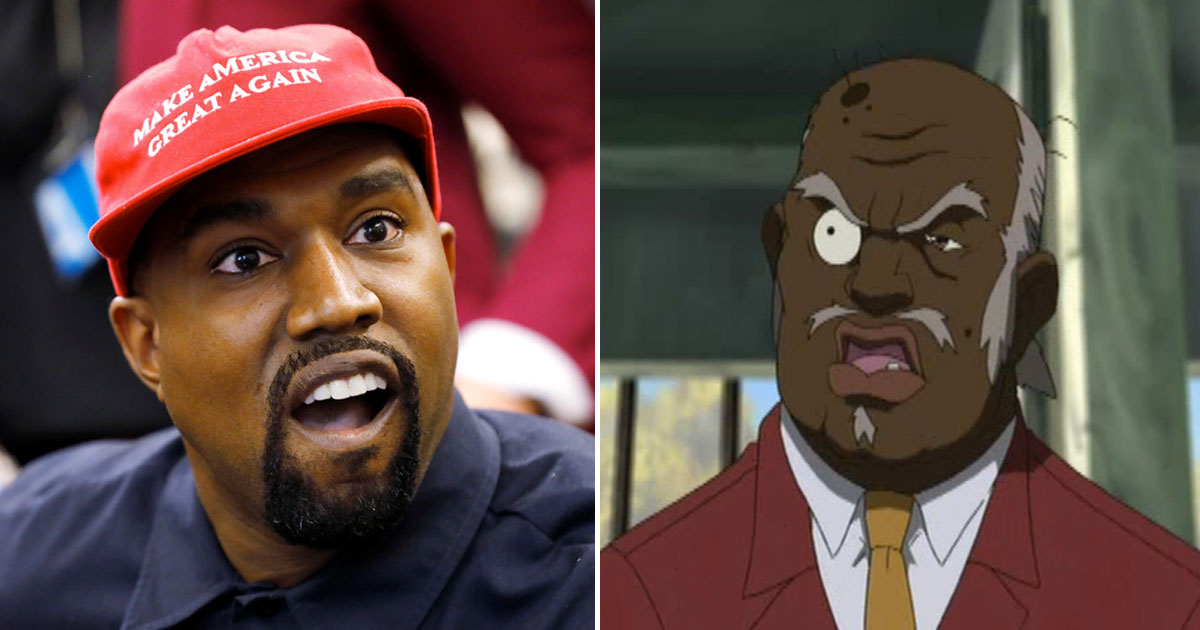 Ever since Kanye West became BFFs with President Donald Trump and started proudly wearing MAGA hats, many have compared the rapper who now claims to be a devout Christian that doesn't allow cursing around him and now requires collaborators to abstain from premarital sex to Uncle Ruckus from The Boondocks.
Voiced by Gary Anthony Williams, Uncle Ruckus is a crude, self-hating, racist antagonist who identifies as a White man and claims to suffer from "reverse vitiligo."
Someone who has been closely following Kanye's antics over the years took what started out as a joke among Boondocks fans a step further and replaced a photo of Uncle Ruckus with one of Kanye wearing a MAGA hat on Google search results for "Boondocks characters."
The switch was first noticed Friday night (Nov. 8), but as of Saturday afternoon, Kanye is still showing up as Uncle Ruckus, and Twitter is loving it, with some users hilarious referring to the rapper as "Koonye West."
I'm dead some on google violated and I love it! #Google #boondocks characters and uncle ruckus picture has been replaced with @kanyewest and it fits!!! pic.twitter.com/pXmS1Zmn15

— DIAMOND HEAD A.K.A. KING BOMAYE! (@DeitrichDavis) November 9, 2019
Koonye is the perfect fit for Uncle Ruckus; Shall they ever make a live action version of The Boondocks @kanyewest pic.twitter.com/uxb6L4I3MU

— $-/ (@spamamar0spam) November 9, 2019
The irony behind all of this is that Ruckus and "Koonye" share a lot of the same views and would probably be really good friends.
The Google prank comes shortly after HBO announced that The Boondocks would be returning to TV in 2020 via their new streaming service HBO Max.
Kanye West recently released his new album Jesus King, which debuted at No. 1 on the Billboard 200, as well as Gospel and Christian charts.
Be the first to receive breaking news alerts and more stories like this by subscribing to our mailing list.