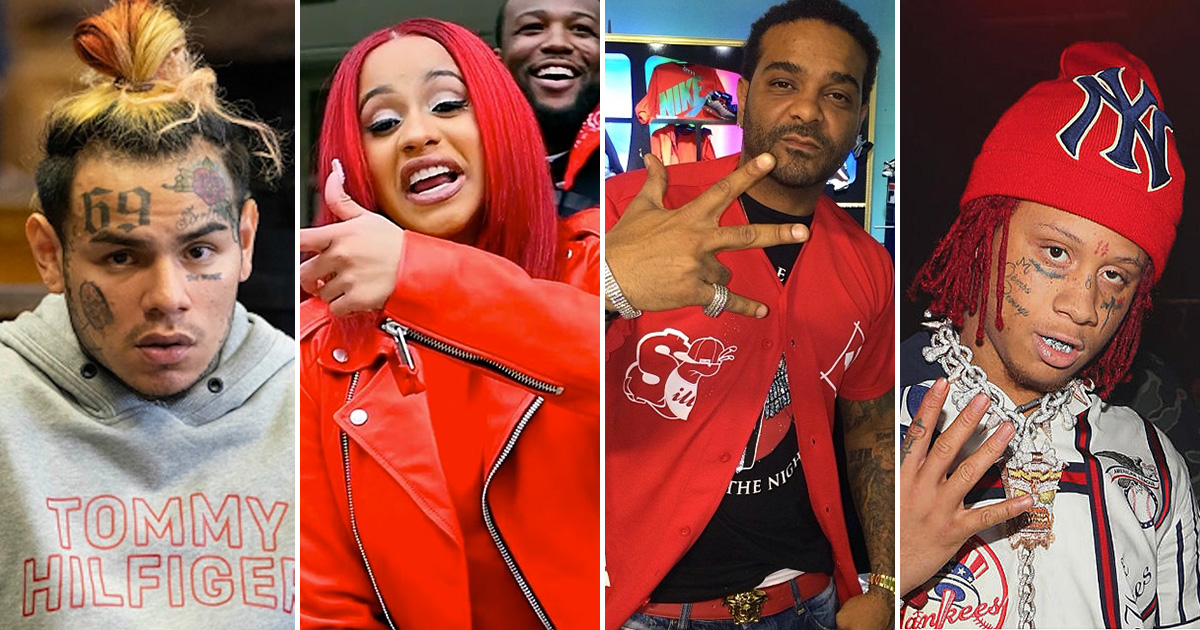 Tekashi 6ix9ine (who will from this point forward be referred to as Tekashi SNITCH9ine) has been singing his heart out on the stand in his Manhattan federal court case all week … and in the process, has outed a few high profile rappers as gang members.
According to Tekashi Snitch9ine—who is on trial for racketeering, drug trafficking, and other crimes—Cardi B, Jim Jones and Trippie Redd are all members of various gangs.
On Tuesday (Sep. 17), while testifying against his one-time gang associates Anthony "Harv" Ellison and Aljermiah "Nuke" Mack, Snitch9ine confirmed that he was once a member of the Nine Trey Bloods gang and also name-dropped Trippie Redd as a former member of the Five-Nine Brims gang.
That information was relayed by reporter Matthew Russell Lee, who has been live-tweeting from the courtroom at Manhattan's Thurgood Marshall United States Courthouse all week.
Tekashi Snitch9ine was facing a minimum of 47 years in prison if convicted as charged, but he could walk as early as next year in exchange for cooperating with the feds, which explains the canary-level singing.
Q: were you a member of a gang?
Yes. The Nine Trey Bloods.
Q: what sort of things did 9 Trey do?
Robberies, assaults, drugs…
Q: do you recognize anyone in court?
A: Anthony Ellison has a gray suit on. Mack has a brown suit on.

— Inner City Press (@innercitypress) September 17, 2019
Trippie Redd was part of Five Nine Brims, Hernandez testifies.
"Did there come a time that Gummo was released on the Internet?"
Yes, it went viral. "Meaning, people shared it."
"I just put it up on YouTube and said, whatever happens, happens."

— Inner City Press (@innercitypress) September 17, 2019
Tekashi's snitching didn't stop there though.
On Thursday (Sep. 19), he named  Jim Jones as a member of the Nine Trey Gangsta Bloods gang, calling him a "retired rapper," and also said Cardi B was a member of the organization as well.
Under cross-examination, Tekashi confirmed that Cardi B was a Bloods member, though he denied he copied her blueprint for fame by including members in his music videos.

"I knew who she was. I didn't pay attention," he told the court.

During his testimony, the rapper has detailed his life of crime with the crew, all while name-checking members such as rapper Jones, whom he identified as a Blood and "retired rapper."

Jurors on Thursday heard a wiretapped call between Jones and Nine Trey godfather Jamal "Mel Murda" Jones after Tekashi went on Power 105.1 to slam the crew as "fraud" and "dirty Bloods."

"He not a gang member no more. He was never a gang member," Jones allegedly said of Tekashi in November 2018. "They going to have to violate shorty because shorty is on some bulls–t."
Back in 2018, Cardi was asked about her affiliation with the Brims subset of the Bloods in a GQ interview.
"Here's the thing. I never really wanted to talk about that, because I always wanted a music deal. I always want to keep my endorsements," she told the magazine at the time, adding that she was invited to join the gang when she was a teen.
"When I was 16 years old, I used to hang out with a lot of Bloods," the "Bodak Yellow" rapper explained.
"I used to pop off with my homies. And they'd say, 'Yo, you really get it poppin'. You should come home. You should turn Blood.' And I did. Yes, I did. And something that—it's not like, oh, you leave. You don't leave."
Cardi, however, made it a point to note that she doesn't glorify her past because she knows young girls look up to her.
"That's why I don't talk about it much. Because I wouldn't want a young person, a young girl, to think it's okay to join it," she said.
"You could talk to somebody that is considered Big Homie and they will tell you: 'Don't join a gang.' The person that I'm under, she would tell you, 'Don't join a gang.' It's not about violence. It's just like—it doesn't make your money … I rep it, because I been repping it for such a long time."
Be the first to receive breaking news alerts and more stories like this by subscribing to our mailing list.