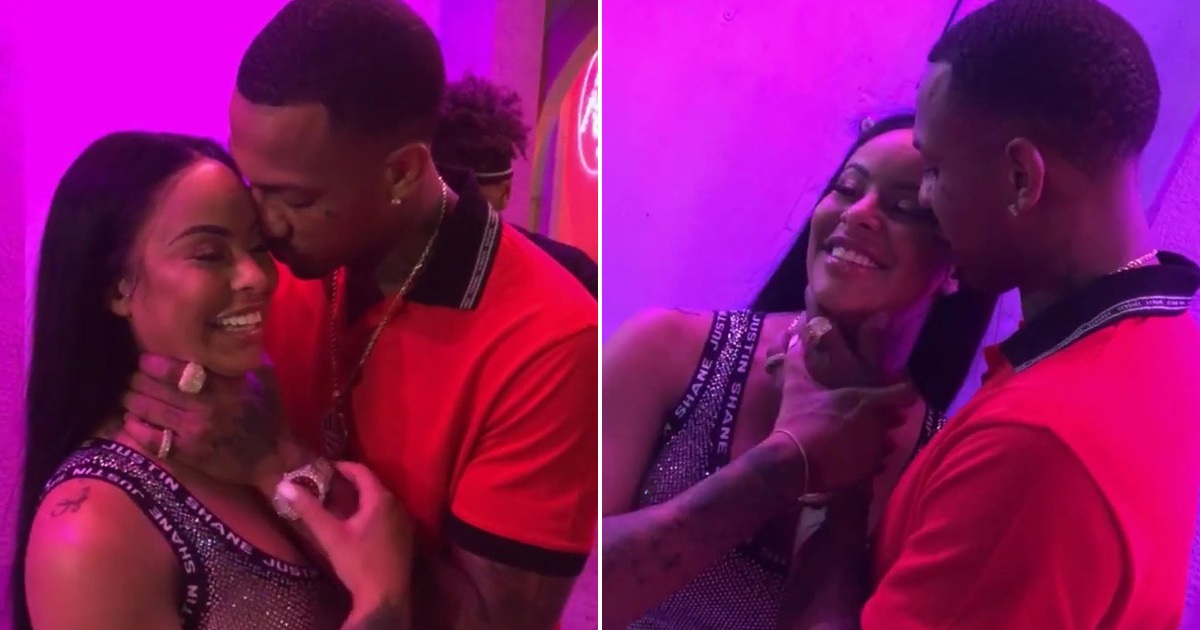 Alexis Skyy is dating a rapper named Trouble, but some fans are concerned the model may actually be in trouble.
Just over a week after a disturbing video of Alexis using a cucumber on another woman at Trouble's pool party went viral, another video featuring the couple is setting off alarm bells.
While partying at a Miami club, Trouble is caught on video gripping Alexis' throat rather tightly. Smiling uncomfortably, she tries to pull his hand away, but the Atlanta rapper does not budge.
"I let him tell me what to do," she tells the person recording. "I follow his lead."
https://www.instagram.com/p/B1OeLqKgl37/
Trouble posted the video on his own Instagram account with the caption, "It's called daddy." In a separate post, he shared photos with his hand around Alexis' neck and wrote: "When she think she bout to have a #hotgirlsummer."
The throat grab may have been playful (or even sexual in nature), but some fans expressed their concern on social media.
y'all i think alexis skyy be getting abused

— *:.?. (@playboibarb) August 16, 2019
that video of Alexis Skyy n Trouble is not ok

— ? (@Marcy_xo) August 16, 2019
#AlexisSkyy's Rapper Bae #Trouble Uncomfortably Kung Fu Grips Her Neck, Sis looks uncomfortable ? pic.twitter.com/VehGWqyQdo

— talksandthought (@Talksandthought) August 16, 2019
This sh*t ain't cute .. Alexis Skyy needs to drop him pic.twitter.com/Py0obbEf1h

— SpillrealityT?? (@SpillrealityT) August 16, 2019
Alexis Skyy.. babygirl… ?

— GF (@GabyyyF__) August 16, 2019
Seeing Trouble and Alexis Skyy together makes me sick to my stomach tbh

— Wardeness of the Bodega (@neecoleimani) August 16, 2019
Seems To me like #alexisskyy trying to push his arm away from her neck. ?? #alexissky #lhhh #lhhnewyork #thoughts pic.twitter.com/axERf4GStW

— Queen_music08 (@QMusic08) August 17, 2019
Alexis and Trouble made their relationship official about two weeks ago. Shortly afterward, the Love & Hip-Hop star was the talk of Twitter as the cucumber video circulated.
The incident took place at Trouble's cucumber-themed party, which was inspired by the #CucumberChallenge he reportedly started.
Be the first to receive breaking news alerts and more stories like this by subscribing to our mailing list.