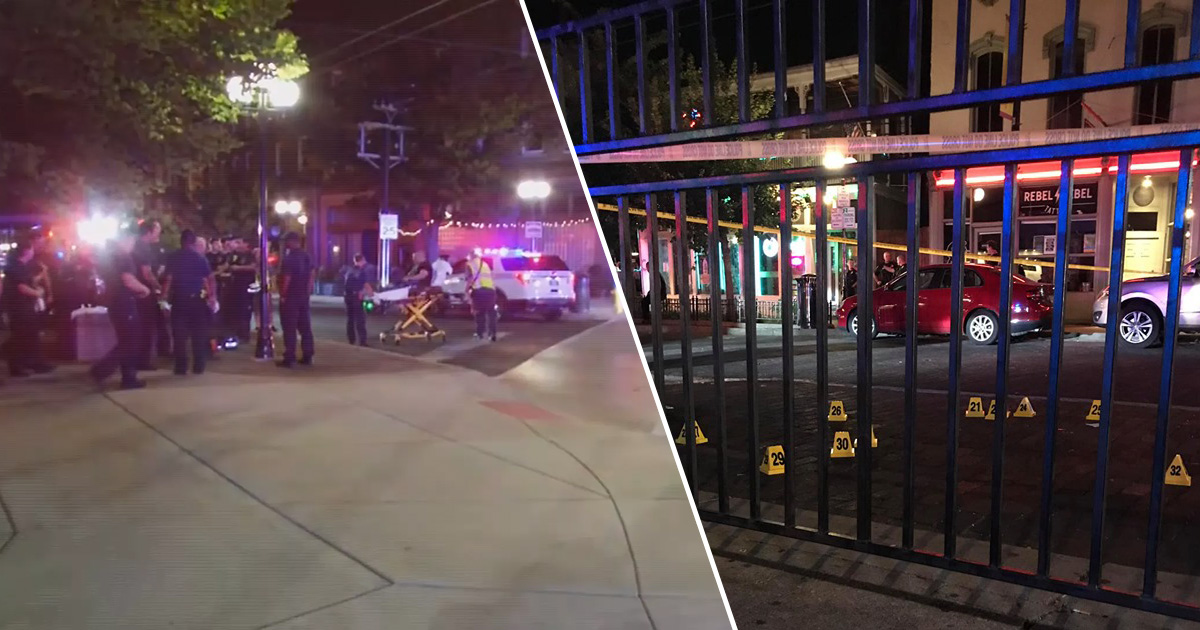 At least 10 people are confirmed dead and more than two dozen were wounded after a gunman opened fire in Dayton, Ohio just hours after a mass shooting at a Walmart in El Paso, Texas.
The gunman, who was later identified as 24-year-old Connor Betts, was also killed in the shooting.
Among the nine victims was the shooter's 22-year-old sister Megan Kathleen Betts and her boyfriend, who were found shot to death in a car near the crime scene.
The shooting took place in Dayton's Oregon District, which is a collection of bars, restaurants and local businesses in the city's downtown area.
Police said the entire shooting took place outside and the shooter was firing multiple rounds at victims from a "long gun."
#BREAKING: Even more police presence down by Dublin Pub. Waiting to hear where office scene is. pic.twitter.com/OWpYox1OTQ

— Molly Reed (@MollyR247Now) August 4, 2019
Initial reports stated at least 24 people were injured in the senseless attack, which was first reported at 1:22 a.m., police said.
Witnesses said there were "casualties everywhere" and described the shooter as a "white man dressed in all black."
One eyewitness, James Williams, wrote on Facebook:
"Sad people are not right. I'm safe. Happened right in front of the patio where I was sitting in front of Neds.

"The guy in front of Ned Peppers' door is the active shooter. He tried to go into the bar but did not make it through the door. Someone took the gun from him and he got shot and is dead.

"There are at least eight people dead right by the picnic table where I was on the street. A bunch of people taken to the hospital. I don't know how any… this place is a disaster."
Williams took to Facebook Live to describe the chaos. He said the shooter "came up with an AR-15, had a vest on, earmuffs, just started blowing bullets everywhere … There's casualties everywhere."
A Miami Valley Hospital spokesperson told ABC News they'd received 16 victims, but didn't provide any further details about their conditions or their injuries.
The shooting in Dayton, Ohio comes just 12 hours after a gunman killed at least 20 people and injured more than two dozen others at a Walmart in El Paso, Texas.
The suspect in that shooting, a 21-year-old man, is in police custody.
The Dayton, Ohio shooting also marks the third mass shooting in the U.S. in less than a week.
Last Sunday (Jul. 28) a gunman opened fire at the Gilroy Garlic Festival in California, killing three people, including a 6-year-old boy. 12 others were injured and the shooter killed himself.
According to the Mass Shooting Tracker, this year alone, there have been 291 mass shootings in the United States, resulting in more than 1,400 people being shot. Of those 1,400+ people, more than 300 have died.
The website's 2018 report states there were a total of 426 mass shootings that year, resulting in more than 1,500 injured victims and over 500 fatalities.
Be the first to receive breaking news alerts and more stories like this by subscribing to our mailing list.