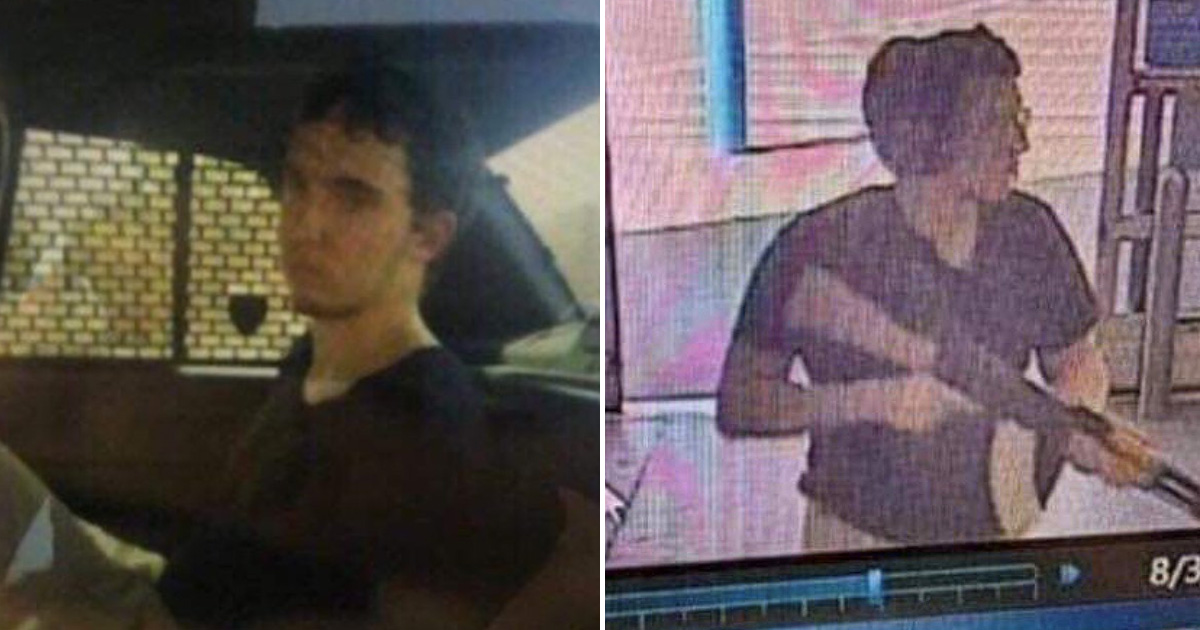 A 21-year-old Trump supporter who didn't like "race mixing" has been identified as the El Paso, Texas Walmart shooting suspect.
While police haven't officially announced the shooter's identity, The Washington Examiner reported: "a law enforcement source in El Paso told the Washington Examiner that 21-year-old suspect Patrick Crusius from Dallas, Texas, has been taken into custody."
Police said at least 20 were killed, dozens more were wounded and one person was in custody following a mass shooting Saturday morning (Aug. 3) at a Walmart in El Paso, Texas.
#ElPaso shooter entering the Walmart in El Paso. At least one Suspect taken into custody and 22 injured, multiple fatalities #EPShooting pic.twitter.com/n8sb85UF0G

— ?????? (Danny) ?????? (@danielmontez14) August 3, 2019
El Paso Police Sergeant Robert Gomez said phone calls started coming in around 10 a.m. Mountain Daylight Time (11 a.m. EST) about an active shooter at the El Paso Walmart, which is located in the area of the Cielo Vista Mall.
Authorities said at least 11 victims were transported to the University Medical Center of El Paso.
Sgt. Gomez said initial reports saying the shooter used a rifle couldn't be confirmed. He also confirmed that earlier reports of multiple shooters and multiple shooting locations were inaccurate.
Patrick Crusius was first identified as the gunman by Washington Examiner reported Anna Giaritelli, who says she was informed by a law enforcement official.
According to the law enforcement official, Crusius just celebrated his 21st birthday this week.
A law enforcement official in El Paso told me the Walmart shooter is in custody. Patrick Crusius of Dallas. Just turned 21 years old this week. pic.twitter.com/CEJh6rYij1

— Anna Giaritelli (@Anna_Giaritelli) August 3, 2019
Social media accounts believed to belong to Crusius were reportedly scrubbed from the internet not long after the attack and his name was released online.
However, several screenshots were posted seemingly showing Crusius in support of President Donald Trump and his infamous border wall.
Patrick Crusius wanted to build a wall. Hmm pic.twitter.com/7nKXCZbTFE

— JAM CITY Antifascist Action (@JamCityAntifa) August 3, 2019
The Shooter in El Paso according to a Sargent on the scene says the shooter is Patrick Crusius

If this is true, the Twitter account associated with Patrick is full of Trump and MAGA related postings.

Another right wing extremist motivated by xenophobia pic.twitter.com/2YIg8AnBh6

— Davis Schmiven (@WheresMyArk_23) August 3, 2019
A manifesto reportedly written by Crusius included anti-immigrant rhetoric with the writer going in-depth about why they're "against race mixing."
El Paso shooter clearly outlined his motives, political views, biography, and outlined his gear for the day of the attack on his computer.

Below is some of the manifesto he has written out prior to the attack today: #ElPaso #walmartshooting. His name is patrick crusius pic.twitter.com/fhV0hUi9tP

— call_me_ricky_ (@Rickyh180) August 3, 2019
The writer also criticized both major political parties in the U.S., but also stressed that they support the Republican Party's immigration policies.
The writer also made references to alleged Christchurch mosque shooter Brenton Tarrant.
The authenticity of the manifesto has yet to be verified, however, the FBI said they were aware of it and are investigating.
Be the first to receive breaking news alerts and more stories like this by subscribing to our mailing list.