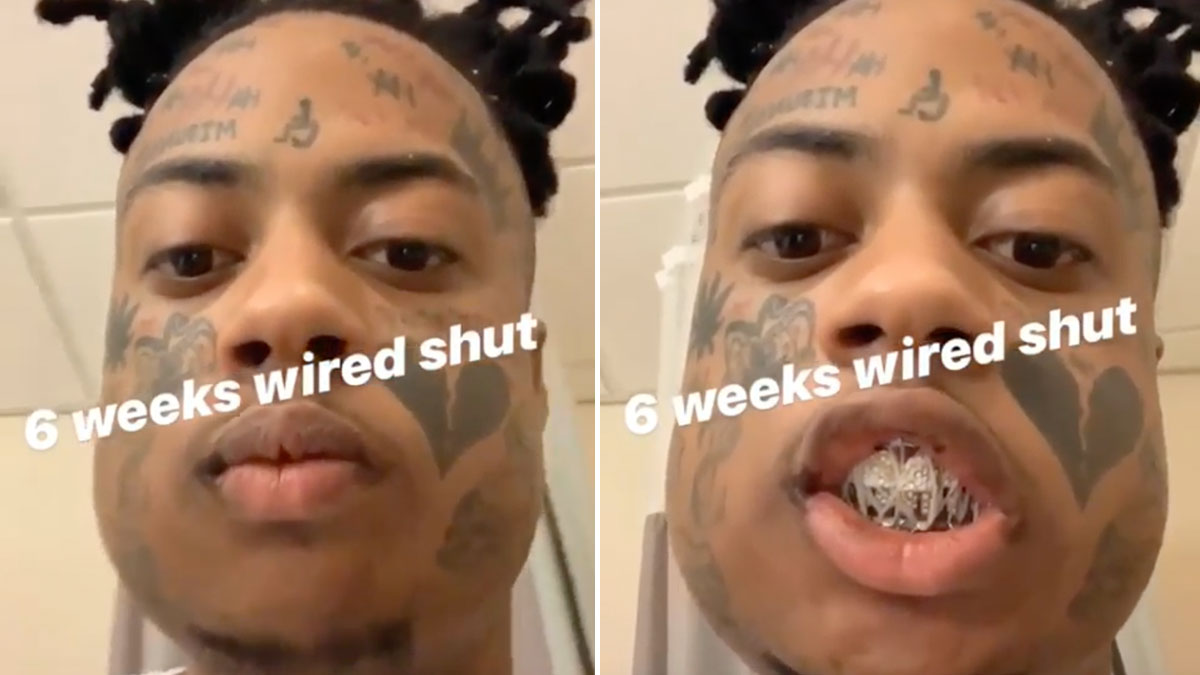 You won't be hearing from too much from Boonk Gang over the next six weeks because his jaw is wired shut.
Earlier this week, the social media menace turned rapper was seen in a viral video getting punched in the face.
The brief clip showed Boonk getting hit just one time, but apparently, that one hit was so lethal (or maybe he was hit more times after the camera cut off) that it broke his jaw in two places.
Boonk—who also goes by his rap name "John Gabbana"—shared a series of graphic videos on Instagram Sunday (Jul. 14) showing off his injuries, writing in the caption of one clip: "They knocked out most of my teeth bruh with that cheap sh*t bruh."
The next day, he took to Instagram once again, this time to reveal that he had to have his jaw wired shut for the next six weeks.
"Face fat af man," he wrote. "My [jaw] wired together for 6 weeks. Surgery went well … Thanks for all the support & love [middle finger emoji] Who hating."
He can be seen in the video below talking through a surgically clenched jaw. "Six weeks, with my mouth wired together," he said.
https://www.instagram.com/p/Bz9Gq5knlNh/
Boonk Gang (born: John Robert Hill Jr.) is known for his ridiculous antics on social media, particularly for taking things out of people's hands and running away from them, or just acting a whole entire fool inside establishments like fast-food restaurants, convenience stores, Walmart and more.
Boonk's popularity sparked a trend of people recording themselves snatching things from people and running off while yelling his catchphrase "Boonk Gang! Whole lotta gang sh*t!"
When he joined Instagram in April 2017, his first video showed him going behind the counter of a Popeye's and walking out with a box of chicken. The video garnered more than a million views within four months.
In July, Boonk—a native of Miami, Florida—celebrated reaching one million followers on Instagram by stripping down to his underwear and throwing milkshakes all over himself inside a local Chick-fil-A.
That same month, he was arrested and charged with burglary and petty theft for taking a tray of doughnuts from a Dunkin' Donuts in Miami Gardens two months prior.
He returned the doughnuts at the request of an employee and later pleaded not guilty and was sentenced to 60 days in probation.
In late June 2018, Boonk posted a number of sexually explicit videos to his Instagram stories showing him performing various sex acts with a woman in a hotel room.
The videos quickly went viral and Instagram eventually deleted his account in early July.
Later that month, he posted on Snapchat that he had gotten shot twice, but an insider at the hospital where he was treated said his bullet wounds were "self-inflicted."
Just two weeks prior to him "getting shot," he went viral on social media after a video showed him falling and hitting his head on a wall after he showed up high as a kite to an interview on Adam 22's No Jumper podcast.
And now … in July 2019, Boonk Gang's jaw will be wired shut for the next six weeks after getting punched in the face on camera.
What is it with this guy and the month of July? Is it the Miami heat?
Be the first to receive breaking news alerts and more stories like this by subscribing to our mailing list.