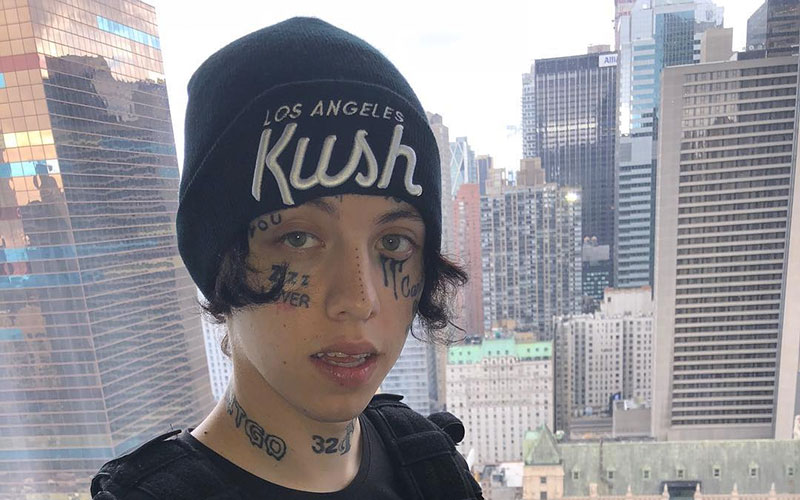 This past week, I learned two things. One: There's an actual rapper named Lil Xan (you know, like the pill Xanax?) And two: It is possible to "overdose" on Flamin' Hot Cheetos.
Last Monday (Sep. 24), Lil Xan had to be rushed to the hospital after consuming too many Flamin' Hot Cheetos. After sharing a picture from the back of an ambulance to his IG stories, the 22-year-old rapper explained what happened in a video he posted on Instagram.
"I went to the hospital today," he said. "You know, getting ready to pack for this tour. I just want to let everybody know I was in the hospital—not due to any drugs—but I guess I ate too many Hot Cheetos and I guess it ripped something in my stomach open, so I puked a little blood…"
He wrote in the caption: "Just wanna let everyone know that I'm good, healthier then I've ever been and ready to kick of my third Tour in NY ina couple days! Also be careful, Hot Cheetos are one hell of a drug aha."
https://www.instagram.com/p/BoIZVZTnZLD/?taken-by=xanxiety
Of course some folks were all "WE DON'T BELIEVE YOU, YOU NEED MORE PEOPLE" regarding his alleged Hot Cheetos overdose, but apparently, OD'ing on Hot Cheetos is an actual thing.
In fact, according to USA Today's The Commercial Appeal blog, the consumption of Flamin' Hot Cheetos and Takis are the leading cause of gastric-related hospital visits among kids, with one children's hospital in Memphis, Tennessee estimating this year that it sees at least 100 to 150 patients per month following overconsumption of spicy snacks, which leads to abdominal pain and/or acid reflux.
Just this past July, a Memphis woman told WREG that her 17-year-old daughter had to have her gallbladder removed after eating too many Takis.
"When my daughter had to have this surgery, I knew I had to tell everybody about it," Rene Craighead said. "She loves [hot snacks]. Every time I go out she says, 'Bring me back some Hot Takis, bring me back some Hot Chips.' I want to make her happy, so I brought them back. She was eating big bags and would take them to school with her."
Craighead said her daughter was consuming around four bags of hot snacks per week.
Dr. Cary Cavender, a gastroenterologist at Le Bonheur Children's Hospital in Memphis says there's a lot of factors that go into having a gallbladder removed, but he believes eating hot chips probably contributed. "We do see tons of gastritis and ulcer-related stuff due to it," Dr. Cavender told WREG.
"It's reached the point where almost the first question we ask is 'Have you been eating hot chips?' Because there are an uncanny number of them that are," Cavender said to The Commercial Appeal. "There is something amazingly addictive about them. The kids just go nuts for them."
In a statement on behalf of Takis, Buchanan Public Relations said: "We assure you that Takis are safe to eat, but should be enjoyed in moderation as part of a well-balanced diet. Takis ingredients fully comply with U.S. Food and Drug Administration regulations, and all of the ingredients in each flavor are listed in detail on the label. Always check the serving size before snacking."
Frito-Lay, the parent company behind Flamin' Hot Cheetos, also said in a statement: "We aim to delight our consumers and food safety is always our number one priority. Flamin' Hot Cheetos meet all applicable food safety regulations, as well as our rigorous quality standards. That said, we realize some consumers may be more sensitive to spicy foods than others and may choose to moderate consumption or avoid spicier snacks due to personal preference."
As for Lil Xan, despite having a hole burned into his stomach from Flamin' Hot Cheetos, it seems like he's having some trouble staying away from the spicy snack.
Last Wednesday (Sep. 26), just two days after his emergency hospitalization, the rapper–who kicked off his "Total Xanarchy Tour" in New York City that night–was offered a bag of Hot Cheetos by a TMZ cameraman, and he happily ate a Cheeto on camera.
Some people never learn…
Be the first to receive breaking news alerts and more stories like this by subscribing to our mailing list.