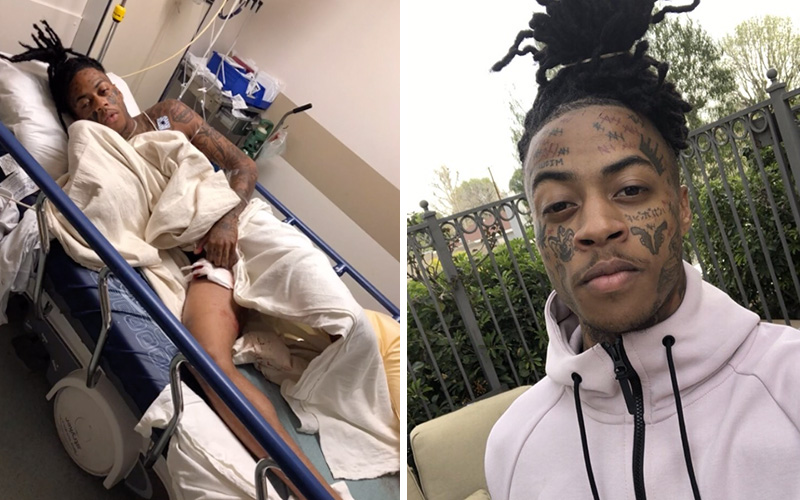 Boonk Gang showed off a disturbing image on Snapchat Friday afternoon (Jul. 28) of him lying in a hospital bed before revealing in subsequent Snaps that he "got shot twice." One of the Snaps showed one of his gunshot wounds—a pretty big hole in his leg.
The 21-year-old rapper and social media sensation, whose real name is John Robert Hill Jr., also posted videos showing him in the car, apparently after leaving the hospital, with blood seeping through his hospital pants.
"Look, I'm bleeding through my sh**," he said. "My fans need to know that Boonk Gang living a real life, and I'm going through real problems," he said wincing through the pain. "F***, that sh** hurts."
Although we're unsure of the severity of his injuries, he looked distressed in the Snaps, even seemingly crying in one due to the pain of being shot in the leg.
"My sh** leaking bruh," he said laughing with tears welled up in his eyes. "I got shot twice. F*** it." He said in another video posted a couple of hours after the first few, "Boonk Gang still out here, you know what I'm saying?" before ending his Snapchat story with his trademark phrase, "Whole lotta gang sh**."
He later tweeted: "Got hit 2 times but I'm solid."
https://twitter.com/boonkgang/status/1023241895491694593
News of him getting shot shouldn't come as a surprise to anyone who follows Boonk, who brands himself as a troublemaker on social media.
He first rose to prominence last year after videos went viral showing him stealing food from restaurants like Popeyes and Dunkin Donuts and running off while yelling "Boonk Gang! Whole lotta gang sh**!" He was later arrested for that, among other things, but continued to post videos of him running off with stuff while yelling his "whole lotta gang sh**" catchphrase.
Earlier this month, his Instagram was shut down after he was caught sharing a number of X-rated videos to his IG stories. The NSFW videos showed him performing oral sex, receiving oral sex, and having sexual intercourse, all of which are against the social media app's rules. Shortly after posting the clips, he took to Twitter to let his fans know "I like to have a lot of sex."
https://twitter.com/boonkgang/status/1013199730401214464?lang=en
He's continued to upload NSFW videos on Twitter, where the rules aren't as strict.
Before sharing on Snapchat that he had gotten shot twice, he posted videos of himself hanging out with friends at a pool and sharing what sounds like new music. "Yall ready for my next project or what?" he wrote in the caption of one of the clips.
But another series of videos, taken two weeks ago according to the timestamp, showed him in a state of depression. "No matter how happy I seem I'm hurting inside… badly," the caption of one video read. Another video showed him crying and wiping tears from his face.
"I'm not a crack head or a junkie I just have real life issues going on. Celebrity/rapper I have real feelings and a good heart but the world ruined me. IDK if I wanna live or die, I just want this pain [taken] away from me," he wrote to his fans in one post. "I been thru a lot and I want y'all to know I feel the same pain y'all feel and I guaranteed for a fact I been thru what y'all been thru. I'ma gangsta, but on some real sh** it's hard and I try to keep a smile to keep y'all smiling. I love y'all," he shared in another.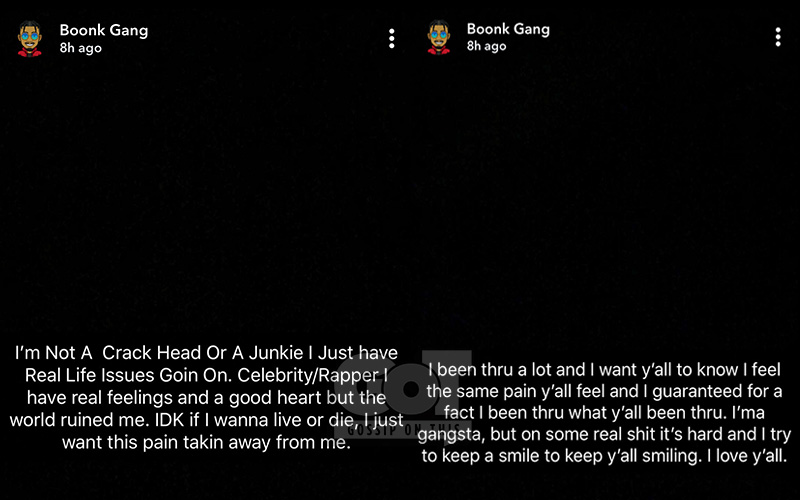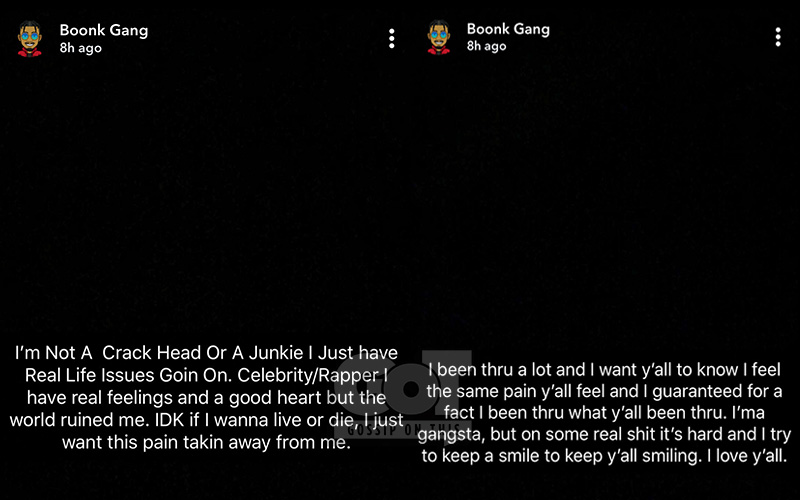 Earlier this week, a video went viral showing him falling and hitting his head on a wall after showing up high as hell to an interview on the No Jumper podcast with Adam 22.
Throughout the interview, he was sloppy, slurring his words and could barely put together a coherent sentence. The following day, a series of posts on Twitter revealed that he was battling depression and used drugs to numb the pain.
"Drugs make everything feel better," he tweeted. "My whole life [people] pushed me away. Acting like they care about me. I do drugs because I feel alone. When I'm high I feel nothing. When I'm sober I feel everything."
https://twitter.com/boonkgang/status/1021209407630204928
https://twitter.com/boonkgang/status/1021413083741184000
https://twitter.com/boonkgang/status/1021442762917285888
Boonk is obviously crying out for help, and hopefully, those around him can be there to support him. But you can only help someone who wants it.
Be the first to receive breaking news alerts and more stories like this by subscribing to our mailing list.