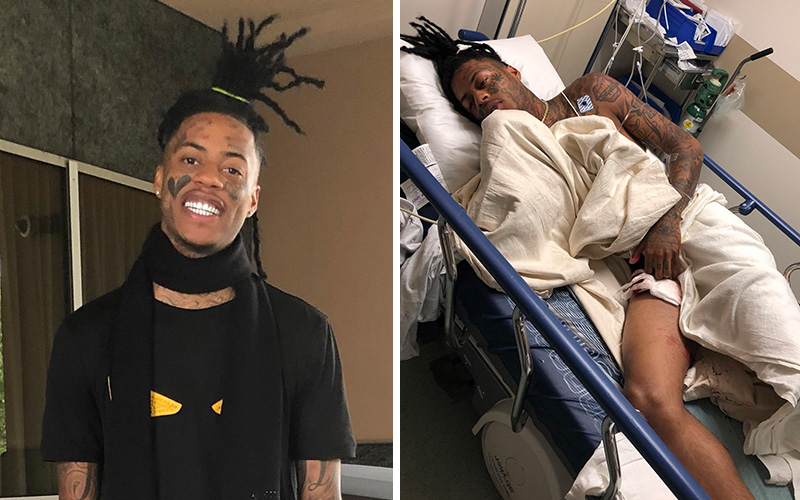 Boonk Gang made headlines yesterday after he posted on Snapchat that he had gotten shot twice.
Boonk posted a photo of himself laying in a hospital bed after getting shot Saturday (Jul. 28). While details about the shooting have been scarce, a number of theories are being passed around online, with most popular one being that he may have shot himself, either accidentally or on purpose (or accidentally on purpose).
Knowing Boonk Gang, him shooting himself is no surprise. Plus, there haven't been any confirmed news reports of him being shot, which is usually par the course anytime gunfire is exchanged between individuals and someone goes to the hospital.
According to Media Take Out, the rapper/social media personality shot himself in the leg "while recording a video FOR LIVE." They never specified the platform Boonk was streaming on, and we haven't seen any videos floating around of him shooting himself, so that's probably not true. But, there is a strong possibility that he did shoot himself.
Boonk told fans he's got "street problems" and suggested his gunshot wounds came from an enemy opening fire on him, but an insider at the hospital says his bullet wounds were "self-inflicted." He was questioned by police, but they left without charging the social media star with anything.
Regardless of how he shot himself, Boonk appears to be fine now. He wrote on Twitter Saturday evening: "N***as get shot everyday, I'm cooling!"
He also posted a Snap earlier today showing him drinking Pedialyte. "Real n***as sip on Pedialyte, nom saying?" he said.
Prior to yesterday's shooting incident, Boonk posted a number of troubling messages on Twitter, possibly as a cry for help:
https://twitter.com/boonkgang/status/1021209407630204928
https://twitter.com/boonkgang/status/1021413083741184000
https://twitter.com/boonkgang/status/1021442762917285888
https://twitter.com/boonkgang/status/1022632288247377921
https://twitter.com/boonkgang/status/1023044124591583234
Boonk also said on Snapchat that he didn't know whether he wanted to live or die. "I just want this pain taken away from me," he said.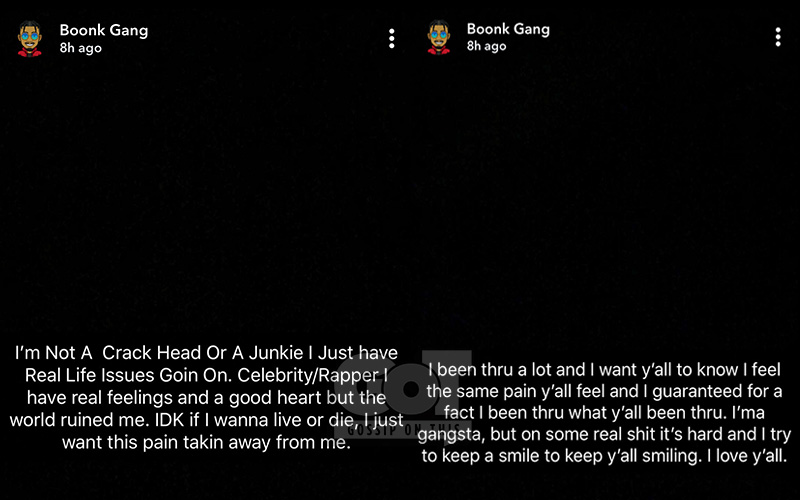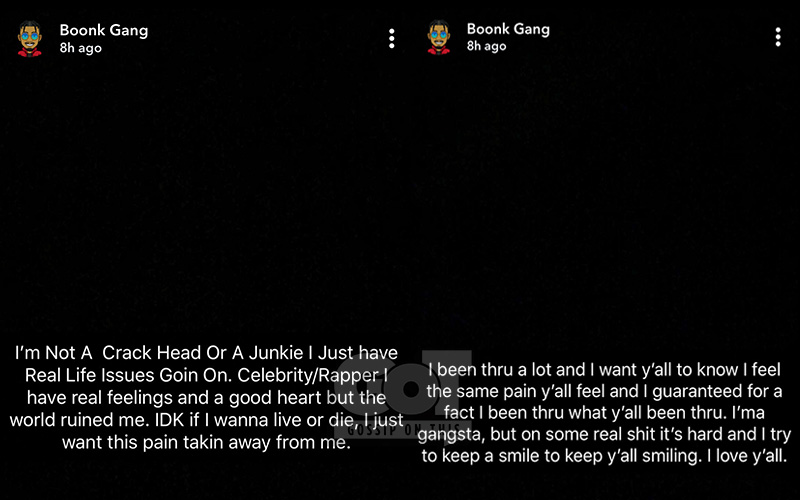 And he also posted a bunch of videos showing him crying and clearly not in a good place:
The past 30 days or so have been pretty eventful for Boonk Gang. Nom saying?
He started randomly posting videos of him having sex on his Instagram Stories in late June and by early July was banned from the app. He also went viral last week after a video went viral of him falling and hitting his head on a wall after showing up high as hell to an interview on the No Jumper podcast with Adam 22.
Be the first to receive breaking news alerts and more stories like this by subscribing to our mailing list.