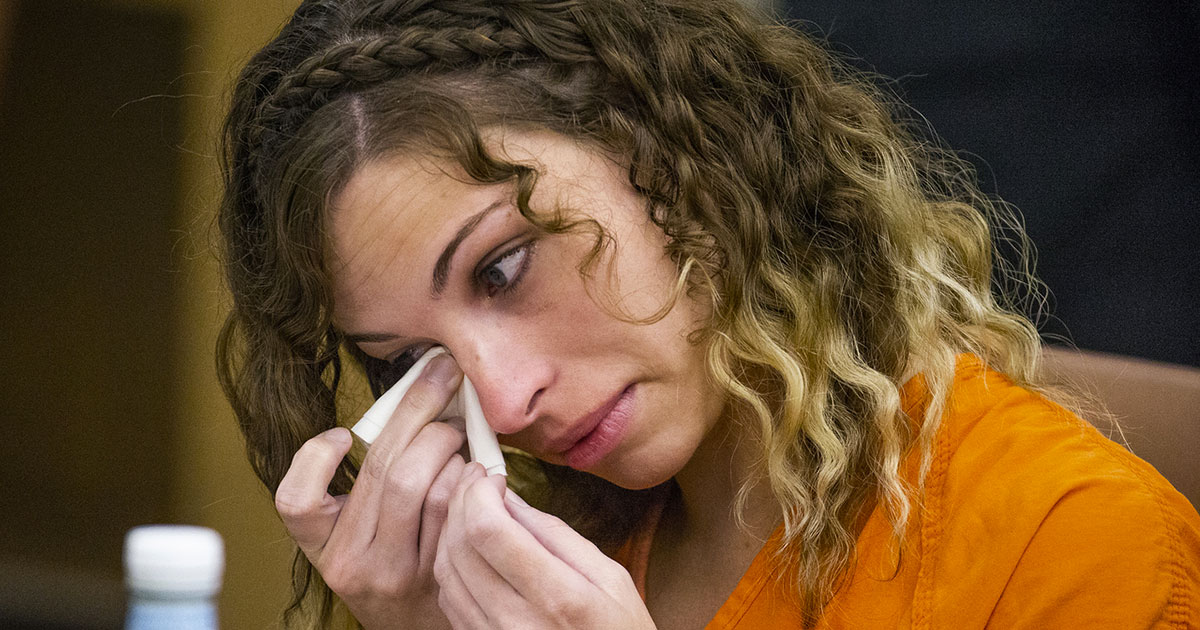 A former teacher in Arizona was sentenced to 20 years in prison Friday (Jul. 13) after pleading guilty to molesting a 13-year-old student.
28-year-old Brittany Zamora made headlines last year when she was arrested for molesting one student and potentially grooming another.
Prosecutors said Zamora and the 13-year-old boy had sex multiple times in her car and her classroom at La Brisas Academy in Goodyear.
The two even touched each other sexually in the middle of a class while the other students were watching a video, completely oblivious to what was going on.
Investigators said a second boy, age 11, witnessed Zamora having sex with the 13-year-old, and Zamora also showed naked photos to both boys and would ask them "sexual questions."
"Ms. Zamora lures these boys, earns their trust and then takes advantage of them purely to fill her own sexual desires," the mother of the 11-year-old boy said in court. "She used her position of power to molest a child. She's a pedophile and no different than if a man were sitting in her place right now."
The 13-year-old student's parents called Zamora a "twisted monster" in a statement read aloud by their lawyer.
"He will miss out on so many important emotions and feelings when it comes to relationships with women for the rest of his life—all because his trust was betrayed by his sixth-grade school teacher," the parents wrote in a victim impact statement.
As part of a plea deal, Zamora pleaded guilty in June to sexual conduct with a minor, attempted molestation of a minor and public sexual indecency.
She had been charged with 15 felony counts, including eight counts of sexual misconduct, and a number of other charges.
The 20 years Zamora received was the lowest possible sentence for her crime, with the maximum being 44 years. She'll be on probation for the rest of her life and will have to register as a sex offender.
Zamora apologized in court and shed a few tears at her sentencing, calling herself "a good genuine person who made a mistake and regrets it deeply."
She added: "I lived my life respecting and trying to obey every law. I'm not a threat to society."
Maricopa County Prosecutor Lacey Fisher said the only reason Zamora stopped was because she got caught.
"If a (parent) hadn't discovered what was happening, there's little doubt there would have been more victims in the defendant's considerable wake," Fisher said.
Inside the courtroom, Zamora's defense lawyer, Belen Guerra, told reporters that his client is a "great candidate" for rehabilitation. "She wants to change her life and she's already started that," he said.
But outside, in a press conference held shortly after the sentencing, Guerra placed the blame on the 13-year-old boy, implying that he's the one who seduced Zamora, and she emphasized the fact that he's technically a teenager, even though the legal age of consent in Arizona is 17.
Guerra also accused the school's principal of ignoring Zamora's repeated requests to move the boy to another class because he had "boundary issues" and was "obsessed" with his teacher.
Russ Richelsoph, an attorney for the 13-year-old student's dad and stepmom, told The Arizona Republic they were shocked by Guerra's comments.
"To go into court and argue a client is remorseful during a sentencing hearing and to hold a press conference hours later blaming it on the victim indicates she's not truly remorseful," Richelsoph said.
"Her statement today just punctuates the fact that she has an attitude toward children that is dangerous and makes her a danger to society."
Be the first to receive breaking news alerts and more stories like this by subscribing to our mailing list.