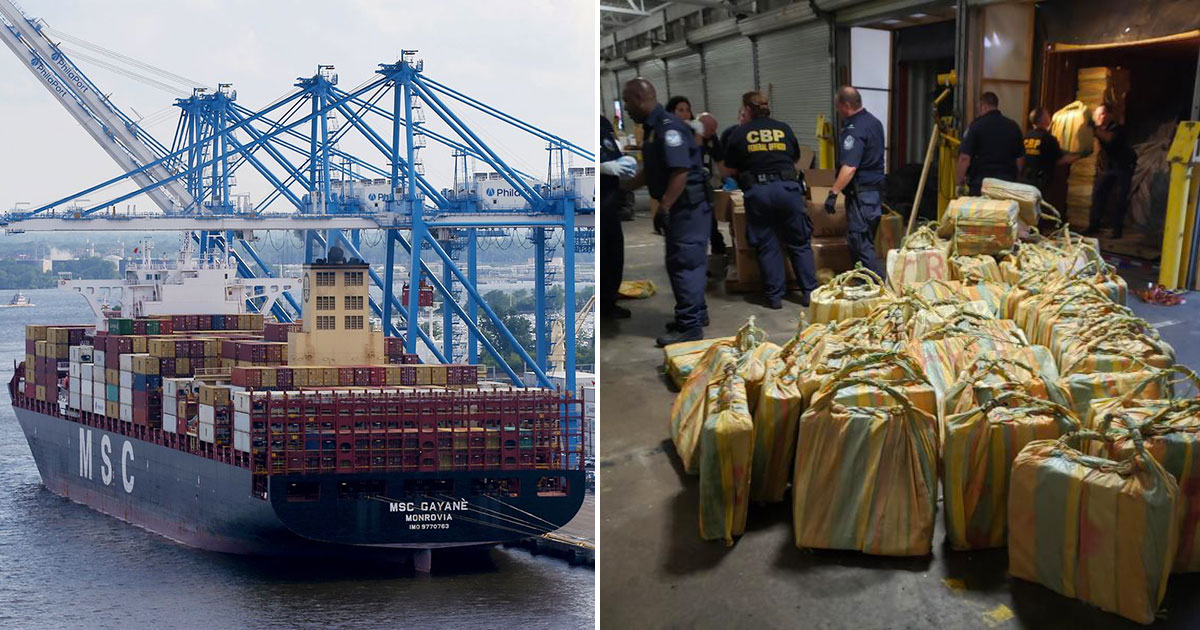 Federal agents in Philadelphia have seized a large cargo ship owned by JPMorgan Chase that was reportedly carrying 20 tons of cocaine on board.
U.S. Customs and Border Protection officials boarded the MSC Gayane on June 17th while it was docked in Philadelphia's seaport, and that's when they found the 20 tons (or nearly 40,000 pounds) of cocaine inside several shipping containers.
Via CBP.gov:
During a midstream joint boarding Sunday night [Jun. 16], CBP, HSI, and U.S. Coast Guard authorities detected anomalies while examining seven shipping containers aboard the MSC Gayane, a 1,030-foot Liberian-flagged container ship. The boarding team escorted the ship to its berth in South Philadelphia and continued its inspection.

The containers were unloaded from the vessel Monday afternoon [Jun. 17] and CBP confirmed the presence of anomalies. CBP escorted the containers to CBP's Centralized Examination Station, where CBP officers offloaded truckloads of packages from the containers.

A combined 15,582 bricks, totaling more than 35,000 pounds of a white, powdery substance, which tested positive for cocaine.  CBP seized the cocaine as well as $56,330 found on the vessel believed to be proceeds from illegal activity.  A multi-agency team continues to inspect containers aboard the vessel.

HSI agents made six arrests and investigation continues.
The ship officially seized by the feds last Thursday on the Fourth of July.
An estimated $1.3 billion worth of cocaine was taken from the vessel, making it the largest cocaine seizure in American history, the CBP said.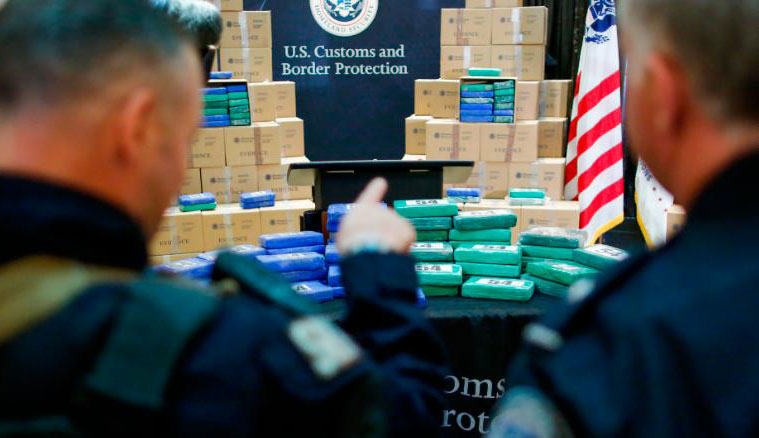 "A seizure of a vessel this massive is complicated and unprecedented – but it is appropriate because the circumstances here are also unprecedented," said William McSwain, U.S. attorney for the Eastern District of Pennsylvania.
"When a vessel brings such an outrageous amount of deadly drugs into Philadelphia waters, my office and our agency partners will pursue the most severe consequences possible against all involved parties in order to protect our district – and our country."
Added Marlon Miller, Special Agent in Charge of Homeland Security Investigations (HSI) in Philadelphia: "The seizure of the MSC Gayane is another significant step toward holding accountable those who perpetuate drug smuggling crimes both here in Philadelphia and around the world.
"HSI, in collaboration with CBP, the Coast Guard, and our state and local law enforcement partners continue to aggressively work with the U.S. Attorney's Office for the Eastern District of Pennsylvania to comprehensively investigate this case and bring to justice those who had roles in this drug smuggling venture."
While JPMorgan owns the MSC Gayane, the ship is operated by the Swiss-based Mediterranean Shipping Company, CNN reported.
The financial firm hasn't commented on the case, according to reports.
Be the first to receive breaking news alerts and more stories like this by subscribing to our mailing list.