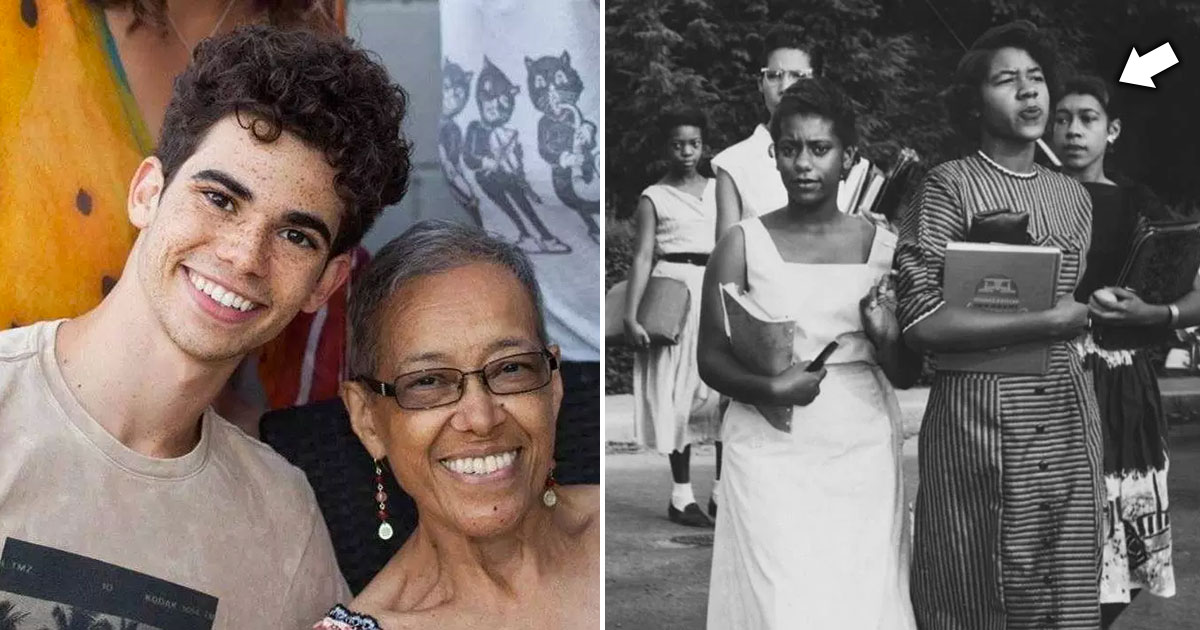 Disney Channel star Cameron Boyce star died Saturday night (Jul. 6) at the young age of 20 years old, leaving behind a grieving family, including his mother, father, sister, grandmother and other relatives.
"It is with a profoundly heavy heart that we report that this morning we lost Cameron," the Boyce family said in an official statement. "He passed away in his sleep due to a seizure which was a result of an ongoing medical condition for which he was being treated.
"The world is now undoubtedly without one of its brightest lights, but his spirit will live on through the kindness and compassion of all who knew and loved him."
Boyce starred on the Disney film series The Descendants as well as the hit TV show Jessie, and fans were shocked to hear of his untimely death, which came out of nowhere because apparently no one outside of his family even knew he had an illness.
Cameron Boyce was the product of an interracial marriage—his father, Victor Boyce, is Black, and his mother, Libby Boyce, is White.
Cameron was of African and Caribbean descent through his father, and through his mother, of Jewish descent.
In a recent interview, he talked about how his grandmother on his dad's side was an inspiration to him due to her being a pioneer of the Civil Rights Movement.
Back in 1956, a year before the Little Rock 9, a group of children became known as the "Clinton 12" after they made headlines all over the country for being the first Black students to attend Clinton High School in Tennessee following the Brown vs. Board of Education Supreme Court decision.
Cameron's grandmother, Jo Ann Allen Boyce, who was only 14 years old at the time, was a part of that historic group.
Once Jo Ann and the other students began attending Clinton, they faced verbal and physical racism from classmates and community members.
"She had to be so brave," Cameron told Dazed magazine back in March. "She had to face death threats, berating and violence just to go to school. She's a hero—they're all heroes."
"We had no idea that this would have a historical impact," Jo Ann said to The Washington Post in February.
In December 1956, Jo Ann's father moved their family from Clinton, Tennessee to Los Angeles, California.
She graduated from Dorsey High School in 1958 and attended Los Angeles City College where she obtained a bachelor's degree in nursing.
Jo Ann went on to work as a registered nurse at the Children's Hospital Los Angeles for three decades before eventually retiring.
She also released a book earlier this year titled The Promise of Change: One Girl's Story in the Fight for School Equality, which is loosely based on her real-life experience of being a part of the desegregation of Clinton High School.
The book received the 2019 Boston Globe-Horn Book Award for Nonfiction, according to Heavy.com.
Cameron's grandmother ? https://t.co/382M7vRCWq

— Victor Boyce (@TheVictorBoyce) June 20, 2019
Back in 2016, during Black History Month, Cameron paid homage to his grandmother in a short feature for Disney XD sharing her story about being part of the Clinton 12.
The segment featured the entire Boyce family, including Cameron's mom and dad, Victor and Libby, and the actor's sister Maya.
"My Nana stuck up for what she believed in and did something amazing," Cameron told People in 2016 in a feature for Black History Month honoring his grandmother.
"Things are going to happen in your life and you're going to face adversity, but if you grow from that and learn from that, you're a better person because of it."
Be the first to receive breaking news alerts and more stories like this by subscribing to our mailing list.