It seems like all is well between the twin sisters who got pregnant by the same guy … so much so that they're working on a new show together called "Twin Baby Mamas."
Last week, the internet was going crazy over the wild story about Keonyae and twin sisters Nia and Nydia, who all met at a gym where Keonyae is a personal trainer, and somehow, the twin sisters ended up both getting pregnant just a month apart from each other.
Keonyae initially said all parties involved were OK with the situation and the three of them were living happily together as a "throuple" as they wait for the babies to arrive.
Keonyae even bragged about the whole thing on Instagram, writing: "I bet [I'm] the only n***a y'all know wit twin baby mommas and both kool wit it … I need a show blood"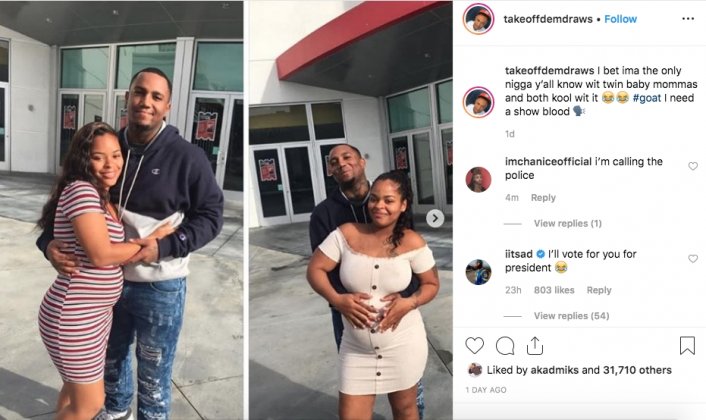 But one of the sisters, Nydia, got in her feelings and spilled all the tea about the "situationship," writing on Facebook that Keonyae left out a number of key details in his bragging about getting Nydia and her twin sister pregnant, including the fact that he already has kids and is still "dating" his baby mama.
Even worse, Nydia said she didn't find out her sister had also gotten pregnant by Keonyae until recently.
"I just found out April 1st that while him and his other [baby mama] were dating he got my sister pregnant as well and that she is due a month after me," Nydia shared. "When I found out it hurt me. Alot," she added. "Can't even be excited to be an aunt."
Nydia clarified that this was NOT intentional (at least not on her part) and she was pissed that Keonyae was out here making it seem like the three of them were in a "polygamy relationship."
"I would never f**k on the same n***a as my sister," she said. "Just gross."
Now it looks like Keonyae, Nydia and Nia have put all of that behind them, because they're working on some sort of a show/documentary together (just like Keonyae "predicted" in his Instagram post above).
Los Angeles-based film director Christopher Jackson shared a trailer for the show called "Twin Baby Mamas" on his Instagram Wednesday.
The show is shot documentary-style and features Keonyae, Nydia and Nia telling all of their business, including, in Keonyae's words, the "what, when, where and how."
Their explanation was hella simple, but the reality of their situation is a lot more complex, considering that when the babies are born they will not only be siblings, but also FIRST cousins! (FYI: One of the sisters is having a girl and the other is having a boy.)
In the clip, the twins briefly talked about their initial reaction to the news, with one sister (Nia) talking about how she felt bad when she found out she was pregnant, while her sister Nydia said she felt betrayed when she found out her sister was pregnant by the same guy. But they eventually got over it (obviously) and are ready to move forward.
We're not sure when this show/documentary will be released in full, but for now, you can check out a 60-second trailer below:
Be the first to receive breaking news alerts and more stories like this by subscribing to our mailing list.