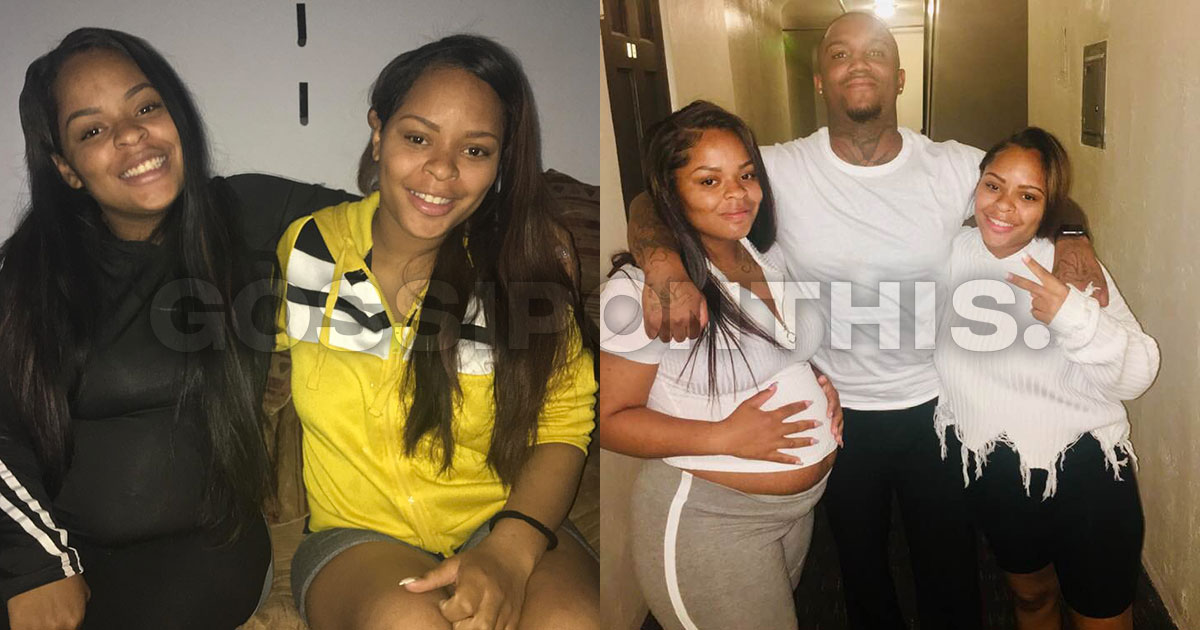 Remember that wild tale about the twin sisters who got pregnant by the same guy? Well, one of them is speaking out and telling her side of the story, and it sounds nothing like the original version.
You remember the story: A man named Keonyae met twin sisters Nia and Nydia at a gym where he's a personal trainer, and somehow ended up getting them both pregnant just a month apart from each other.
Keonyae told The Shade Room all parties involved were OK with the situation and have been living happily as a "throuple" as they wait for the babies to arrive.
He even posted on Instagram: "I bet [I'm] the only n***a y'all know wit twin baby mommas and both kool wit it."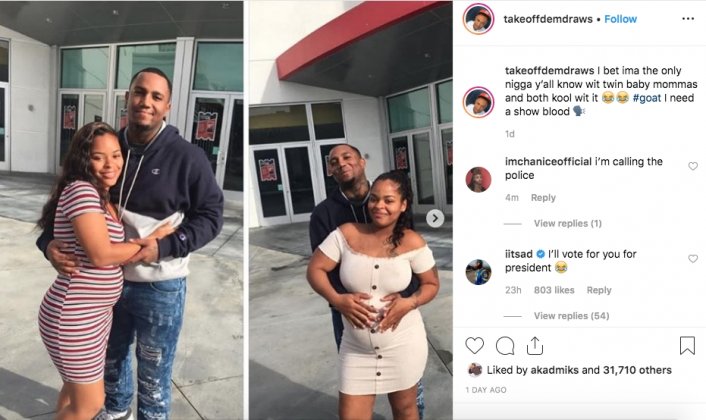 But according to one of the sisters, that couldn't be further from the truth. In fact, there's a lot more to the story than what Keonyae originally revealed.
A screenshot showing Nydia venting on a Facebook group called "Mommy & Me" has been floating around social media, and she spilled ALL the tea about the "situationship" between herself, her baby daddy and her sister.
According to Nydia, when Keonyae bragged on social media about getting twin sisters pregnant, he left out a number of key details, including the fact that he already has kids and is still "dating" his baby mama.
Even worse, Nydia said she didn't find out her sister had also gotten pregnant by Keonyae until just a little over a month ago.
"I just found out April 1st that while him and his other [baby mama] were dating he got my sister pregnant as well and that she is due a month after me," Nydia shared. "When I found out it hurt me. Alot," she added. "Can't even be excited to be an aunt."
Nydia went on to say that her sister wants to give her baby for adoption "so we can have a normal life," and Keonyae wants to keep the baby, but "me and her feel like he ruined that chance when he wanna make it seem like we in a polygamy relationship."
"I would never f**k on the same n***a as my sister," she said. "Just gross."
Nydia said that she's now having to worry about a DCFS investigation due to Keonyae's clout-chasing on social media, and he also caused her to get arrested just days before her due date.
Read Nydia's entire post below:
Be the first to receive breaking news alerts and more stories like this by subscribing to our mailing list.