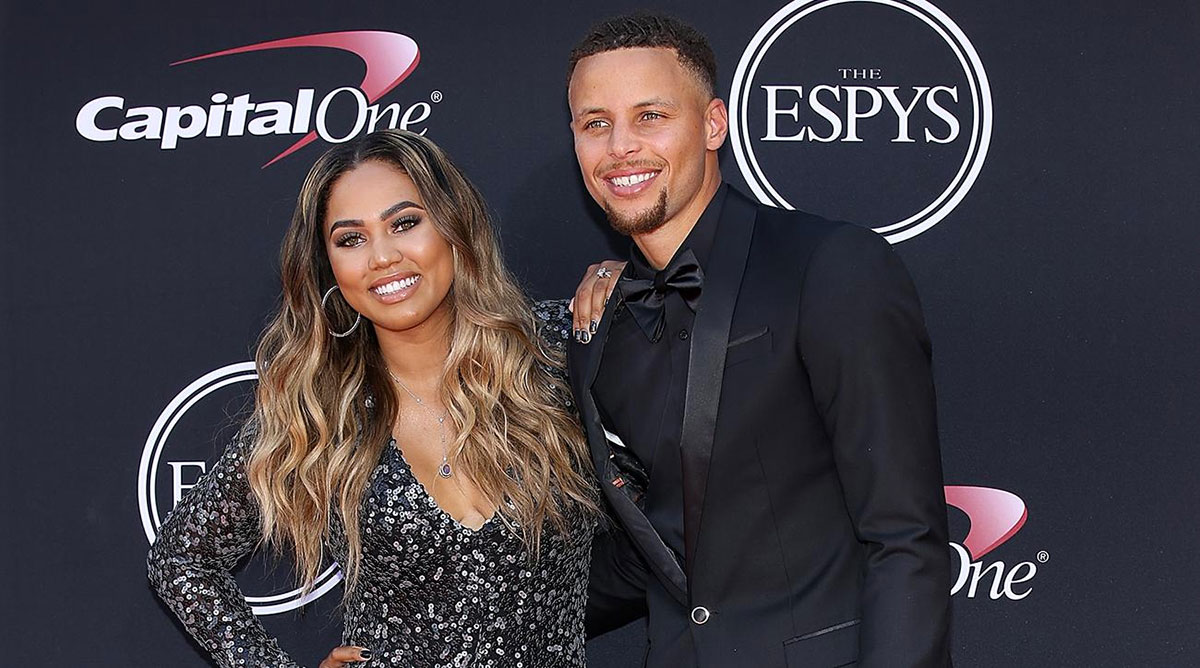 Ayesha Curry has riled up the internet once again after making a comment about her marriage.
Ayesha recently appeared on Jada Pinkett Smith's Red Table Talk Facebook Watch series and opened up about her relationship with Steph Curry.
After addressing the topic of women basically throwing themselves at her NBA superstar husband (sometimes even in front of her), Curry revealed that she's bothered by the fact that she doesn't get the same treatment from other men.
"Something that really bothers me, and honestly has given me a sense of a little bit of an insecurity, is the fact that yeah, there are all these women, like, throwing themselves (at him), but me, like the past 10 years, I don't have any of that," she said. "I have zero – this sounds weird – but, like, male attention, and so then I begin to internalize it, and I'm like, 'Is something wrong with me?'"
Smith admitted to Curry that she "dealt with that for years, too" when she was younger.
"I don't want it," Curry added, "but it'd be nice to know that, like, someone's lookin'."
"You're beautiful," Smith reminded her guest. "Don't ever think for one minute that it ain't no some men out there looking at you like, 'I wish.' And I'ma tell you who knows that more than anybody: Your husband."
Of course, Twitter had strong opinions about Curry's remarks, with most posting memes and jokes making fun of her for being insecure about not receiving attention from other men, and others basically asking "what if a man said this?"
Imagine if Ayesha curry was the millionaire and Steph said
" why don't other woman notice me " pic.twitter.com/C7zXCTwnQI

— john (@Dat_dudejw) May 7, 2019
Ayesha Curry coming home after a long day of being respected by men pic.twitter.com/4XxdZs4s2v

— LivingLavie????? (@ItsHaJay) May 8, 2019
Ayesha Curry when she at the local grocery store and get no looks from men ? pic.twitter.com/JAYbs4Qqda

— ? (@WaliH95) May 7, 2019
A holy woman like Ayesha want attentions from the dogs?

— ANOTHER™?EDDIE?#TMC (@LooxeyTunes) May 7, 2019
As a fellow woman, I can't even cap for Ayesha, lmao she trippin. ? I would've kept them lil thoughts inside my head.

— JAS (@jassyshakira) May 7, 2019
Ayesha may have valid insecurities but NOBODY wants to hear that shit when 99% of women out here are literally playing extreme sports with the remaining men. Take your prize and go.

— Susan ???? (@PinkBaile) May 7, 2019
Ayesha really mad dudes are respectful of her relationship ?? pic.twitter.com/nksyNg0IH1

— Jon' Rule (@JonathansRoom) May 7, 2019
Ayesha Curry: Hey babe welcome home! Did you see my interview?

Steph Curry: pic.twitter.com/pSwnP3vqSK

— JamakeComedy (@Jamake0602) May 7, 2019
Ayesha Curry when men respect the fact that she happily married with 3 children pic.twitter.com/RMha9L9FTn

— ???? ? (@1treyspencer) May 7, 2019
Ayesha Curry after she walks past a bunch of men and none of them try to holla at her bc they know she is married pic.twitter.com/0KpgRS7756

— JamakeComedy (@Jamake0602) May 7, 2019
Ayesha Curry definitely just released the hounds while her husband is in the midst of a shaky playoff run, you absolutely hate to see it.

— Kazeem Famuyide ? (@RealLifeKaz) May 7, 2019
Ya man signed a 200 mil contract and Ayesha Curry complaining about not having groupies… women trash lol

— El Chapo (@CastroTrapMoney) May 7, 2019
To our dearest @ayeshacurry we feel you! But damn! having Steph's eyes and heart worths more than millions of man out there. And actually @StephenCurry30 is the winner here for having you. You're beautiful and us women envied you the most. ???? pic.twitter.com/74MpvOdqNx

— Elaine Velasquez (@vlsqzelaine) May 6, 2019
Ayesha curry: please hit on me
Men: pic.twitter.com/3CxLlerYLc

— ?? Jon Jone$ ?? (@JonTheSinner) May 7, 2019
Steph Curry: Ayesha you look good today

Ayesha Curry: pic.twitter.com/AnFdnkEaRS

— TeeJ (@youngteej_1) May 8, 2019
ayesha curry when the waiter give her the receipt without his number on it pic.twitter.com/kZBOYGf4du

— logo WILLard! (@willfromclt) May 8, 2019
Ayesha Curry going to pop up in the Warriors locker room like…

— King Kemo (@cpetties) May 8, 2019
Ayesha Curry is married to the greatest SHOOTER ? of all time and she still wants dudes to shoot their shot at her. She has it made. Lives an amazing lifestyle every woman dreams. Yet still unsatisfied because the attention isn't on her. This is female nature on full display.

— DARIUS (@Darius_M4) May 8, 2019
I hope Steph curry got Ayesha sleeping on the couch

— Sneed (@NoBeeetch) May 8, 2019
Steph Curry: Faithful, God fearing, multi millionaire, positive role model, treats you like a queen, one of the greatest players ever

Ayesha Curry: Why don't other men show me attention pic.twitter.com/uiCSorcohJ

— Extra Ordinary Atlas (@oohAtlasBlack) May 8, 2019
Not everyone on Twitter was against Ayesha though. Some came to her defense, saying she has a right to feel the way she feels
People hating Ayesha Curry for admitting how she feels is ass backwards to me. We're all insecure in some area. She shouldn't be getting crucified for telling her truth.

— May 21st ? (@atkelli_) May 7, 2019
I can't believe you guys are still talking about Ayesha. Leave the girl alone

— adababyy (@itsadannia) May 7, 2019
You people should leave Ayesha pls. Let her express herself and however she's feeling

— mœ (@moffaliciouss) May 7, 2019
Ayesha Curry just saying the duh obvious. If you had a famous and admired partner, of course you'd feel some insecurity. And of course we all want attention. So much hypocrisy and face-saving by people when it comes to relationships, love, and sex. https://t.co/la0na6hhAX

— Oxford Kond? (@oxford_kondo) May 7, 2019
Ayesha Curry hate from women reminds me of Russell Wilson hate from men.

— the rennaissance hottie ? (@killbhillx) May 7, 2019
Ayesha Curry was vulnerable about insecurities folks deal with daily.

I call that brave. We can choose to accept invitation to discuss the ways our socialization damages confidence.

Confidence is essential to success, yet we damage it in women daily. That's the discussion.

— Brittany Packnett (@MsPackyetti) May 7, 2019