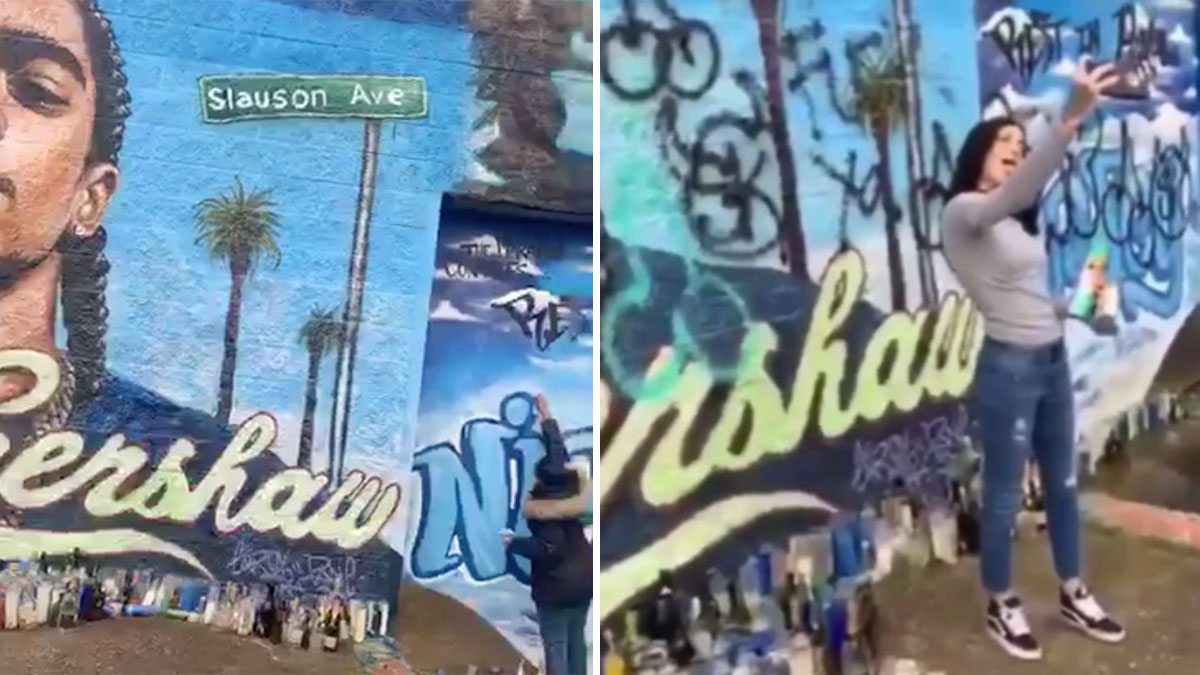 A teen girl went viral on social media over the weekend after she defaced a Nipsey Hussle mural in Hartford, Connecticut, and people were understandably pissed about the blatant disrespect.
But less than 24 hours later, Nipsey fans came together to restore the mural honoring the slain rapper.
According to The Shade Room, at least 25 people came together to help fix the vandalized mural in the rain.
Two women in particular, Deja Robertson and her mother, and a man named Joey, reportedly painted over the graffiti and touched up the paint.
"Nipsey didn't just mean a lot to my community but to all urban communities around America," said Lee Benton, one of the community members who helped fix the mural. "He preached black excellence, change and he empowered every person around every hood to find their purpose. A person like that should be celebrated forever in my opinion."
The girl seen on the video vandalizing Nipsey's mural, who goes by the name "Savage Kay Kay" on Facebook (her profile has since been deactivated) reportedly did so because she was mad at her boyfriend, but fans on social media called her out, saying she did it for clout.
Benton, Robertson and the other people who teamed up to fix the mural said it's all about spreading love and positivity.
"My mother, Joey and I didn't do this for clout chasing. It came from the heart," Robertson said. "Life is too short. I've lost all my family and I will continue to stay positive and share my positivity with other people. All I want is for Hartford to come together as one and stop the violence."
According to the Hartford Courant, the Nipsey Hussle mural was painted earlier this month by local artist Corey Pane.
"I always respected him more as a person than even his music and I just wanted to honor that," Pane said after finishing the mural at Heaven skate part in Hartford.
Nipsey Hussle was shot and killed on March 31st outside his The Marathon clothing store in Los Angeles' Crenshaw neighborhood.
Eric Holder, a 29-year-old man who had confronted Hussle earlier in the day, was arrested and charged with Hussle's murder on April 2nd, and he pleaded not guilty.
Be the first to receive breaking news alerts and more stories like this by subscribing to our mailing list.