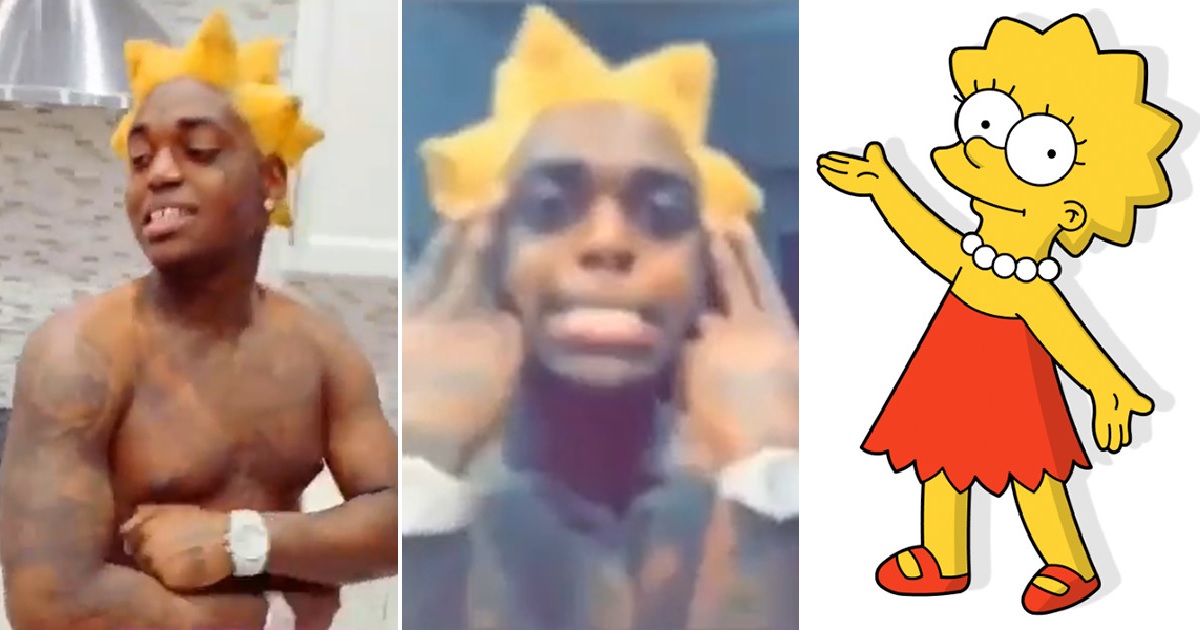 Whether it's his ignorant comments or his legal issues, Kodak Black has to be used to getting dragged on social media by now.
Recently, he was mocked on social media after debuting a yellow dye job and a hairdo that makes him look like an animated supervillain.
Over the weekend, the 21-year-old must have felt like his look needed a changed and enlisted "beauty influencer" Despeignes Cheveux for her services.
The end result was Kodak's black hair being dyed bright yellow and shaped into several pyramids.
"The sh*t be crazy," the rapper said as he modeled the look.
As he had to know it would, the bizarre hair makeover was fodder for social media.
Kodak was trolled and clowned as many noted the rapper's resemblance to Lisa Simpson from The Simpsons and Dragonball Z's Goku in Super Saiyan Mode.
#KodakBlack dies his hair bright yellow ? pic.twitter.com/ddh5N692IS

— Jonny Fastlane (@JonnyFastlane) April 22, 2019
Kodak Black out here lookin like Lisa Simpson … pic.twitter.com/aaIztXklpm

— GodZo?? (@GodzoBall) April 21, 2019
— TNM?? (@185___BIHHHH) April 21, 2019
Yall better cut it out this boy @kodakblack done went Super saiyan oh you hoes!!!! The real Goku Black ?????#kutthroatcomedy #outkastbates #mc #yakno #vapecomedy #kodakblack #supersaiyan #gokublack #dragonballz pic.twitter.com/92AELcV5Wj

— Courtney Bates (@courtdb5) April 21, 2019
— PMWL ??l? (@elevatedCROOK) April 21, 2019
Kodak Black looks like Super Saiyan Mr.Popo pic.twitter.com/10BUjhYekm

— ??????DetectiveFury?????? (@K1dFury21) April 22, 2019
Best cosplay like for dude on left RT for Kodak black. pic.twitter.com/7Dq53xrDuI

— Kodak chunin black (@realborutokun) April 22, 2019
He stole this look from Cynthia pic.twitter.com/gyAYKUpWq9

— babygirl (@stackemz) April 21, 2019
Nobody at all:
??
??
??
Kodak Black: pic.twitter.com/X4Pldts2vt

— d? d?i?n?e?r?o? ?? (@804srealOG) April 21, 2019
I'm about to give Kodak Black the TM for Fire Blast because he's Solrock from Pokémon Ruby and Sapphire. pic.twitter.com/3IxdnnuGMq

— Derrick Rossignol (@drossignol_) April 22, 2019
Barber: What you want?

Kodak Black: you ever heard of Lisa Simpson?

Barber: say no more pic.twitter.com/ysGytmBtXe

— OfficialWilly2.0 (@therealwill17) April 22, 2019
Even Lisa Simpson is laughing at #KodakBlack and his new hair pic.twitter.com/CgiC9wqLWv

— LaurenNYknicks ?? (@AaliyahNevaeh7) April 21, 2019
Lisa Simpson when she finds out why she's trending pic.twitter.com/zfbEzVVOUY

— ????????? (@markeesmcbreezy) April 21, 2019
But before Kodak was the butt of Lisa Simpson jokes, he was being dragged on social media for insensitive comments about Lauren London following the murder of her boyfriend, Nipsey Hussle.
The comments sparked a war of words with T.I. and The Game.
And just last week, Kodak was arrested at the U.S.-Canada border for drug and weapon possession. He was released on a $20,000 cash bond.
Be the first to receive breaking news alerts and more stories like this by subscribing to our mailing list.