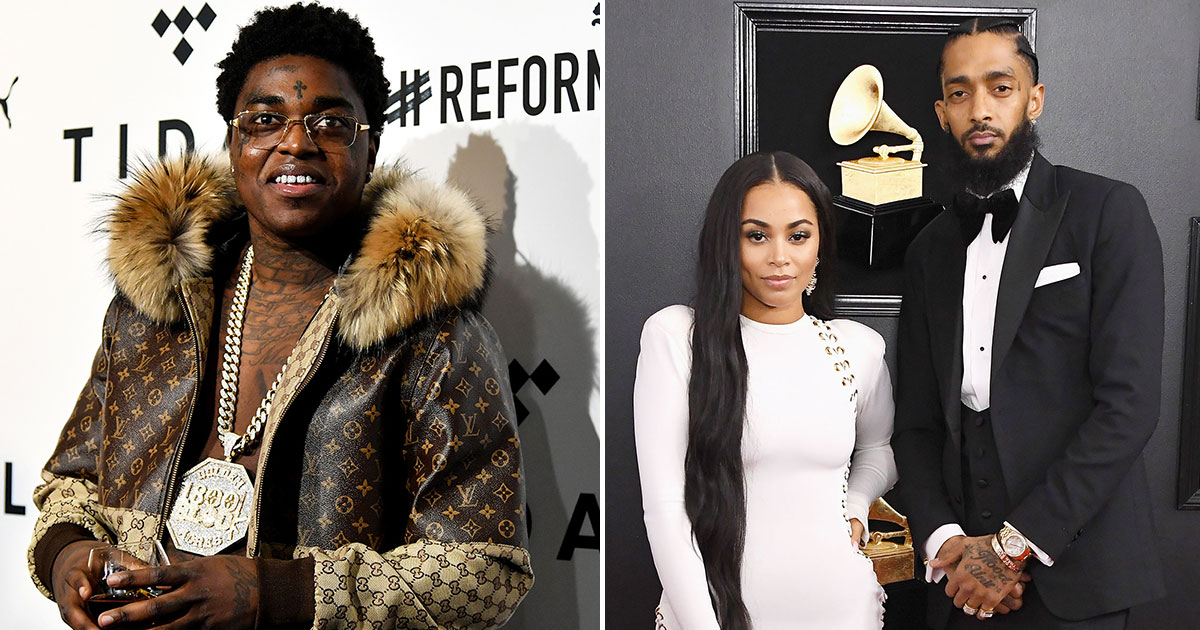 Kodak Black doesn't feel like he disrespected Lauren London by saying he would give her a year of "crying and sh*t" over her boyfriend Nipsey Hussle's murder before hollering at her, but he's apologizing anyway.
Over the weekend, Kodak made a series of insensitive comments about London grieving Hussle on his Instagram Live.
"Lauren London that baby, though. She about to be out here single," Kodak said. "She's finna be a whole widow out here. I'll be the best man I can be for her. I'll give her a whole year. She might need a whole year to be crying and sh*t for him."
He continued: "I ain't trying to shoot [my shot] at her. I'm saying, listen. She can do two, three years. I'll try to be like a friend if you need to holla or a shoulder to lean on. She can call my line."
Needless to say, folks were pissed at Kodak for making such comments not even a week after Nipsey Hussle was shot and killed.
Even rappers T.I. and The Game called Kodak out for his blatant disrespect.
"Hey, Kodak Black … You outta pocket, ni**a. Fix that sh*t … quickly, expeditiously, ni**ga," T.I. said in an Instagram video. "If ain't nobody else gonna say it, I done said it, and if I see you, I'ma say it to your face… You outta pocket, ni**a. Get your motherf**kin' self together."
The Game said in his own video:  "This sh*t go for Kodak Black and any other ni**a disrespecting my ni**a Nip name, his legacy, his family. Ni**a, keep my ni**a name out your f**kin' mouth, ni**a. Keep his girl's name out your f**kin' mouth, ni**a. The f**k wrong with you ni**as? No respect having ass ni**as. This new generation, y'all f**ked up in the head, ni**a."
The Game continued: "Stop disrespecting my ni**a's name man, this sh*t for real! My ni**a died out here in these f**kin' streets, ni**a! For doing the right motherf**kin' thing, doing good for f**kin' people! And the first thing ni**as wanna do after his untimely demise is disrespect his f**kin' name?! Nah, ni**a, I ain't going for that!"
Following the backlash, Kodak first responded with little to no remorse, saying he didn't "give a f**k" about what T.I. had to say.
"Man, listen. I said what I said. Y'all tryin' to misconstrue what I said … I don't give fu**k what y'all talkin' about," he said. "T.I., man, I don't care. I'm in Georgia right now."
"Hell yeah, I said what I said," he reacted on another IG live video. "What the f**k? Y'all expect her to be single forever? I said I'll give her a year to grieve and cry. Hell yeah, she a bad bitch."
Kodak Black doesn't understand why he's getting backlash for speaking on Lauren London ? #hiphop pic.twitter.com/Z5LWFAYnAA

— News27Speed (@News27S) April 7, 2019
Kodak eventually had a change of heart, and offered a semi-apology to London, even though he still doesn't think he did anything wrong.
"If I disrespected you, Lauren London, in any shape or form, I'm sorry, even though I didn't," he said in another IG Live video. "And rest in peace to dude. Y'all already know what I said. I said dude encouraged me to do sh*t for the community. My bad, to them two, but anyhow… For all you other people trying to fake act like you little boying me on the internet or checking me on the internet, that's how you wanna feel. Wherever y'all see me at, if that's how you feel, that's how you feel. Don't try to little boy me on the internet."
He continued: "But for all you other people trying to fake act like you lil boying me on the internet or checking me on the internet, that's how y'all wanna feel … Wherever y'all see me at, if that's how y'all feel, that's how y'all feel. Don't try to little boy me on the internet."
Kodak concluded: "If I disrespected Lauren London in any way, even though I know I didn't, my bad."