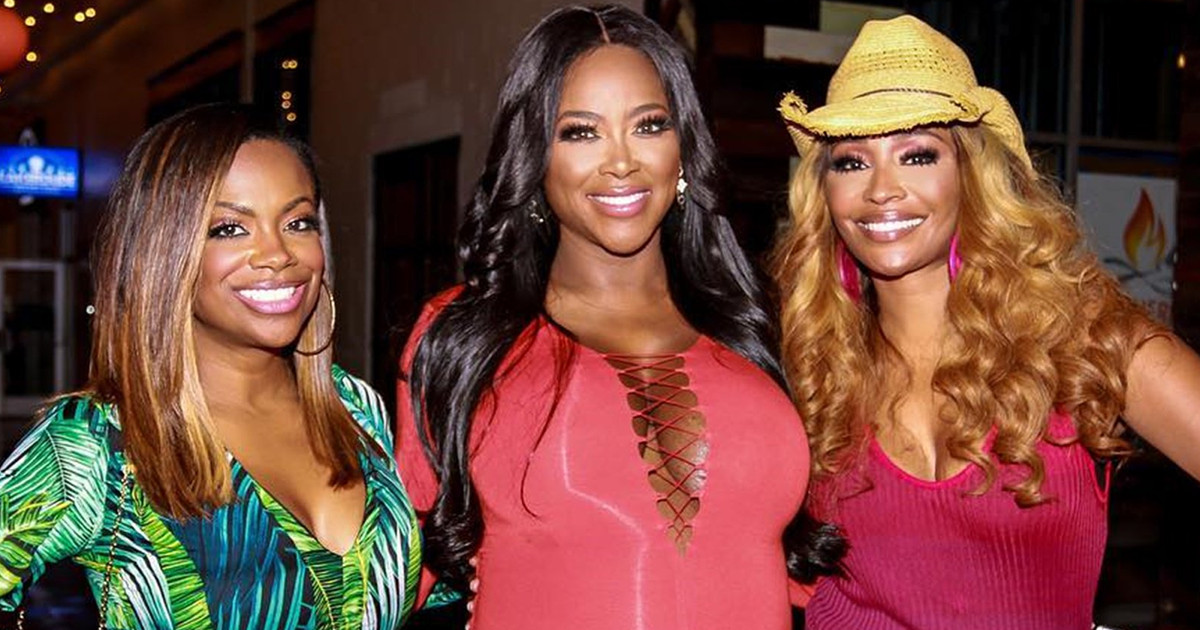 Season 11 of The Real Housewives of Atlanta just ended with an epic shouting match between NeNe Leakes and Cynthia Baily, essentially ending their 9-year friendship. And the very cause of the duo's fallout is most likely making a grand return in season 12.
Our friends over at Straight From The A are exclusively reporting that Kenya Moore has, in fact, obtained her peach and will be coming returning to RHOA as a full-time housewife.
We reported last week that Moore was in negotiations to return, as is if Moore was on the fence about the decision. However, STFA reports that Moore has been plotting her way back on the show since season 11 premiered.
The blog reports that Moore formed an "alliance" with Bailey and Kandi Burruss to keep Moore's name on the show.
Burruss often stated that Moore's pregnancy and the birth of her first child should have been captured on the show, especially since one of Burruss' storylines was debating if she and her husband Todd Tucker, should have another child (via surrogacy).
Off camera, Moore strategically scheduled her C-section on the same night that season 11 of RHOA premiered. Though a little shady, Moore made sure that her name and the announcement of baby Brooklyn's arrival was linked with any headlines about RHOA's premiere.
Moore also debuted new photos of  Brooklyn on social media every Sunday, the same night that RHOA airs on Bravo.
The alliance and intricate operation to get Moore's peach culminated during the season finale.
Bailey outright invited Moore to her event and it was Burruss who "officially" brought Moore to the party.
According to Straight From the A:
"I was told by several sources that Cynthia hoped to shoot a few scenes with Kenya and baby Brooklyn last season, but production said 'no'. Her final option was to include Kenya on the guest list for her Peach Bellini party, which just so happened to be the season finale."
Bailey's move to bring Moore back on the show was seen as a form of betrayal to NeNe Leakes—who was having social media beef with Kenya at the time. NeNe felt that Cynthia and Kandi set her up by not first informing her that Moore would also be in attendance at Cynthia's event.
NeNe stated on the finale and during the season 11 reunion that she considers her friendship with Bailey over.
With Moore returning to the show, Leakes reportedly wants someone "on her team" and is pressuring producers to allow ousted housewife, Phaedra Parks, to return to the show as well.
Moore debuted on RHOA in season 5. Frustrated producers snatched her peach after season 10 wrapped because she made filming difficult during the season and was even cut from some of the episodes, including the annual cast vacation.
Though the cast for the upcoming season has yet to be officially announced, it looks like Kenya Moore is a lock. She connived and schemed her way back on the show and it may make for a juicy season.
Season 12 of The Real Housewives of Atlanta is expected to premiere later this year.
Be the first to receive breaking news alerts and more stories like this by subscribing to our mailing list.