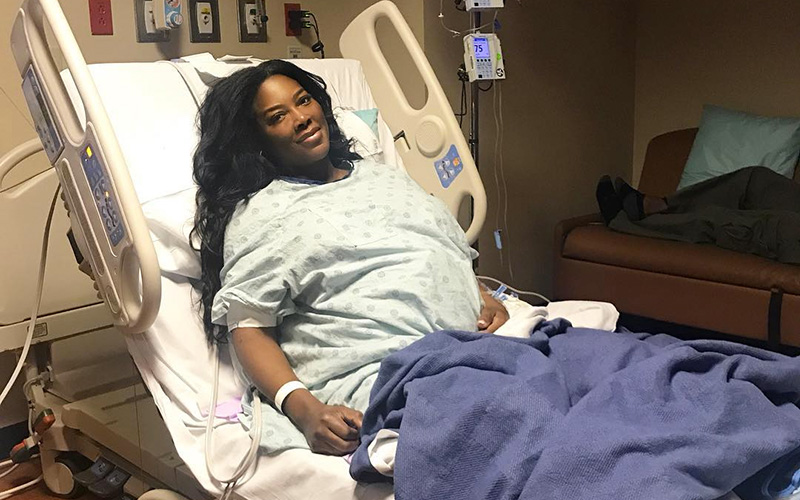 Kenya Moore is a mom for the first time at the age of 47 years old.
The former Real Housewives of Atlanta star gave birth to a baby girl, Brooklyn Doris Daly, early Sunday morning (Nov. 4) about three weeks earlier than her due date, and her husband, Marc Daly, was by her side the whole time.
Kenya wasn't due until around Thanksgiving, but she took to social media last week to announce that she would be delivering her baby a little earlier than expected because she had developed preeclampsia.
She shared a picture of her extremely swollen feet on Instagram on October 27th, writing: "I gained 17 lbs in ONE week due to severe swelling and water retention, high blood pressure, and excess protein in urine. This is NOT normal!"
According to People, Baby Brooklyn was born via emergency c-section at 9:39 a.m. ET and weighed in at five pounds, 12 ounces. This is Kenya and Marc's first child together.
Kenya explained the meaning behind Brooklyn's name to People, saying, "Brooklyn because that's where we met and fell in love, and Doris after my grandmother who passed away last year and who raised me."
Kenya and Marc just had a baby shower a few weeks ago on October 20th that was attended by a number of RHOA cast members, including Cynthia Bailey, Kandi Burruss and Porsha Williams. Even Real Housewives of Potomac star Gizelle Bryant and Dr. Heavenly from Married to Medicine were there.
Noticeably absent from the festivities, however, was NeNe Leakes, who wrote on Instagram in response to the pictures: "OMG! You guys look so amazing! Congrats @thekenyamoore wish I could have been there #babydaly."
NeNe also commented on a photo on The Jasmine Brand's Instagram account, saying: "I'm just like OMG with all these beauties pictures! Kenya is the most beautiful pregnant woman i have ever seen! Shame on Bravo for not showing her amazing life this season. Never seen her look so happy."
Meanwhile, fans on social media are hilariously pointing out how Kenya Moore ended up giving birth the same day of the RHOA Season 11 premiere. Whether or not that was done on purpose remains to be seen, but we certainly wouldn't put it past Kenya aka the "Shade Queen."
Peep the Twitter reactions below:
She is really about to have this baby on #RHOA premier day. The devil (@Andy) is working hard but Queen Kenya Moore is working harder ??? pic.twitter.com/MHjkF4AzAe

— Not Tamra Judge (@_TamraJudge_) November 4, 2018
It's #RHOA premiere day and ALL anyone is talking about is Kenya Moore having a baby. Talent won. pic.twitter.com/JrsiZ1jr9R

— Housewives Historian (@cuntneykardash) November 4, 2018
The Shade!!! Did Kenya Moore Schedule Birth on RHOA Season 11 Premiere Date???: https://t.co/j8dem4DYGZ via @YouTube

— Michelle "ATLien" Brown (@ATLien) November 4, 2018
CONGRATULATIONS: Kenya Moore gave birth to a healthy, beautiful baby girl name Brooklyn Doris Daly born today (Nov. 4) at 9:39 ET.

Coincidentally, it's on the same day the new season of #RHOA begins (without her) They should really bring her back. @KenyaMoore @bravo @andy ? pic.twitter.com/8rIP3Qld92

— Jerome Trammel (@MrJeromeTrammel) November 4, 2018
It's #RHOA premiere day and no one gives a FUCK, everyone is too busy talking about Kenya Moore. She really outskinnied everyone huh? Ugh ???

— RealHWTea (@RealHWTea) November 4, 2018