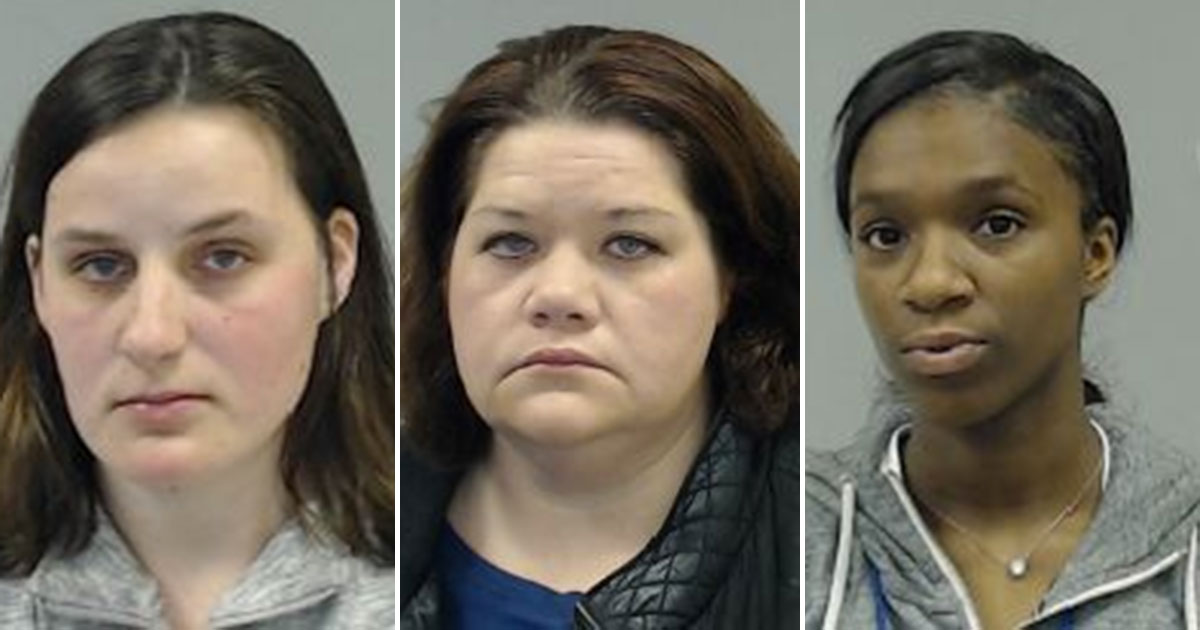 Three now-former daycare teachers are facing misdemeanor child endangerment charges after police say force-fed solid food to two children, holding the kids' mouths clothes and tilting their heads back as they cried.
24-year-old Stephanie Radke, 28-year-old Maura Healy and 19-year-old Mariah Flemister were each charged with battery and endangering the life of a child while working at Little People Learning Center in Downers Grove, Illinois.
Radke is also accused of hitting a child in the face with a plastic plate.
"The alleged battery and endangerment was reported to us in mid-January and the investigation wrapped up in early April with charges being filed," Downers Grove police spokesman Bill Budds said. "Warrants were issued and they turned themselves in on the charges."
Healy was released from jail after posting 10 percent of her $5,000 bail, while Radke and Flemister were released after posting 10 percent of their $3,000 bails.
Via the Daily Herald:
A woman answering the phone at Little People Learning Center Tuesday identified herself as the acting director and would only give her first name as Janice. She said she was uncomfortable giving her last name because she had not done anything wrong.

Janice said all three women were fired on Jan. 17, once the allegations came to light.

She blamed the charges on a medical student she hired who rushed to call DCFS after witnessing the action.

She called the situation a "feeding infraction" that has been blown out of proportion.

She said a medical student training to be a doctor and working at the center saw the infraction and reported it to DCFS without checking with her.

She said she first learned of the complaint when a DCFS worker came to the business.

"DCFS is investigating an allegation of abuse related to the reported incident at Little People Learning Center, 2144 Curtiss St." Director of Communications Jassen Strokosch said Tuesday evening. "That investigation is pending."

Janice said she likely would have fired Radke for hitting the 1-year-old girl with the plate, but said it was an accident as Radke attempted to remove the plate from the child's reach.

Each of the three women are next due in court on May 15.
This is totally unrelated … but all three of those women look much older than their ages.
Be the first to receive breaking news alerts and more stories like this by subscribing to our mailing list.