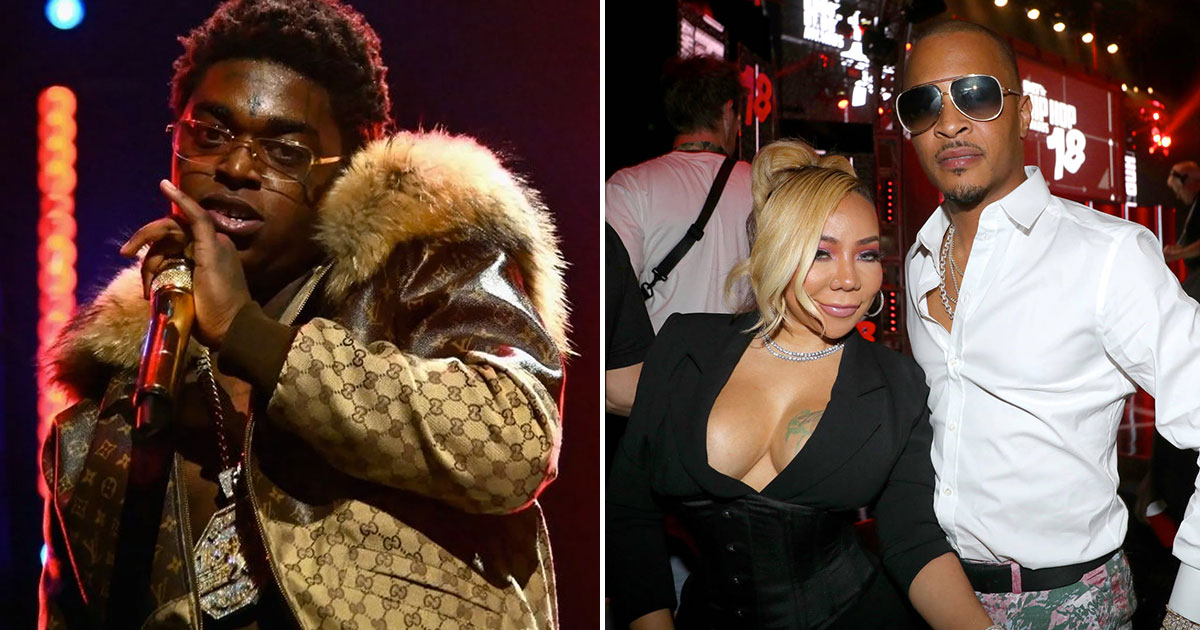 Kodak Black is not done with T.I. just yet.
After T.I. teased a Kodak Black diss track on Instagram Live, Kodak responded by saying he "should have made one of [his] fa**ot a** little sons write a rap."
He then went in on Tiny, saying: "That bitch ugly as hell. I don't even want piggy! He talkin' about 'Bro would've stepped up for me.' First of all, bitch, don't nobody want piggy, bitch."
Now Kodak has decided to air his grievances on wax via a new diss track aimed right at T.I. called "Expeditiously."
The title was inspired by the word Tip used when he called him out over his disrespectful comments about Nipsey Hussle's girlfriend Lauren London.
Throughout the song, Kodak rips into T.I. and his wife Tameka "Tiny" Harris.
"How you tell me what came out my mouth, you don't even know Nipsey / Tiny that bitch ugly as hell / I don't even want Piggy," Kodak raps. "I can't beat you ni**as at talkin' give me a long sentence / You know I keep the pole and I ain't no hoe, I know some Rollin 60s / And I'm thuggin' all on my lonely, but I keep some Zoes with me."
Elsewhere in the song, Kodak seemingly calls out Tekashi 6ix9ine and The Game, the latter of whom also put him on blast for his comments about Lauren London.
"Young ni**a stickin' to the code, 'cause I don't condone snitchin' / I ain't going out like that rapper, I don't wanna do no tippin'," Kodak adds.
"When he said my name on the TV, that boy a bold witness / On the news, see T.I.P. me, that boy don't got no feelings / Suwoop put the pole on lil' buddy, they said the Game strippin' / Old heads ain't hittin' on nun, I say them boys kiddin' / I want all the smoke out the stove but I don't even roll Phillies / How the hell you callin' me out when you know I don't listen."
The beef between T.I. and Kodak started after Kodak said he wanted to pursue London following Nipsey's death, but he would give her a year of "crying and sh*t" before making his move.
"Lauren London that baby, though. She about to be out here single," Kodak said. "She's finna be a whole widow out here. I'll be the best man I can be for her. I'll give her a whole year. She might need a whole year to be crying and sh*t for him."
He added: "I'll try to be like a friend if you need to holla or a shoulder to lean on. She can call my line."
Tip scolded Kodak in a video he shared on social media ("You out of pocket, ni**a, fix that sh*t … quickly, expeditiously") and then removed the rapper's exhibit from his Trap Museum in Atlanta, to which Kodak responded: "F**k that p**sy a** museum, I ain't give you permission to put me up anyway."
Kodak then offered a non-apology to Lauren London ("If I disrespected you, Lauren London, in any shape or form, I'm sorry, even though I didn't") and later claimed that the only reason T.I. was going after him because he wanted London all for himself.
"Dude just wants first dibs on her," Kodak said on Instagram Live.
This past weekend, T.I. seemingly previewed a diss track of his own targeted at Kodak.
"I'm conditioned to see the vision, you / I don't care if you're 81 or 22," he raps. "All that back and forth, ain't finna get into / I said what I said and I meant it too." (FYI: Kodak Black turns 22 on his birthday in June)
T.I. previews his Kodak Black Diss Track pic.twitter.com/9h87oWW1OF

— HIPHOP CROWN NATION ? (@hiphopcnation) April 13, 2019
Be the first to receive breaking news alerts and more stories like this by subscribing to our mailing list.