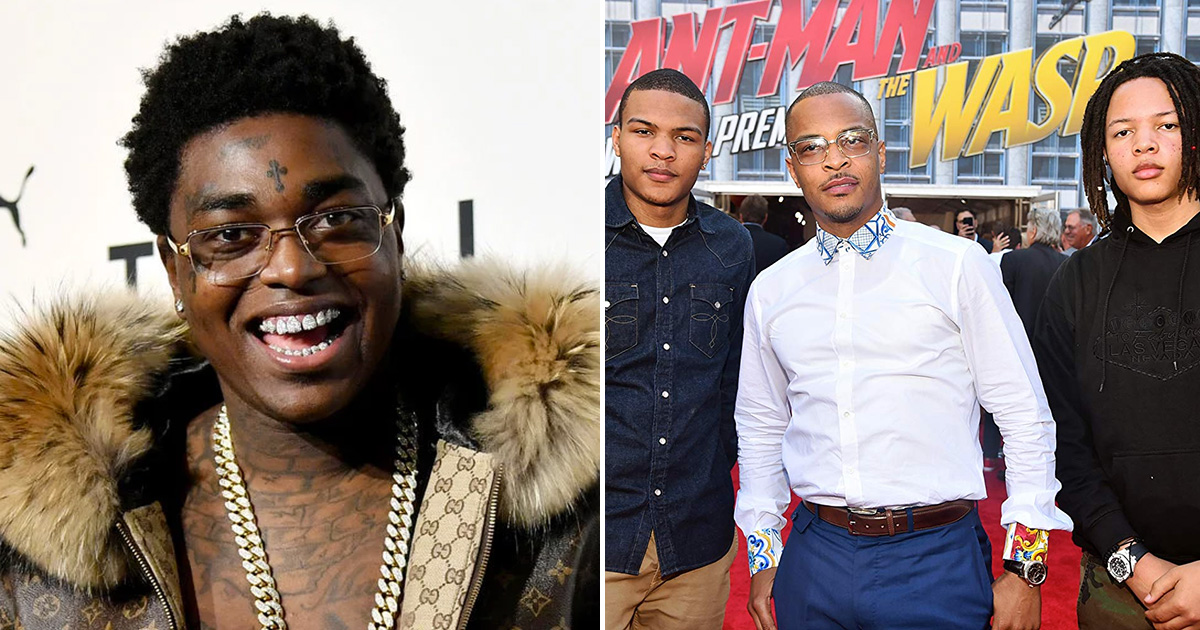 Kodak Black has gone way too far with this T.I. beef. Now he's coming for the rapper's sons and his wife Tiny.
During an Instagram Live Monday (Apr. 15), Kodak reacted to a snippet of a song T.I. previewed over the weekend in which he seemingly addresses his recent back-and-forth with Kodak.
T.I. previews his Kodak Black Diss Track pic.twitter.com/9h87oWW1OF

— HIPHOP CROWN NATION ? (@hiphopcnation) April 13, 2019
In the song, T.I. raps: "I'm conditioned to see the vision, you / I don't care if you 81 or 22 / All that back and forth, what you trying to get into? / I said what I said and I meant it to."
At some point during Kodak's live, a commenter mentioned T.I.'s name, and Kodak went all the way off, accusing T.I. of clout chasing and also hurling homophobic slurs at the Atlanta rapper's sons.
"What you making songs for? Trying to get in the game, ni**a, take your ass out of the game," Kodak said, referring to the Kang. "You should've made one of your fa**ot ass little sons write a rap. Cause that sh*t really like booted in."
The "ZEZE" rapper then went on to rant about how people are calling into radio stations all over the country to ask them to stop playing his music and putting out petitions to have him canceled before turning his attention back to T.I. and other rappers who've been calling him out lately for his antics.
"You ni**as really mad because you ni**as can't rap better than me…" Kodak rambled.
"Fuck this pu**y ass sh*t… I'm in my own lane, y'all gotta come to me because this is where y'all come at for the swag, this is where y'all come to me for… man, stop playing."
Kodak didn't stop there. After a brief pause, he went in on T.I.'s wife Tiny, referring to a comment T.I. made about Nipsey Hussle stepping up for him if the situation was reversed.
"That bitch ugly as hell. I don't even want piggy! He talkin' about 'Bro would've stepped up for me.' First of all, bitch, don't nobody want piggy, bitch," he said as he and his crew made pig noises in the background.
"That baby was just on the 'gram talkin' about, 'Let me drive the boat,'" he added. "Yeah, piggy wanna drive the boat… bitches can have the boat."
Be the first to receive breaking news alerts and more stories like this by subscribing to our mailing list.