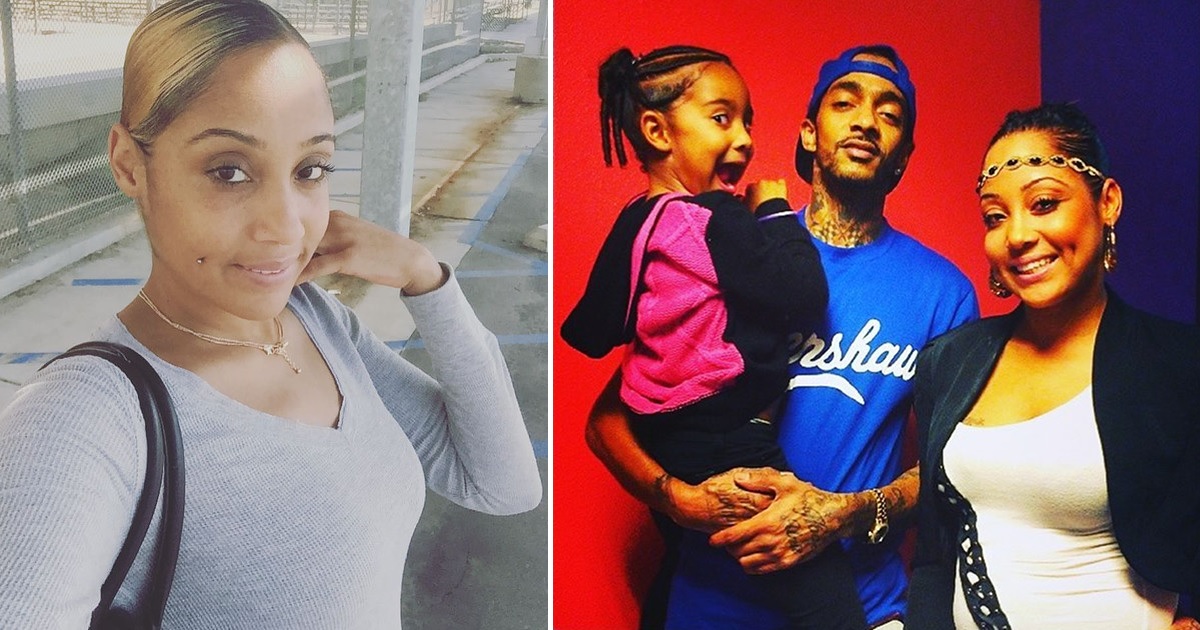 Thousands of people gathered Thursday (Apr. 11) to celebrate the life of Nipsey Hussle, but there was one person notably missing: Tanisha Asghedom, the mother of Hussle's firstborn.
Several members of Hussle's family took to the stage at the Staples Center to remember the fallen rapper, including his sister, his longtime girlfriend Lauren London and their 2-year-old son, Kross, London's son with Lil Wayne, Kameron, and Hussle's oldest child, Emani.
Emani is the daughter Hussle shared with Asghedom (aka Chyna Hussle).
As Emani seemed too overcome with emotion to speak at her father's memorial, many fans noticed her mother wasn't onstage with the rest of the family to comfort the young girl.
Soooo ??? Where was @NipseyHussle first baby mother ??? @chynahussle ???

— Twiggy405 ? (@WitMyPrettyA__) April 12, 2019
No ones acknowledging Nipsey's other BM and that's the type of shit I focus on and notice. The ones who aren't noticed.

I'm just saying.

— Jasmine The Great ? (@ImTheReasonWhy) April 11, 2019
I got a question where is Nippsey's first girlfriend/baby mother Tanisha at? Emani's mother? She lost somebody too ?

— Rest In Peace Tim ?? (@lilprettytee) April 11, 2019
Asghedom and Hussle—whose birth name is Ermias Asghedom—were in a serious relationship for several years before the rapper began dating London in 2013.
The couple was so close that Tanisha took on Hussle's last name, though they were never married. She also adopted his stage name, choosing to go by "Chyna Hussle."
Grieving girlfriend London has received much public support, but some feel Asghedom's grief has been mostly ignored. Especially given her absence from the memorial, thoughtful fans have offered her support and their condolences through social media.
Don't nobody acknowledge the first baby mom so I wanna send my condolences to sis as well. They supposedly was together for 10 years. I'm sure they had a lot of great memories regardless of them not being together before his death. Prayers to Emani, and Lauryn and Tanisha ?? pic.twitter.com/nDd9ECy458

— Kam ? (@simplykamri) April 11, 2019
Everybody heart is "screaming" for Lauren London but what about Tanisha Asghedom ? @chynahussle she had to explain to her daughter her father is gone too !!!!!!

— ExcuseMyFrench (@DessBeenPretty) April 3, 2019
Check on Tanisha Asghedom as well as Lauren London.

— ShyLisa (@ShyLisa) April 3, 2019
My prayers goes out to the mother of #NipseyHussle first child as well @chynahussle Together or not, I can't imagine the helplessness she's feeling watching her daughter go through this heartache!

— Identity Theft (@luvlessgrndmore) April 12, 2019
I definitely feel for Emani's mom Tanisha as well. To have been through the trenches w/ the nigga and raise his first born and only daughter.. y'all know how girls be about their daddies!

— SoulOnFleek (@Enhance_ur_ique) April 12, 2019
Pray for #nipsey baby mama Tanisha Asghedom ,who has to raise their daughter alone pic.twitter.com/oa0RDFFAFB

— Tamara Moore (@TamaraLamoore) April 3, 2019
God bless Tanisha, the mother of Nipsey's first child. She's gotten lost in all of this. I'm uplifting eternal prayers for her as well. God bless you Tanisha ???

— Nat — like King ?? (@NatTakeItTo_OT) April 11, 2019
You deserve love & prayers as well @chynahussle .. I hope you find some type of peace , comfort as well .. heleft you with a beautiful baby girl ?

— neish (@neishhazard) April 11, 2019
London and Asghedom have not had the best relationship in the past. Asghedom has even insinuated that she and Hussle never officially broke up, and in 2014, she taunted London on Twitter stating that Hussle had recently professed his love to her.
@Hits92FLL @IamLaurenLondon he told me he loves me today weekday about you lol now u can block me

— tanisha (@chynahussle) May 22, 2014
Nevertheless, one would hope that this would not be a reason to prevent the mother of Hussle's first child to attend his memorial service, if not just to console their daughter.
Asghedom has not publicly commented on posted on social media since Hussle was killed outside his LA clothing store on March 31st.
Be the first to receive breaking news alerts and more stories like this by subscribing to our mailing list.