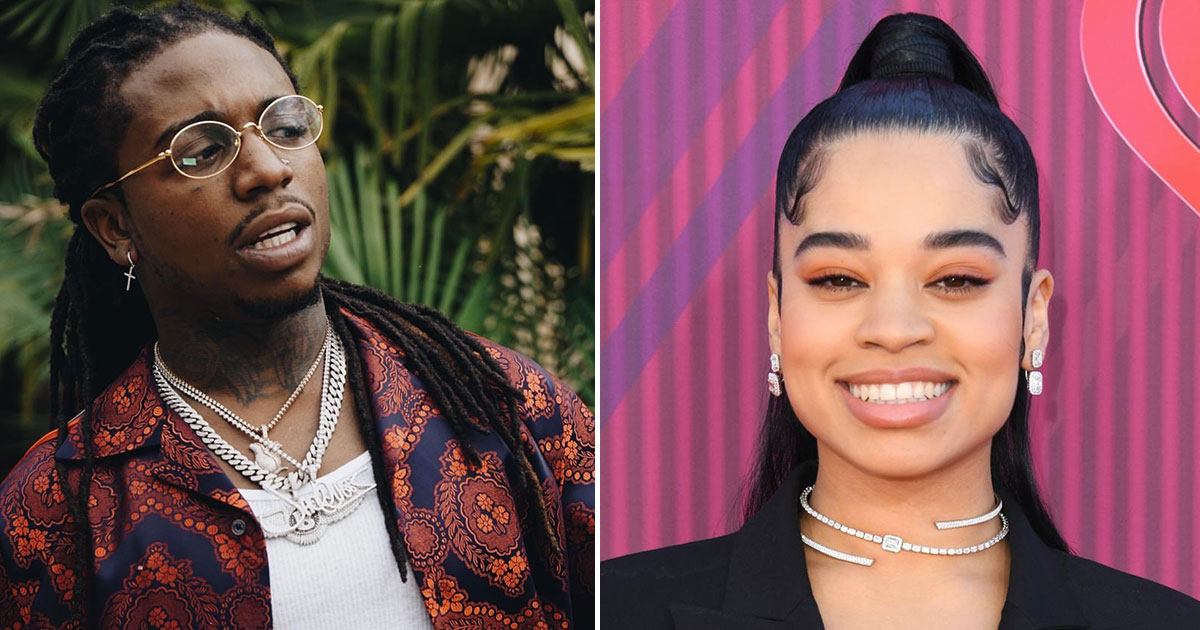 Ella Mai is not here for Jacquees and his karaoke antics.
During Drake's "Assassination Vacation Tour" concert at London's O2 Arena Tuesday night (Apr. 9), opening act Tory Lanez brought out Jacqueees to perform.
But the self-proclaimed King of R&B didn't perform his own music. He performed his controversial remix to Ella Mai's "Trip."
.@torylanez brought out @Jacquees tonight at @TheO2 ?? #GotThatHipHop pic.twitter.com/Rvkc7ZzSWW

— OfficialGTHH (@OfficialGTHH) April 9, 2019
In case you're not familiar with the story … Jacquees regularly remixes songs under the name "Quemix," and he released his version of Ella Mai's hit single on YouTube and Soundcloud last September.
Jacquees' version of "Trip" quickly became a fan favorite and racked up millions of streams before it was pulled due to a copyright claim from Ella's label, 10 summers, which is owned by DJ Mustard.
Mustard, who also produced the song, called out Jacquees for profiting off "Trip" because his YouTube video was monetized and made it clear that he was the one who took the song offline, and not Ella Mai.
"Our artists don't send cease and desists, we do," Mustard said in a statement via Twitter. "When you monetize content you don't own you are stealing and no one steals from 10 Summers. Ella had no say in the matter and any platform reporting any differently is spreading falsities."
In an interview with Hot 97's "Ebro in the Morning" in October, Ella reiterated Mustard's assertion that she was not personally responsible for the song being taken offline.
"I don't play any role. My label made a statement … I don't want people to think different than the actual situation is," she said. "People don't actually know the real ins and outs of the industry."
In December, Jacquees said in an interview with "The Breakfast Club" that there was no love lost between him and Ella Mai.
"It's all love at the end of the day," he said. "I ain't trippin'."
Fast forward to April, and Ella Mai is letting it be known that she's not done "trippin" over Jacquees singing her song.
After catching wind of Jacquees' performance Tuesday night, Ella Mai took to Twitter to shade the Cash Money singer.
"I'd be so embarrassed if someone brung me on stage and the only thing I could sing was someone else's song because nobody knew my actual music," she tweeted. "Poor thing."
i'd be so embarrassed if someone brung me on stage and the only thing i could sing was someone elses song because nobody knew my actual music. poor thing.

— Ella Mai (@ellamai) April 9, 2019
Even though she didn't mention any names or @ Jacquees directly, fans quickly realized who she was talking about and caught the shade immediately.
Jacquees LMFAOOO

— patrón papi (@zacharyjperkins) April 9, 2019
— tina snow stan acct (@fonzfranc) April 9, 2019
— grace? (@graceunbothered) April 9, 2019
love this energy …. pic.twitter.com/Kh28JRX1xj

— Hawa ? (@selfmade_hawa) April 9, 2019
— Jas ? (@deliverTjasss) April 9, 2019
Dude in front of the largest audience he'll probably see this year and can't do his original music. Yikes

— ?10,000? (@t_ripley) April 9, 2019
Lmao he needed to sing something the audience would actually know the words to

— Celle ?? (@marcelle_is_fat) April 9, 2019
We love a shady queen pic.twitter.com/8netihR6Z6

— |???????| (@Kryskoolin) April 9, 2019
Just for that you earned a follow. pic.twitter.com/LmRU1PsBoL

— Old Town Hoe ???? (@KikiB777) April 9, 2019
Are you #TeamEllaMai or #TeamJacquees?
Be the first to receive breaking news alerts and more stories like this by subscribing to our mailing list.