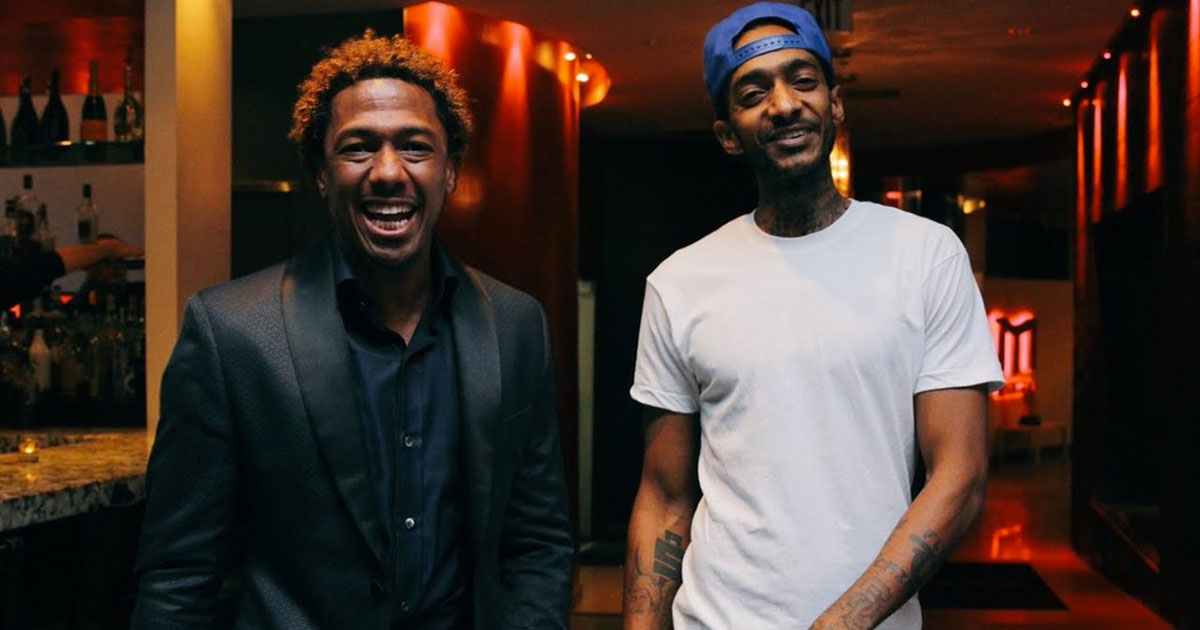 Nick Cannon has vowed to complete Nipsey Hussle's documentary about Dr. Sebi following the rapper's shooting death, and now his fans are now worried about his safety.
The worry stems from a popular conspiracy theory suggesting that Nipsey's death was setup by the government for his involvement in the documentary on the controversial healer, which he first mentioned in an interview with "The Breakfast Club" in February 2018.
"I am working on doing a doc on the trial in 1985. When Dr. Sebi went to trial in New York because he put in the newspaper that he cured AIDS," Hussle said. "He beat the case. Then he went to federal court the next day, and he beat that case. But nobody talks about it."
He continued: "I think the story is important. It's a powerful narrative. Like if someone in this room said, 'Hey, I cured AIDS.' I'd be like yeah, right. And then I can show you an example of him going to trial and proving in court he proved AIDS, I'd be interested in it. More so than championing his products or explaining his methodology. Put some light on that case."
Dr. Sebi (born: Alfredo Bowman) died of pneumonia complications at 82 while in police custody in Honduras, and after his death, many people claimed that he was killed because his natural healing methods and cures for diseases like HIV/AIDS were threats to the multi-billion dollar pharmaceutical industry.
The day after Nipsey Hussle was gunned down, Nick Cannon announced on Instagram that he would honor the late rapper by completing his Dr. Sebi documentary.
He wrote alongside a photo of him with Nipsey:
"King this is how I want to remember you! Laughing! Smiling! I ain't slept yet, thinking about our conversations! Real ones from a real one! And I'm gonna say this only for the real ones to recognize. Where you left off, we gonna carry one! It's a MARATHON, so I'm picking up the baton! Because they can't kill us all!

"Spiritual Warfare is REAL and in full effect. And now your Spirit is protecting your community eternally! Your words, your steps, your walk always was and always will be SOLID!

"Now, Your message is my message! Your work is my work! I know you still rocking with us and your voice will never be silenced, because to be absent from the body is to be present with the Most High! So now that you are at Peace don't Rest… Keep leading… Keep Shining King! Cosmic Love My Brotha!"
https://www.instagram.com/p/BvtjyKBhkrz/
While many fans were elated to see Cannon was picking up where Hussle left off, some were worried and cautioned Cannon to be careful.
Nick Cannon promised to finish Nipsey's documentary.. I just pray God keeps him and his family covered ??

— Zeaux ? (@zori_ughh) April 1, 2019
If Nick Cannon mysteriously dies after announcing his intention to finish this documentary then I'll def raise an eyebrow

— Kylan (@AwwHELLToTheNaw) April 1, 2019
Nick Cannon has promised to finish the documentary Nipsey was working on. LORD, PROTECT NICK CANNON PLEASE?

— emi (@emily_arroyox3) April 1, 2019
PROTECT NICK CANNON AT ALL COSTS ?? pic.twitter.com/jHXf2PFedy

— Jo (@asvpjo_) April 1, 2019
Now if Nick Cannon get popped I'm believing everything about that conspiracy theory. Not even trying to be funny a lil bit https://t.co/OXGigmNMJ1

— ?? Kri$py ?? (@TavianJordan) April 1, 2019
Now if Nick Cannon "lupus" kills him before the doc is finished can we all agree that is the real thugs in Govt and the drug industry.

— Momma Tal? (@theredqueen81) April 1, 2019
Nipsey Hussle was shot Sunday (Mar. 31) in front of his The Marathon closing store in the Crenshaw neighborhood of Los Angeles. He was pronounced dead at a nearby hospital.
The Los Angeles County coroner's office confirmed Hussle's cause of death was multiple gunshot wounds to the head and torso and was classified as a homicide.
The suspected shooter, Eric Holder (also known by his street name "Shitty Cuz") was taken into custody by Los Angeles police Tuesday afternoon (Apr. 2) just hours after a warrant for his arrest was issued.
Be the first to receive breaking news alerts and more stories like this by subscribing to our mailing list.