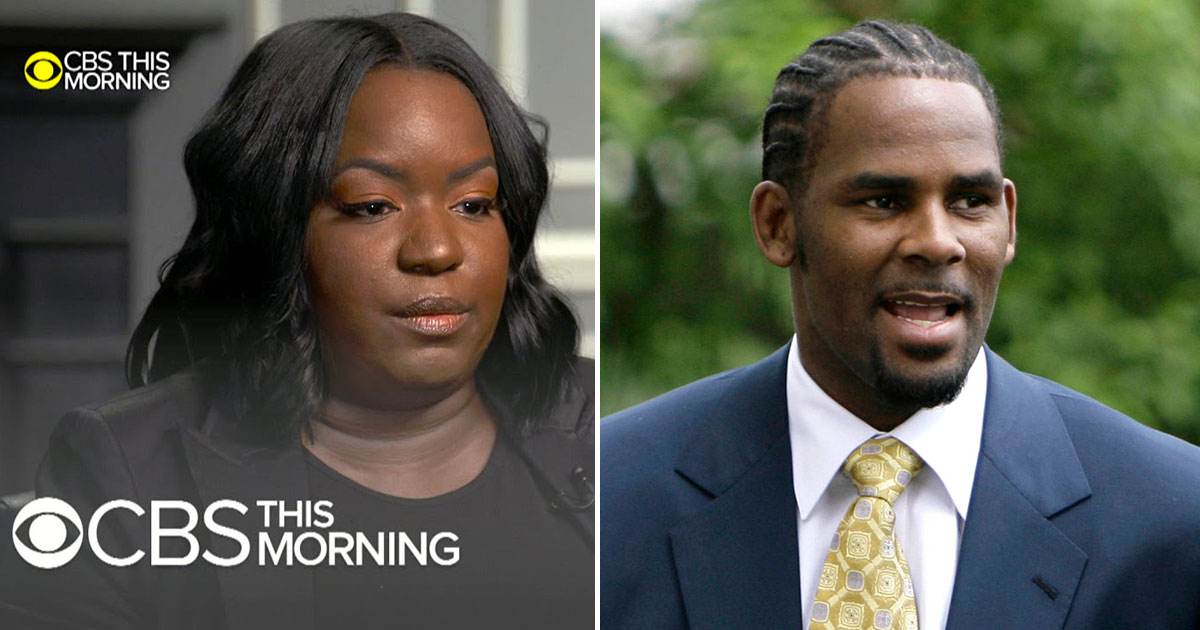 One of the many women accusing Robert Sylvester Kelly of sexually abusing them in his 10-count indictment has come forward to tell her story.
Forfeiting her anonymity, Lanita Carter—a woman identified as "L.C." in the indictment—sat down for an interview with CBS This Morning this week and broke her silence about the alleged sexual abuse she suffered at the hands of R. Kelly.
Through tears, Lanita described in great detail the February 18th, 2003 assault that helped lead to Kelly's arrest almost 16 years to the date later.
She said she working for Kelly as a hairdresser at the time, and on the day of the alleged sexual assault, she said the singer asked her for a head massage, which she refused.
Lanita, who was 24 years old at the time of the alleged incident, said she told Kelly she didn't do massages, and laughed off his request because she didn't think he was serious. But he quickly made it clear to her that he was very serious.
Lanita said Kelly "pulled my braid down by him. And he said, 'Suck it for daddy, suck it for daddy.' And I said, 'No.'" Lanita said the singer proceeded to spit on her at least six times as he forced her to perform oral sex on him.
Lanita says she went straight to the police after the incident and submitted the shirt she was wearing into evidence. She said investigators found semen on the shirt and later told her that the bodily fluids were a DNA match to the one and only R. Kelly.
Lanita, who said she saw Kelly as a big brother before the alleged incident and even stood by his side throughout the 2008 child pornography case, chose not to file charges and eventually settled a lawsuit against him for $650,000.
In 2009, R. Kelly released a song called "Hair Braider," in which he sings about having sex with a woman who braids his hair.
When Lanita called Kelly out on how the song seemed to reference the alleged 2003 sexual assault incident, he paid her an additional $100,000 in damages and promised to never perform the song or release it on his albums. (You can still find it online though … see the video below.)
Lanita said she immediately went to the Cook County State Attorney's Office after prosecutors put out a call earlier this for Kelly's victims to come forward amid the uproar surrounding Lifetime's "Surviving R. Kelly" docu-series.
"I was sexually abused by him and I live after that. I try to pick up the pieces every day," she told CBS correspondent Jericka Duncan. "It's hard but I know I'll get through it. I'm not ashamed of my past anymore. I'm not ashamed of what naysayers say. This is a release."
She went on:
"I've been carrying this since 2003. I have had to sit on a public bus and watch public conversation: 'Did you hear about what they did with R. Kelly? They need to leave that man alone.'

"And I can't stand up for myself. I finally realized: I don't wanna be this victim. I don't wanna be a part of this.

"When I finally realized I don't want to be this victim, I don't want to be a part of this, every time I tried to pick myself up again, I felt like something on the news brought me back to what I thought I swept under the rug.

"Today I say: no more. You can talk about me. You can not like what I'm sayin' about your favorite singer. But this is my life. This is my truth. This is what I have. If I die tomorrow, I know that I told the truth."
R. Kelly, of course, vehemently denied the allegations listed in the indictment in his own CBS This Morning interview with Gayle King. You'll remember, he broke down crying and shouted "I didn't do this stuff … I"m fighting for my f***ing life!"
Lanita said she watched that interview and was couldn't believe how Kelly was "able to get on television and lie." She said the interview is actually the reason why she chose to speak out: "It's actually the reason that I'm here."