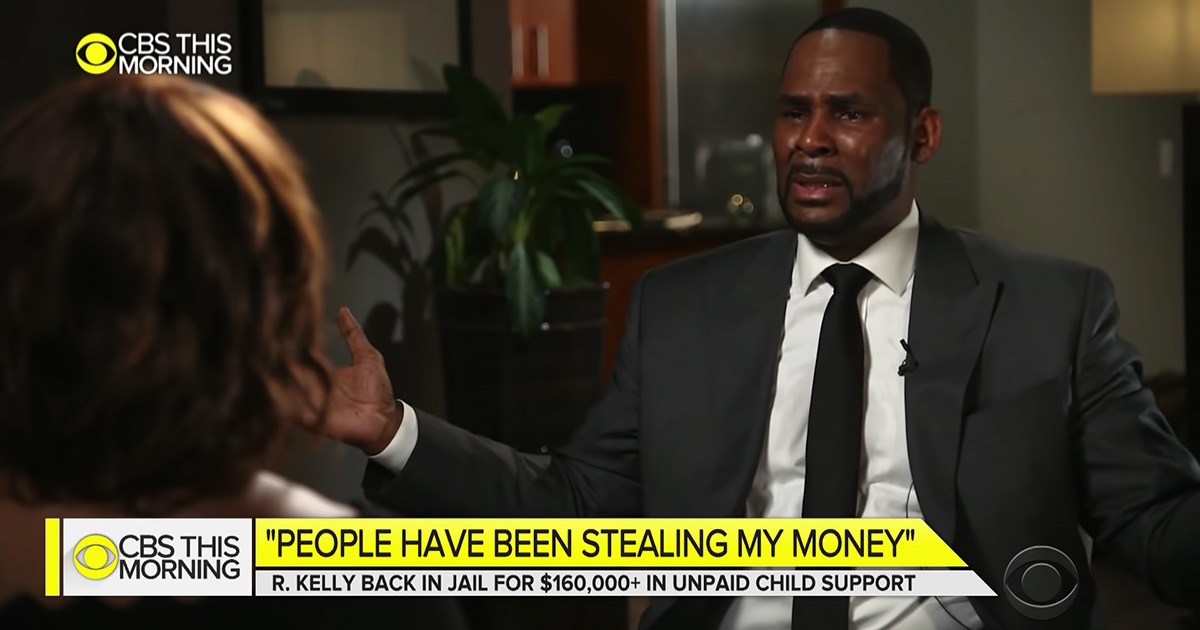 R. Kelly has made millions of dollars from his career as a singer, songwriter and producer, but you wouldn't be able to tell by looking at his bank account, which has dried up over the years.
In the second part of Sylvester the Molester's interview with Gayle King on CBS This morning, the disgraced entertainer said he's down to his last $350,000 in his bank account.
Kelly sat down with King for his first interview since his arrest last month for aggravated sexual abuse. He was tossed back in jail the same day the first of the multi-part interview aired after he failed to pay $161,663 in back child support to his ex-wife, Andrea Kelly.
Kelly explained to King why he couldn't post his own bond, which was $100K (10% of $1M bail), when he was arrested in February and why he's struggling to come up with the $161.6K child support, which the judge said had to be paid in full before he's able to be released.
"So many people have been stealing my money. People [were] connected to my account," Kelly told King.
Around three weeks ago, Kelly said he went by himself to a Bank of America branch for the first time to see where he stood financially with his own two eyes.
"I didn't know what I was doing, didn't know what the hell was going on," he said, adding that he was "tired of not knowing where my money was, where my publishing is."
Kelly said a bank teller told him he had $350,000 in his account, so he opened a new account and transferred the money into that account, but was told that it would take up to six or seven business days to complete the transfer.
Kelly claimed to not have access to those funds when he was arrested on February 22nd, the day after his trip to the bank.
"How can I pay child support? How? If my ex-wife is destroying my name and I can't work. How can I work?" he wailed. "How can I get paid? How can I take care of my kids? How?"
Kelly said he never did any of the things claimed in the Lifetime docu-series "Surviving R. Kelly," including hog-tying his ex-wife.
"I don't know how to hogtie people," he said with tears in his eyes. "Why would I hogtie her? My kids [are] listening to this nonsense …  and I ain't spending no time with them."
He continued, weeping: "What kind of woman would tear down a dad who's trying to have a relationship with their kids? You know how many kids need a relationship with their father?"
Be the first to receive breaking news alerts and more stories like this by subscribing to our mailing list.