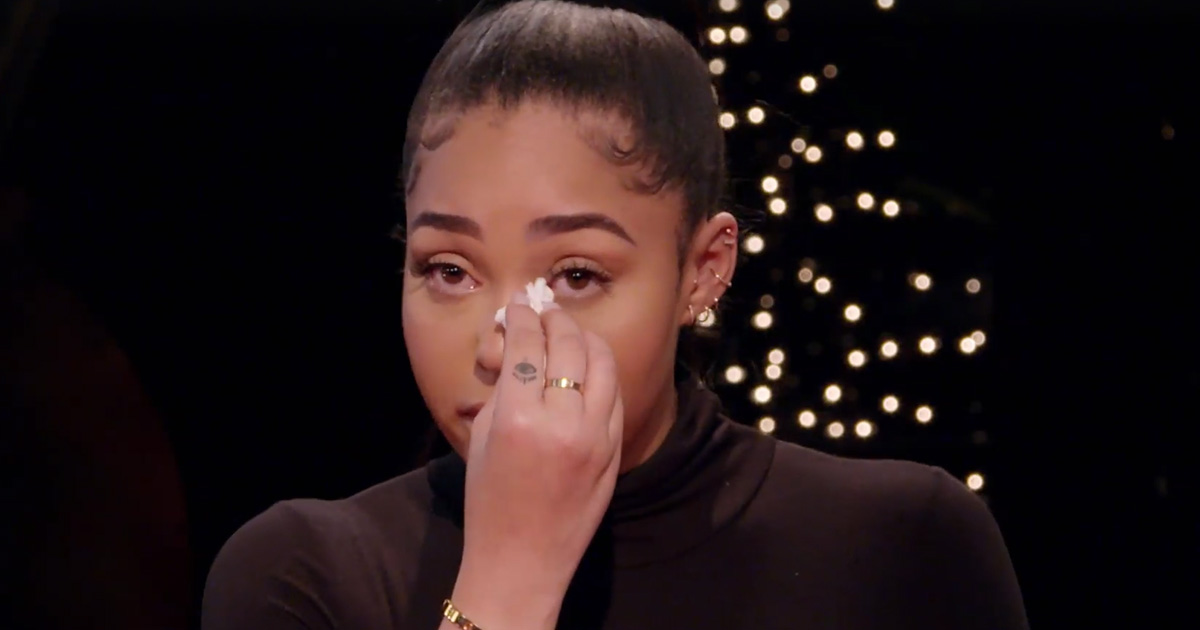 Jordyn Woods says she feels "free" after finally breaking her silence about the cheating scandal between her and Khloe Kardashian's baby daddy Tristan Thompson.
Woods' "Red Table Talk" interview with Jada Pinkett-Smith went live on Facebook Friday afternoon (Mar. 1), and in it, she tells her side of the story regarding the drama (which Khloe has since responded to).
We learned a lot about Jordyn and her relationship with the Smith family, which explains why she sat down with Jada, and we also got some insight on how she and Kylie became friends.
To make a long story short … Jordyn's dad, who passed away when she was younger, used to work on the set of "Fresh Prince," and somehow ended up being cool with Will Smith over the years.
Because of her dad's relationship with Will, she ended up being cool with Jaden Smith, who became friends with Kylie Years ago. So, she basically became friends with Kylie through Jaden.
Jordyn and Jada both got emotional during their discussion, which lasted roughly 25 minutes, as Jordyn talked about the scandal, the backlash, and how it has affected her personal life.
Read on for some of the standout quotes from Jordyn's tell-all interview:
1
Jordyn's version of the timeline that night:
Jordyn says she went to dinner with friends Sunday night (Feb. 17) and then went to a party at a bar afterward. She said she was "minding her business, drinking and dancing."
Tristan was also there doing his own thing, she said. After leaving the bar, she and her friends decided to go to Tristan's house, which she described as a "safe environment."
She said: "[Tristan] didn't even personally invite me there. He didn't say, 'Come see me.'" She also said that she left his house around 7 a.m., which isn't unusual for her because she and her friends typically party that late into the night/morning.
Jordyn also said she didn't ask anyone to take people's phones away from them. "All I know is that I had my own," she said.
2
She admitted guilt for attending the party:
"I'm not thinking, 'I shouldn't be here.' That's my first step where I went wrong, and how I would feel if someone close to me is hanging out at my ex's house, or [at the home of] the father of my child … I should've gone home after the party. I shouldn't have been there."
3
Jordyn said she didn't give Tristan a "lap dance," as some reports stated:
"Never once was I giving him a lap dance, making out with him, sitting all over him … never once did we leave the public area, go to a bedroom, go to a bathroom … we're all in plain sight," she said. "There was always someone there up until the moment I left."
Jordyn said she can understand why people would say that she and Tristan were "cozy" because she was sitting on the armrest of a couch he was sitting on and at one point, she put her legs on him. "I understand why that would be the story," she said.
"I was drunk. I was not tipsy, I was drunk. But I was not beyond the point of recollection. I know where I was."
5
Jordyn also said she and Tristan did NOT have sex, they only kissed, nothing else, and she's willing to take a lie detector test to prove it:
Asked straight up if she and Tristan had sex, Jordyn replied: "Never. Never a thought, never a consideration, never happened. Never will I. And that's why I'm willing to be put up the test. Attach me to a lie detector, whatever it is. I need people to know the truth, and, more importantly, I need the people involved to know the truth."
But on her way out of the afterparty, she said Thompson kissed her, but there was no tongue.
"It was a kiss on the lips, but no tongue kiss. No making out," Jordyn said. "I don't think he's wrong either because I allowed myself to be in that position. When alcohol is involved, people make dumb moves."
She added: "I didn't know how to feel. I was like, 'That didn't just happen,' because I was leaving already so I walked out immediately after. And I got in the car and was like, 'No, that didn't happen,' I [told him] I need to go. I was in shock."
6
On what she first told Kylie and Khloé the morning after:
"I went home. I talked to Kylie and Khloé in the morning and told them I was there," she said. "I had talked to Khloe and she asked me, "What's going on, is everything fine?" And in my head of trying to forget that part of the story, I was like, 'You know, no [nothing happened]. He was chilling. Everything was okay. There were girls there but he wasn't all over the girls.'"
"I was honest about being there," Jordyn said, "but I was not honest about the actions that had taken place."
7
Jordyn insists she's not a "homewrecker":
"I know I was trying to protect Khloé's heart. She doesn't deserve this, either. People have even dehumanized her in this situation to the point where they can't feel for here. It's not fair that she has to deal with this, either. The last thing I wanted to do was be that person. I'm no homewrecker. I would never try to hurt someone's home, especially someone that I love, who has a beautiful daughter . . . I don't need your situation."
8
Jordyn on whether she thinks she's the reason Tristan and Khloe are no longer together:
"I know I'm not the reason that Tristan and Khloe are not together," she said. "This situation may have made it harder for her to want to be with him, and I understand that, but I know I'm not the reason."
9
Jordyn on how the public scrutiny has affected her personally:
"This story that didn't have to be what it was turned into the biggest scandal or betrayal of the year. I've seen what has been done to my life in only a week based on how the media circulates. They don't put their focus on the real world problems. They're putting their focus on a young black woman who made a mistake and not a mistake that's worth public crucifixion. It's a mistake that should've been dealt with internally."
10
Jordyn also explained how the situation has affected her family:
"I may have done something wrong, but whatever I did, I don't think I deserve this. It's not fair. If I was a weak person, I would've hurt myself. It's even hard for me to say this. Everyone's safety is now—we can't leave the house. My brother can't go to work, my sister can't go to school—she's 12 years old—My mom can't even go to the grocery store."
11
Jordyn on if she spoke to Kylie:
"I have. I told her I was coming to the Table today. I think at this point, it's gone too far and enough is enough. And when the safety of the people I love is in jeopardy, I have to speak."
12
Jordyn on speaking to Khloe:
"I have spoken a little bit with her. I let her know that I'm willing to do whatever it takes for her peace of mind, not for my image, not for my career because that's already something in its own. This is now for your own peace of mind so you know there was no malicious intent."
13
Jordyn was asked by a fan whether this whole thing was a publicity stunt:
"I wish I could say this was a publicity stunt, but this is my real life," she said. "Real people are hurting. It's been real…"
14
And last, but not least, has she apologized to Khloe?
"I did. I did as much apologizing as I could do, over the phone, over text. And until I get the opportunity to talk face-to-face, can she can really feel what I'm saying? But I reached out and the opportunity is there. I offered as much as I could. A lie detector test, anything. Whatever makes you feel better is what I want. But at least they know it's there."
Watch Jordyn Woods' full interview here:
Be the first to receive breaking news alerts and more stories like this by subscribing to our mailing list.