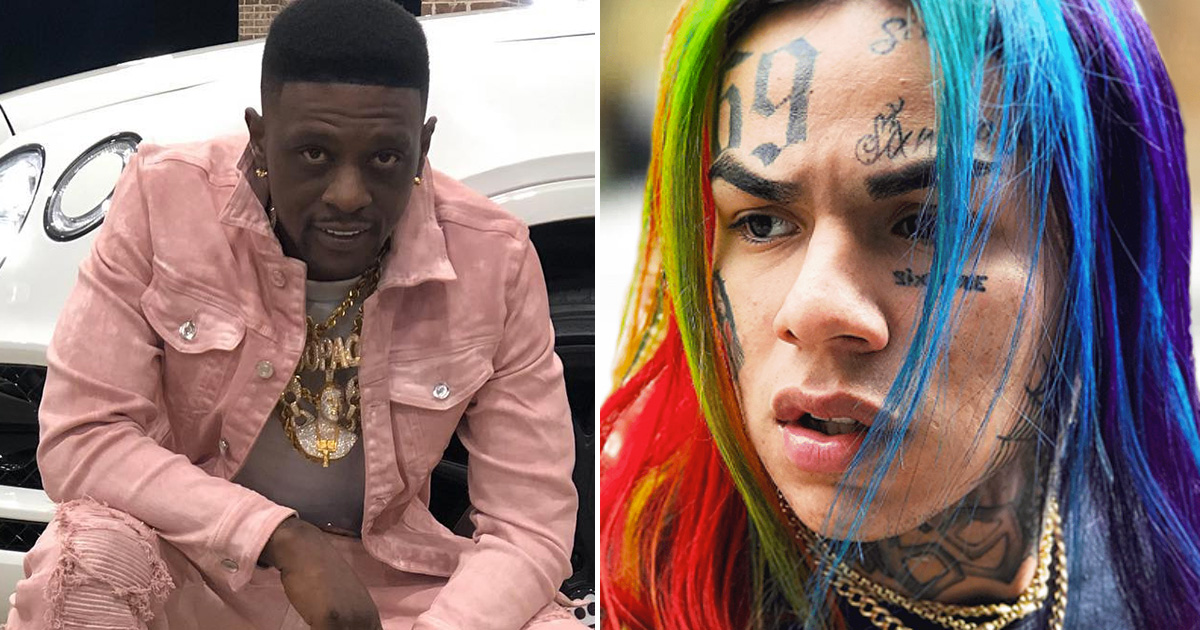 Boosie Badazz has made it known that he does not support Tekashi 6ix9ine after the rapper snitched on his associates.
The Louisiana rapper formerly known as "Lil Boosie" recently took to Instagram to put 6ix9ine on blast for ratting out his associates in his federal case in which he pled guilty to nine counts of racketeering, conspiracy, firearms offenses and narcotics trafficking.
Boosie says he was initially supportive of the "FEFE" rapper when he was arrested on racketeering charges in November 2018, but when he found out 6ix9ine was cooperating with the feds for a reduced sentence, Boosie changed his mind.
"WHEN YOU FIRST WENT TO JAIL I WAS LIKE FREE DUDE CAUSE I DONT LIKE TO SEE NO ONE N DAT CAGE LIKE DAT… BUT ONE THING I DONT CONDONE OR SUPPORT IS RATS," Boosie wrote in a post on Instagram.
Three of Tekashi's former associates—Kintea McKenzie, Anthony Ellison and Denard Butler—were indicted in connection with the crimes.
Tekashi reportedly spoke with investigators and ratted out McKenzie (aka "Kooda B") as the gunman in the attempted June 2018 shooting of Chief Keef in New York City. McKenzie, who was reportedly paid $10,000, now faces 10 years to life in prison.
Boosie went on to slam the rainbow-haired rapper, saying that he understood the situation he faced, considering he was put in a similar situation years ago and faced the death penalty, but that doesn't mean he condones snitching.
"YOU GOTTA SAY U A BITCH A** [N***A] WHO WAS JUST WAS PLAYING HOE GAMES WITH EVERYBODY," the 36-year-old rapper said. "YOU HAVE TO ADMIT ON WAX THAT YOU A HOE A** N***A FROM NOW ON (period)… AND I DO UNDERSTAND YO SITUATION N***A. I WAS FACING A NEEDLE. (Lethal injection) N AINT BEND BREAK R FOLD… #realn***as like myself WE HATE RATS."
Boosie, who was indicted on first-degree murder charges in 2010, said there are grave consequences to working with the feds.
"IDK ABOUT NEWYORK BUT N LOUISIANA U WILL BE MURDERED LESS THAN A MONTH AFTER YOUR RELEASE FRFR," he wrote. "YOUR KIDS WILL BULLIED N SCHOOL FOR THE DECISION YOU MADE, you PUT ALL YOUR FAMILY N GRAVE DANGER FOR LIFE CAUSE OF THIS BS, DID U THINK BOUT THEY SAFETY? Keep it 100 u DONT care bout nothin but YOU SMH."
https://www.instagram.com/p/Bt4CiZ2lVVk/
Tekashi 6ix9ine has had to beef up security for his family since his plea deal was made public. The rapper's baby mama, Sara Molina, has reportedly hired her own 24/7 armed security to protect her and their 3-year-old daughter.
"He made his bed, now he has to lie in it," Molina—who recently revealed that 6ix9ine was physically abusive towards her—told TMZ. "But he didn't think how it's going to affect others. He's only thinking about himself in this situation. I'm left to pick up the pieces of whatever mess he's made."
Tekashi's sentencing is scheduled for January 24th, 2020. Though the rapper faces a minimum of 47 years based on his guilty plea, he may receive a lighter sentence if he continues to cooperate with the feds.
Be the first to receive breaking news alerts and more stories like this by subscribing to our mailing list.